Couple of Chefs open Bruncheonette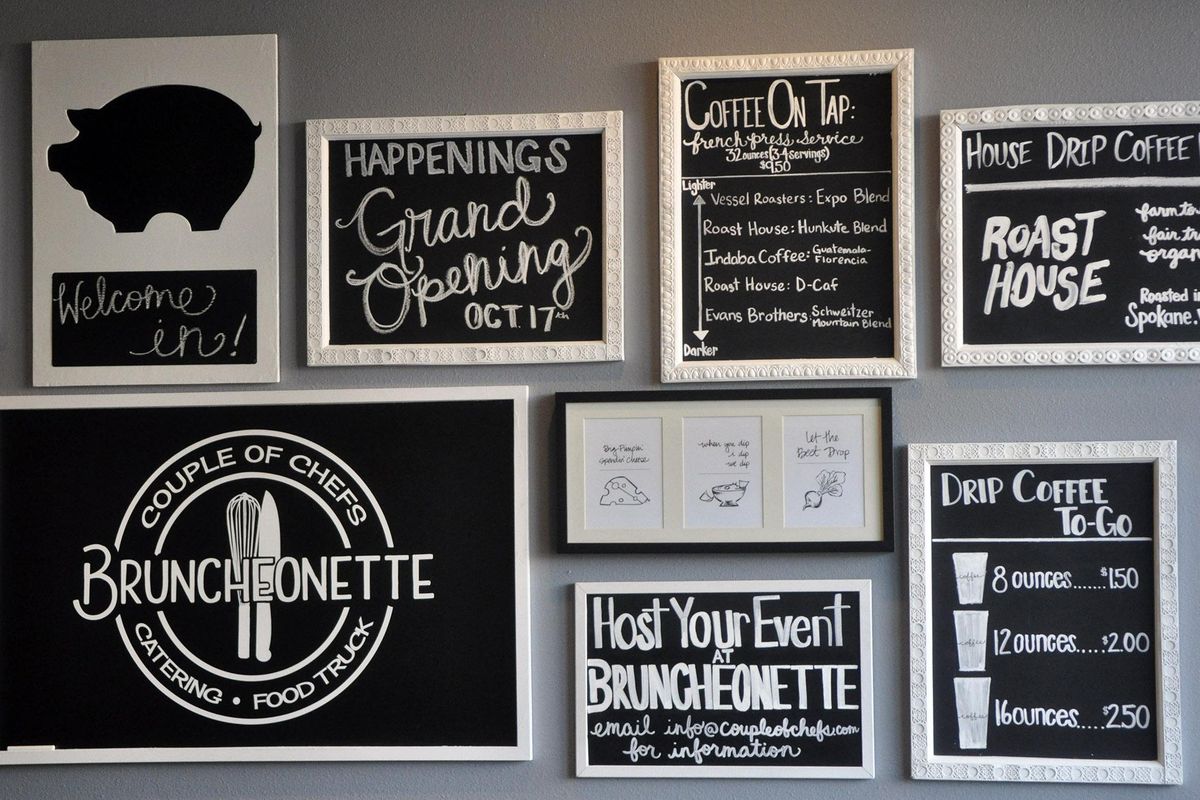 When these Couple of Chefs go out to eat, they opt for brunch.
That in-between nosh is their favorite meal.
"We would rather go out for brunch than lunch or dinner," said Allen Skelton, half of the pair that makes up Couple of Chefs Catering and Food Truck. His wife, Joile Forral, is the other.
One of their reasons: "We love eggs."
And their latest endeavor, their first brick-and-mortar business, celebrates them – along with biscuits and gravy, bacon, pancakes, bacon pancakes, waffles, French toast, Greek yogurt and country potatoes.
Bruncheonette officially opened Monday, following an unadvertised soft-launch last week.
"We try to make everything from scratch as much as possible," Forral said. "The menu reflects us, what we like to eat, what we like to see on menus."
The verde hash features pork carnitas, sweet potato, red potato, poblano pepper, red bell pepper, caramelized onion, salsa verde, queso fresco and two eggs for $12.
The chilaquilas, also $12, features fried corn tortillas, chorizo, green onion, guacamole, queso fresco, cherry tomatoes, cilantro, crema, smoked tomato salsa and two scrambled eggs.
Look, also, for bacon – in the bacon sticky buns (two for $7.50), whole wheat bacon pancakes ($9) and bacon Caesar salad ($9.50). Add bacon to the biscuits and gravy ($8) or Healthy Elvis Chocolate and Banana Protein Pancakes ($9) for another dollar.
There's no bacon in the ($11.50) tamale waffle, but customers can get a side order – three strips – for $3. The waffle batter includes masa, and the entire thing is topped with spiced shredded beef, cherry tomatoes, pickled jalapeno, lettuce, crema and two eggs.
"It looks like a waffle, but it's a tamale," said Skelton, 35.
He grew up in East Wenatchee. After high school, he spent four years in the U.S. Army, including one tour in Afghanistan during Operation Enduring Freedom, with the 82nd Airborne Division.
Today, Couple of Chefs' 82nd Burger is named in honor of the unit. "It's what Allen calls our all-American burger," his wife said.
The burger – as well as three other hand-helds – is on the menu at both the Couple of Chefs food truck and new brunch spot.
After the army, Skelton enrolled at Eastern Washington University to study criminal justice, but left without a degree to move in 2008 to Portland for culinary school at Le Cordon Bleu. That's where he met his wife. Forral, 27, hails from San Diego.
The couple moved to Spokane when she landed an internship as pastry chef at Northern Quest Resort & Casino. He interned at Latah Bistro. After a couple of years working for other people, they decided they wanted to be their own bosses and started their catering company in 2011. They opened their food truck a year later and married in October 2014.
A brick-and-mortar location had been a long-term goal. They've been looking for a location in or close to downtown for the past two years. Renovations started in mid-June.
Bruncheonette occupies the space that formerly held the Irish-themed bar Knockaderry. They added a couple of walls, extending the kitchen and prep space and creating an office and storage. They also installed new flooring, replaced tabletops, added new chairs and painted the place. The color scheme is dust blue (a light, gray-blue), sea serpent (a darker gray-blue) and a light and creamy ecru color. The look is light, bright and airy – almost beachy. Succulents, one on each table, add to the ambiance.
A wall of chalkboards greets customers in the narrow waiting area. One highlights the "daily fancy," which regular customers of their food truck will recognize as the ever-changing special of the day.
The house blend comes from Spokane's Good Food Award-winning Roast House Coffee. French press is also available in 32 ounces, serving three or four, with a rotating selection of locally roasted blends. There's no espresso.
The dining room seats 73. Next spring, look for additional seating on the sidewalk, too.
There are 10 staffers in all, including the owners – five at the front of the house, five in the back.
Menu items are influenced by the owners' travels to Portland – they love Gravy and Pine State Biscuits – Seattle, Austin, India. Look for $6.50 alcoholic Thai iced teas – black tea sweetened with condensed milk and sugar – with vodka or coffee-infused vodka.
Other boozy breakfast drinks include the $7 lavender-infused screwdriver (lavender-infused vodka and freshly squeezed orange juice) and the $7.50 Loaded Bloody Mary with bacon, pickled asparagus, olives and celery.
Bruncheonette has four rotating beers and one cider on tap. The plan is to keep them local or at least regional.
"We try to stick to Spokane as much as possible," said Skelton, who's usually up and out the door by 3:30 a.m.
During Couple of Chefs' busy summer season, they usually cater 25 to 35 weddings – sometimes two per weekend – all with customized menus.
With the opening of the eatery, food truck hours are being condensed to Wednesday, Thursday and Friday in downtown for lunch. Evenings and weekends are for catering, including renting Bruncheonette for private events.
Wheat- and gluten-free items are available. Just ask.
The strawberry jam comes from an old family recipe. So do the buttermilk biscuits – just not their family but the family of a friend. The rest of the recipes they created themselves.
"We don't use any margarine or shortening. It's real butter. Real fat. Real ingredients," Forral said.
"We want to bring back that feeling of eating at home and recipes that are passed on," Skelton said.
"And," Forral said, "not be a greasy spoon diner."
---