Sports
Mt. Spokane scores with 30 seconds left, slip past Highlanders 7-0
Thu., Oct. 20, 2016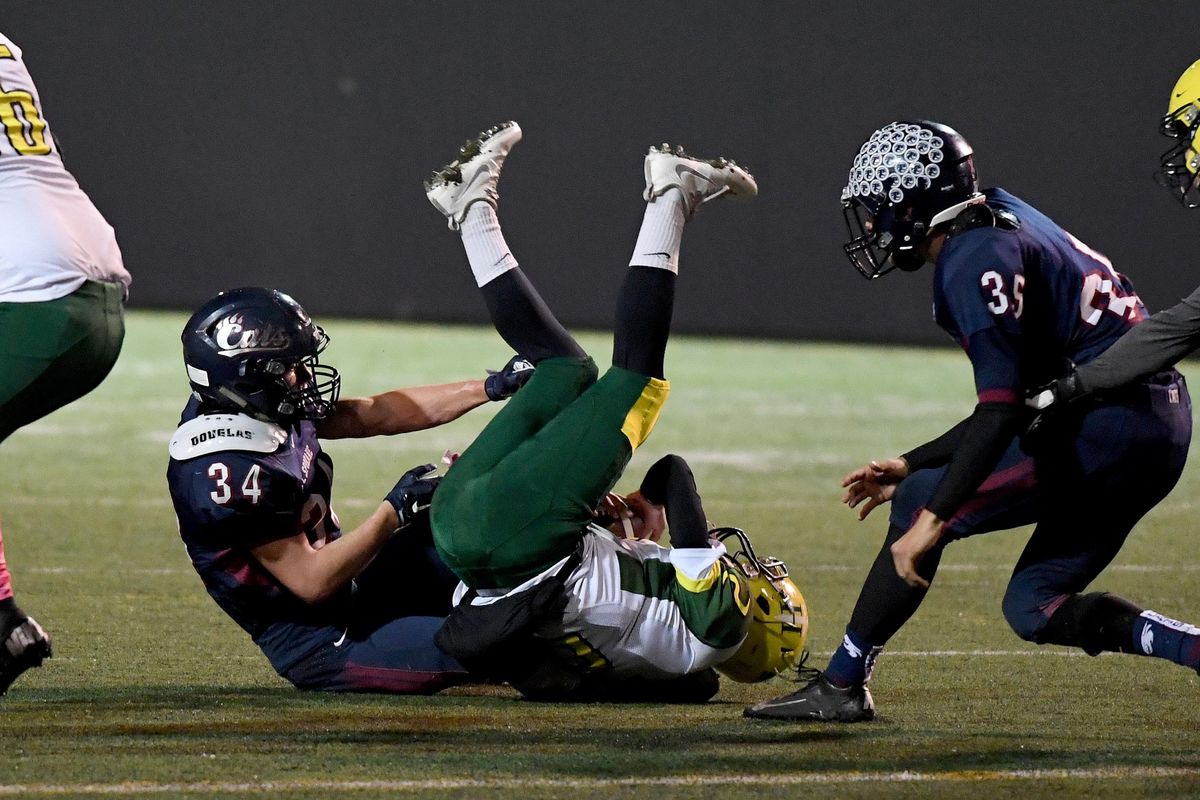 Shadle Park quarterback Carson Doyle (2) is sacked for a loss of 6-yards during first half of a GSL high school football game at Joe Albi Stadium, Thurs., Oct. 20, 2016. (Colin Mulvany / The Spokesman-Review)
Mt. Spokane kept punching, and the Wildcats' final punch provided the knockout.
Senior slotback Sam Spears completed the game-winning drive with a 3-yard touchdown run on a jet sweep with 30 seconds remaining to lift the Wildcats to a 7-0 win over Shadle Park in one of the best low-scoring football games.
Mt. Spokane all but clinched the 3A Greater Spokane League championship. The Wildcats (3-5, 2-0) can capture the title outright next Thursday when they face winless Rogers.
It was appropriate that Spears scored. He made two big catches of 37 and 29 yards on a drive that started at Mt. Spokane's 17-yard line with 2:11 remaining.
The drive was aided by a personal foul penalty when a Shadle player hit a defenseless Mt. Spokane receiver in the helmet.
It was Spears' catch on the next play that gave Mt. Spokane a first-and-goal at the 2. Three plays later, Spear secured the win.
"The ball was going into the end zone the second I touched it," Spears said.
Spears knew the Wildcats could score on their last possession.
"We had a 98-yard drive earlier this season and we had the confidence and believed in each other," Spears said.
Spears finished with 32 yards rushing and four catches for 99 yards.
Mt. Spokane sophomore quarterback Brady Hill, who alternated plays with senior Andrew Viehman, completed 9 of 17 for 148 yards.
"Our defense played great all game," Spears said. "Our offense couldn't get anything going. In the fourth quarter we made some big plays and got it done. Both teams played well, it just came down to our offense. We pulled through and overpowered them."
Shadle (4-4, 1-1) can still earn a shot at a postseason berth. The Highlanders take on North Central next Thursday in a decisive game.
Mt. Spokane coach Terry Cloer couldn't have been more proud of a team that has withstood multiple injuries throughout the season – even in preseason.
"The first half we came out and moved the ball at times but we just couldn't get out of our own way," Cloer said. "I talked to the kids when we started the 3A side of things that we reset the season. We definitely played some tough teams. (Gonzaga Prep) is so good and Peninsula (season opener) is still undefeated. We were banged up and guys stepped up and made plays when we needed to."
Mt. Spokane, which made several defensive stops, came up with a huge stop when Shadle had fourth-and-1 at the Wildcats' 4. Instead of using big running back Xavier Wicks, Highlanders quarterback Carson Doyle got the call and he was stopped short with 3 minutes to go in the third quarter.
Shadle had other opportunities in the first half, especially early. Mt. Spokane fumbled on its first two possessions but the Highlanders couldn't convert.
The Highlanders' Caleb Smith recovered the second fumble at Mt. Spokane's 26-yard line.
But on fourth down, Doyle lost two yards, allowing the Wildcats to take over at their 21.
Mt. Spokane's best offensive series came next. The Wildcats used 11 plays to move to Shadle's 23 where on fourth-and-five Cloer elected to attempt a field goal. Cody McDonald's 40-yard kick had the distance but was just left with 2:09 to go in the first quarter.
The best scoring opportunity in the second quarter came on the last possession.
Shadle took over at its 42. A 19-yard pass from Doyle to Vinny Epefanio moved the ball to the Wildcats' 18 with two seconds to go. But after the ball was placed ready for play, the referees ruled time expired.
Local journalism is essential.
Give directly to The Spokesman-Review's Northwest Passages community forums series -- which helps to offset the costs of several reporter and editor positions at the newspaper -- by using the easy options below. Gifts processed in this system are not tax deductible, but are predominately used to help meet the local financial requirements needed to receive national matching-grant funds.
Subscribe to the sports newsletter
Get the day's top sports headlines and breaking news delivered to your inbox by subscribing here.
---