Anti-abortion tour brings protest rally to Planned Parenthood in Spokane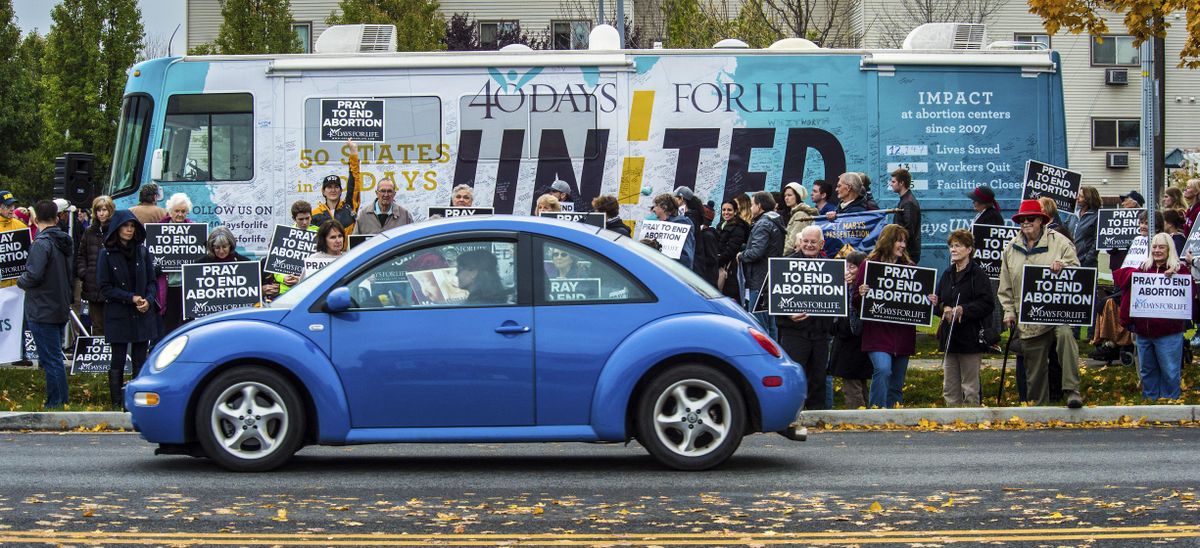 A bus belonging to the "40 Days for Life" organization rolled into Spokane on Friday for a rally near the Planned Parenthood office, one of 125 such events the organization wants to hold in all 50 states.
The group usually hosts 40 days of fasting and vigils outside facilities that provide abortion services. This year is the first time it has embarked on the national rallies.
Many people feel that family values are under attack, said Steve Karlen, "40 Days for Life" North American campaign director. "It's just an unprecedented time in America," he said. "We felt like this was a turning point."
The rallies are held to support the volunteers keeping vigil outside facilities where abortions are performed, he said. The gatherings have drawn from a few dozen to hundreds of people.
Friday's event drew about 150 people to the sidewalk across the street from the Planned Parenthood office on East Indiana Avenue, many of whom held signs that said "Pray to end abortion."
"It's been fantastic," Karlen said about the good attendance at rallies, sometimes in the driving rain. "We're very excited about that."
Karl Eastlund, CEO of Planned Parenthood of Greater Washington and North Idaho, said in a written statement Friday that Planned Parenthood exists to provide high-quality health care to every patient.
"While these protests are designed to shame and intimidate patients who seek health care services and information from Planned Parenthood, what they really do is highlight the extreme lengths a small, vocal few are willing to go in order to impose their personal beliefs and judgment on others," he said. "We trust our patients to make the best decisions about their own health care, bodies and futures."
Jean McGinn drove from Coeur d'Alene to attend the rally with her daughter-in-law, Kara McGinn.
"I want to show my support for life," Jean McGinn said. "It's very relevant now."
While there was little mention of the presidential campaign during the rally, McGinn said she pays attention to where the candidates stand on abortion.
"We heard Hillary stand up and say she supports Roe v. Wade," she said. "We know the choices are tough. We're supporting the platform that supports life and our morals in this country."
Her daughter-in-law said she was hoping to make a difference by attending the rally. "I'm just hoping that through a prayer vigil it might save one life or help one person find an alternate way to deal with an unwanted pregnancy," she said.
---