Gonzaga Prep scores 30 unanswered points to crush Lewis and Clark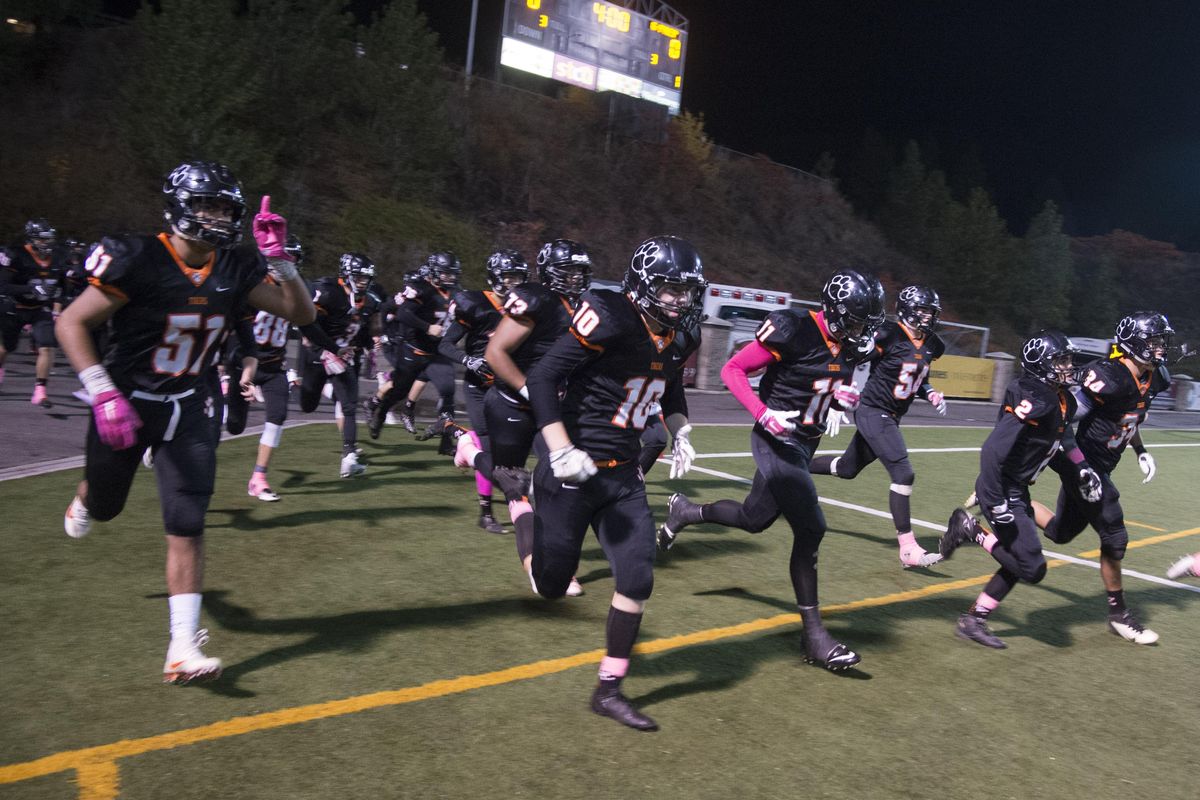 Gonzaga Prep turned a three-point game at halftime into a second-half blowout Friday night as the Bullpups scored 30 unanswered points to defeat 47-14 at Albi Stadium.
After LC (2-5, 1-3 GSL 4A) rallied to make it 17-14 just before the half, the Bullpups started to dominate. It started when the Tigers' Ian Smith threw a backward pass that was picked up by G-Prep's Caden Townsend, who rumbled 40 yards to make it 24-14.
"That turned the game," G-Prep coach David McKenna said. "That scoop and score was a huge play. It gave us the momentum."
The win by G-Prep (6-2, 4-0) sets up a big game next week against Central Valley (7-1, 4-0), which beat University 55-16 Friday night.
"That's going to be a good game between two good teams," McKenna said.
G-Prep did almost all of its damage on the ground. The Bullpups were led by Devin Culp, who ran 15 times for 146 yards. Some 55 of them came with 3:17 left in the third quarter when Culp raced around the left end to make it 34-14.
Ryan Gross added a 12-yard pass to Anton Watson early in the fourth quarter to make it 41-14. G-Prep's Kasey Anthony also ran 17 times for 117 yards and a touchdown.
To start the game, Gonzaga Prep received the kickoff and marched down the field but the drive stalled at the 6-yard line. Seth Kuykendall booted a 23-yard field goal to put the Bullpups up 3-0.
After LC did nothing but lose yardage on its first drive, the Bullpups took the ball again at their 36 and took five plays to score. Culp powered his way into the end zone from 9 yards out to make it 10-0 G-Prep at the 3:24 mark of the first quarter.
The next Tigers drive ended on the second play when Chase Cash intercepted Cameron Duncan at the Bullpups' 25-yard line. But the Tigers' defense held.
G-Prep forced another punt and marched downfield before Kasey Anthony rumbled in from 3 yards out to give the Bullpups a 17-0 lead.
LC finally put together a sustained drive, which ended with a 3-yard Duncan run with 3:55 left in the second period to make it 17-7.
A few plays later, G-Prep's Gross tried to extend a play but fumbled as he was being sacked. LC's Calvin Charbonneau scooped up the ball and rumbled 7 yards for a touchdown to make it 17-14 with 2:12 before the half.
But it was all G-Prep in the second half.
"Lewis and Clark is a good football team," McKenna said. "They battled. But I'm just really proud of these kids and how they responded."
---