County commission hopeful Andrew Biviano wins endorsement from 'opposite end of political spectrum'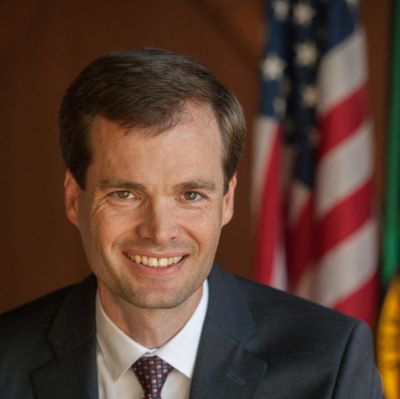 Why is a Spokane Valley conservative endorsing a liberal Democratic candidate for Spokane County commissioner?
Simple, says Spokane Valley City Councilman Ed Pace: Andrew Biviano is qualified for the job.
Pace, a self-proclaimed libertarian, constitutionalist and tea party Republican, has been quietly endorsing Biviano since early in the campaign season, even though he acknowledges they're "at opposite ends of the political spectrum."
Pace said Friday that Biviano's experience as a mental health case manager and civil rights attorney is needed on the commission. He said Biviano would do a better job of reforming the criminal justice system than Republican incumbent Shelly O'Quinn, who is again running with Biviano for the District 2 seat.
"I think Andrew has a passion for doing the right thing. He has a heart for justice," Pace said. "To me, the person is more important than the party or the politics."
Biviano never asked for Pace's endorsement. Pace called him one day before the August primary, and the two talked over breakfast.
"Normally, I endorse, support and vote for Republicans," Pace said. But after discussing a number of issues, he felt Biviano was someone he could work with. And besides, Pace said, "one Democrat isn't going to sway the whole commission to the left."
Biviano said the Spokane Valley City Council "feels very shut out of any decision-making in the county. That's one of the reasons I believe Ed Pace is endorsing me … even though we agree on virtually nothing."
One sticking point is abortion: Pace calls it "murder," while Biviano is pro-choice. Another is the recent controversy surrounding state Rep. Matt Shea, who has become a topic of discussion in commissioner debates.
In 2012, Shea ran a deeply personal campaign against Biviano's wife, Amy Biviano. At one point, he visited the couple's Spokane Valley home, snapped a photo of himself and posted it on Facebook, listing their address – a move that leaders in both parties described as intimidation.
More recently, Shea implied on his podcast that a Spokane County sheriff's deputy was connected to a triple homicide, prompting a furious rebuke from Sheriff Ozzie Knezovich. In a televised debate, Biviano called on O'Quinn to condemn Shea's remarks.
Biviano said he called Pace before the debate. "I said, 'I'm going to take a stand against Matt Shea and condemn what he's doing, and I want you to know that.' And he said, 'I understand. Do what you got to do. You have your convictions; I have mine.' "
One thing they do agree on is that Greater Spokane Incorporated, an organization headed by former Commissioner Todd Mielke, should not receive government funding.
"If someone is so dead-set against a label, I probably can't reach them," Biviano said. "But if people look at what I've done, they see that what I've done has been politically neutral. If there are sides to be taken, it's just middle-class working folks who are being left behind."
In the other commissioner race, Pace endorsed Josh Kerns, a Republican legislative aide. Kerns' opponent is Spokane City Councilwoman Candace Mumm, a Democrat.
O'Quinn, meanwhile, has secured endorsements from Spokane Valley Mayor Rod Higgins and council members Arne Woodard and Sam Wood.
"I work well with the Valley City Council," she said. "And ultimately, that's what's important."
---