Sports
Auto racing: Martin Truex Jr. bolts to front in qualifying at Talladega
Sat., Oct. 22, 2016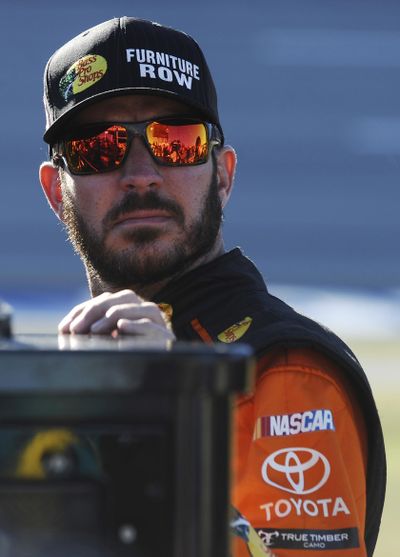 Martin Truex Jr. showed up at Talladega Superspeedway determined to be at the front of the field and in control of his chances in NASCAR's playoffs.
A pole-winning run Saturday put him at the top of the field for the critical elimination race in Talladega, Alabama.
Truex turned a lap of 193.423 mph to earn the top starting spot Sunday. The run came after NASCAR confiscated a bolt from his Toyota, but Truex said he was not worried about ramifications to his Furniture Row Racing team.
"The jack bolt issue is really not a big issue," Truex said. "They just took the left front, so it's not a big issue. It was a parts manufacturing issue, no big deal at all."
Winner of two races in the first round of the Chase, Truex is winless in round two but above the cutoff point. Four drivers will be cut from the field on Sunday.
"All we have to do is make it through to the next one," he said. "We've got some good tracks coming up for us and (Sunday) is going to be a tough race. A lot is going to happen, but we just have to hope for the best and do the best job we can do.
"I feel good about my car and it's got a lot of speed in it, obviously."
The inspection issue with Truex provided a little early drama on qualifying day, as there was some speculation the team could face a penalty. NASCAR typically issues penalties in the middle of the week, and a point deduction could in theory knock Truex out of the Chase.
However, NASCAR vice president of competition Scott Miller said a points penalty is unlikely, and that Truex had no competitive advantage.
Brad Keselowski, in nearly a must-win situation on Sunday, qualified second.
Matt Kenseth qualified third and was followed by Chase Elliott, who is also in a must-win situation.
Formula One
Lewis Hamilton needs a late-season charge to catch Nico Rosberg for the Formula One championship. He can start Sunday from pole position at the U.S. Grand Prix in Austin, Texas.
Hamilton outgunned his Mercedes rival and teammate on the last lap to grab his first pole position at the Circuit of the Americas, where he's won three times starting from second.
"I feel amazing," Hamilton said. "I could hear the crowd cheering."
Hamilton has been a Texas favorite with his three wins in four years and he returned this year facing a 33-point deficit behind Rosberg in the title chase. His fastest lap of 1 minute, 34.999 seconds pushed Rosberg to No. 2.
"It was a good lap I did. Annoyed when Lewis crossed the line and beat me," said Rosberg, who also threw a jab at Hamilton's season-long troubles getting off the starting line.
"As we've seen this year, qualifying isn't all important," Rosberg added. "From P2 I still have a great chance for tomorrow."
Indeed, Hamilton has been bedeviled by poor starts and pole position Sunday could mean little. He's won only three of the previous eight races this season when he started No. 1.
A good start will be critical Sunday. The first sector at the Circuit of the Americas sends the cars up through a 110-foot elevation and into a hard left turn that sends them back downhill. Rosberg admits he struggles with the turn, where Hamilton got the inside line at the start in 2015 and bumped him wide.
"It's very technical in terms of braking and positioning. It's very difficult," Hamilton said.
Hamilton has dominated this track and his win last year clinched his second consecutive season championship and third overall. But Rosberg's lead is large enough that he can chase down this season's title without a victory over the final month. Even if Hamilton wins the last four races, Rosberg wins the title with three seconds and a third.
Truck Series
Grant Enfinger grabbed his first career NASCAR victory – at his home track, no less – by holding off the pack to win the Truck Series race Saturday at Talladega, Alabama.
Enfinger, from Fairhope, used a plan with his GMS Racing teammates to move to the front and led a race-high 45 laps to secure the win. He got a push from teammate Ben Kennedy on a late restart and held off a last-lap challenge by teammate Spencer Gallagher.
Gallagher finished second, followed by Timothy Peters, Rico Abreu and Kennedy.
Local journalism is essential.
Give directly to The Spokesman-Review's Northwest Passages community forums series -- which helps to offset the costs of several reporter and editor positions at the newspaper -- by using the easy options below. Gifts processed in this system are not tax deductible, but are predominately used to help meet the local financial requirements needed to receive national matching-grant funds.
Subscribe to the sports newsletter
Get the day's top sports headlines and breaking news delivered to your inbox by subscribing here.
---