News > Spokane
Three-year-old boy, dog die in Hillyard house fire
Sat., Oct. 22, 2016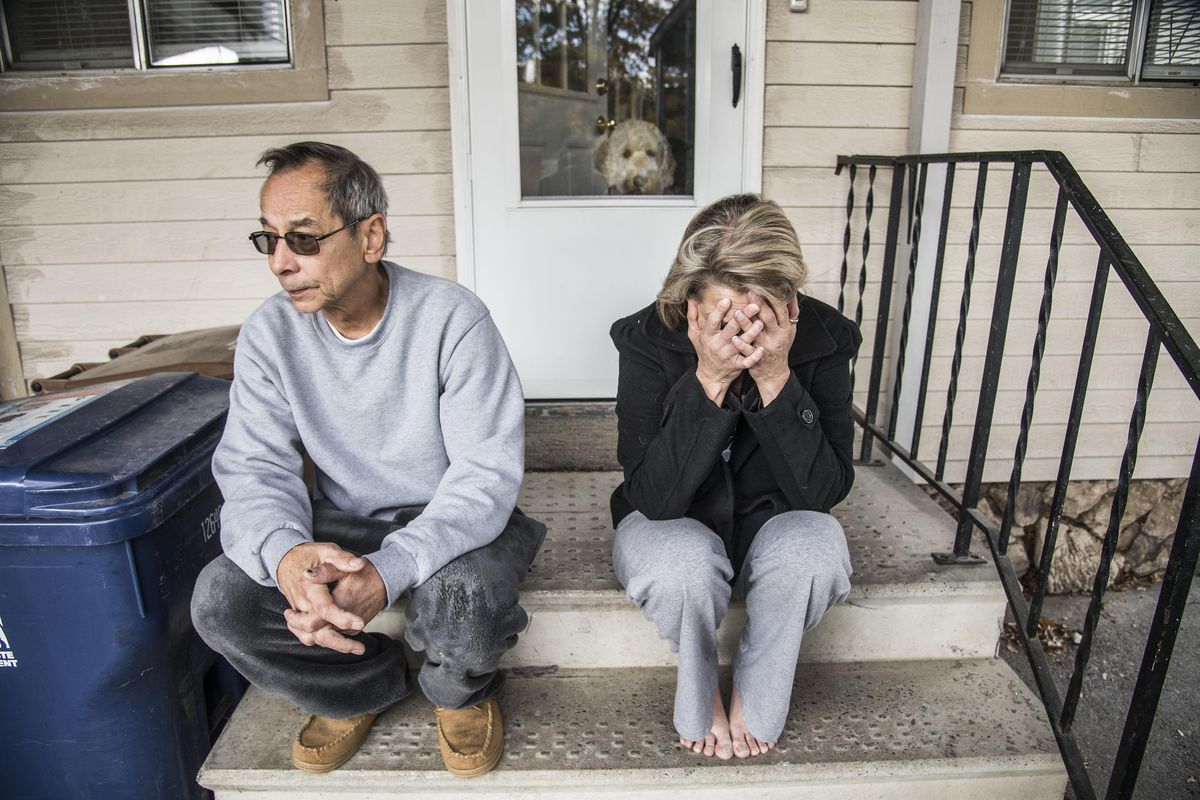 Lori Rayburn breaks into tears Saturday, Oct. 22, 2016, when learning the details of a 3-year-old boy's death in a fire while huddled with his dog. Her husband, Jerry Atabelo, left, tried to fight the fire on Friday night with a garden hose from their home at the corner of Myrtle Street and Longfellow Avenue in Spokane. (Dan Pelle / The Spokesman-Review)
A 3-year-old boy who died in a fire late Friday night in Hillyard was found huddled with his dog, who stayed by his side, and a teddy bear.
"They died together," said Spokane Fire Department Assistant Fire Chief Brian Schaeffer.
The two adults home at the time were able to rescue three other children from the fire in the 4000 block of East Longfellow Avenue, which was reported around 11:30 p.m. Friday.
Jerry Atabelo, who lives across the street, said he saw the flames and heard screaming as he was getting ready for bed. He yelled for his wife to call 911 and ran outside to hook up his 150-foot water hose, which he had disconnected for the winter.
Atabelo said a neighbor dragged the hose across the street. "They started spraying it down," he said.
As people screamed that there was still a child inside the house, he said, neighbors sprayed water through a window to try to extinguish the fire. He said it wasn't clear whether the window broke from the heat of the fire or if a bystander broke it out in an attempt to reach the child.
Atabelo's wife, Lori Rayburn, said the rental house has an unusual layout. "The way the house is configured in there, it was probably impossible to get to him," she said.
Schaeffer said the boy was found in a bedroom heavily damaged by fire. "It melted everything," he said. "There was no way to survive that."
The home had a smoke detector, but it did not have a battery, Schaeffer said. The fire department will give smoke detectors and batteries to anyone who needs them, he said.
The cause of the fire is under investigation. The Spokane Police Department is investigating the child's death.
Local journalism is essential.
Give directly to The Spokesman-Review's Northwest Passages community forums series -- which helps to offset the costs of several reporter and editor positions at the newspaper -- by using the easy options below. Gifts processed in this system are not tax deductible, but are predominately used to help meet the local financial requirements needed to receive national matching-grant funds.
Subscribe now to get breaking news alerts in your email inbox
Get breaking news delivered to your inbox as it happens.
---