Sports
Washington State overcomes Tempe troubles, wins at Arizona State for first time since 2001, 37-32
Oct. 22, 2016 Updated Sat., Oct. 22, 2016 at 11:50 p.m.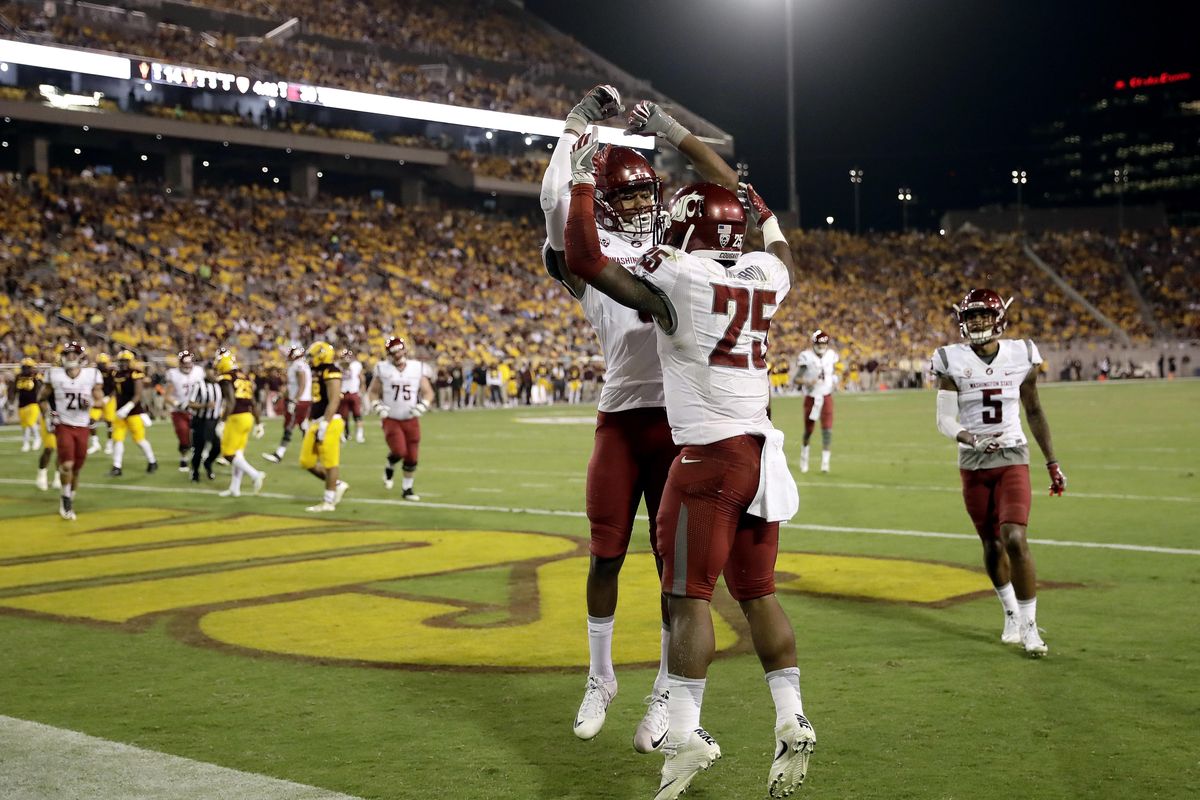 Washington State running back Jamal Morrow (25) celebrates his touchdown catch with teammate Isaiah Johnson-Mack during the second half of an NCAA college football game against Arizona State, Saturday, Oct. 22, 2016, in Tempe, Ariz. (Matt York / Associated Press)
TEMPE, Ariz. – A few limp ghouls appeared early. Perhaps a flaccid ghost or two reared itself to scare the visitors by showing them visions of their previous ineptitude.
But Washington State effectively exorcized 15 years of demons at Sun Devil Stadium, with the Cougars eventually coming out ahead in every football phase during their 37-32 win at ASU on Saturday.
It was the program's first win in Tempe since 2001.
During WSU's emergence as one of those teams that can line up its Pac-12 opponents and then knock them down, the team has proven to be an efficient, effective machine. But only when it has a jump-start.
The offense and defense have each covered for the other during WSU's winning streak, striking early and allowing the other side of the ball to find its rhythm. And so with both units frittering around on Saturday, it fell to WSU's special teams to get the Cougars in sync.
Robert Taylor returned a kickoff 100 yards for a touchdown in the second quarter, keeping the score close at 14-10, ASU, and snapping WSU out of a funk that threatened to give the Sun Devils a decisive advantage.
"I thought it did ignite our side," coach Mike Leach said. "It was a very impressive run and the whole kickoff return unit I thought did a pretty good job. And I did think it was at a crucial time."
The Cougars (5-2, 4-0 Pac-12) went on to lead, 17-14 at the half and did not trail again the game. The game itself proved to be historic in a number of ways. River Cracraft caught his 200th career pass, making he and Gabe Marks (271 receptions) the only pair of teammates in Pac-12 history to record 200 catches.
Marks finished with eight catches for 107 yards and a touchdown. Cracraft added seven catches for 79 yards, while Jamal Morrow and Tavares Martin each added touchdown receptions.
The Sun Devils jumped out to a 14-3 lead early in the second quarter. Quarterback Manny Wilkins led a surgical touchdown drive to start the game, punctuating it with his own three-yard run to the end zone.
Wilkins, who has dealt with injuries for much of the season, left the game shortly thereafter.
Wilkins appeared hobbled during ASU's blowout loss to Colorado the previous week, and was held out of practice in advance of of Saturday's game.
The WSU offense finally got into its usual groove on the first drive of the second quarter, with Falk completing six consecutive passes, all but one of them gaining eight or more yards.
"We didn't always play together," Leach said. "But we reacted and recovered when we didn't."
But ASU, always known for its blitzes, turned up the heat on WSU in the red zone. The Sun Devils brought the house on third down and Marcus Ball ran unblocked at Falk, hitting the quarterback as he threw and forcing an incompletion.
The Cougars settled for a 29-yard field goal and still trailed, 7-3. ASU threatened to pull away, scoring on the ensuing drive when running back Kalen Ballage took a direct snap and followed two lead blockers through the middle of the defense for a 52-yard score.
WSU was on cruise control for most of the second half, leading by as much as 17. Former third-string quarterback Dillon Sterling-Cole provided ineffective offense for ASU, which eventually began using almost exclusively Wildcat formations, in which running backs Demario Richard and Ballage lined up at quarterback.
While this provided mixed results, Tim White's 70-yard punt return for a touchdown and a subsequent two-point conversion cut WSU's lead to 37-29 (special teams giveth, special teams taketh away).
The Cougars went entirely away from running the ball and finished with minus-52 rushing yards (the team lost 26 yards intentionally on the final drive to keep the clock running).
"One thing you always expect from Arizona State is that no matter what, their defense is going to play hard and fast, and they know how to hit and make it hurt," Marks said. "We've been trying to get prepared for that because this game, through the years, has always taken a toll."
It did not help that left guard Cody O'Connell, WSU's best run-blocking offensive lineman, left the game with an undisclosed injury in the second quarter. He was replaced by B.J. Salmonson.
ASU stopped the Cougars on the ensuing drive, sacking Falk on consecutive plays leading to the quarterback needing to see team doctors on the sideline. Ballage gained nine-yards on fourth-and-one to move the chains once ASU got the ball back, and Sterling-Cole threw a 22-yard psas to N'Keal Harry to get the Sun Devils to the WSU 13-yard line.
But the WSU defense held as ASU tried to manufacture offense through a variety of reverses, and held the Sun Devils to a field goal.
Local journalism is essential.
Give directly to The Spokesman-Review's Northwest Passages community forums series -- which helps to offset the costs of several reporter and editor positions at the newspaper -- by using the easy options below. Gifts processed in this system are not tax deductible, but are predominately used to help meet the local financial requirements needed to receive national matching-grant funds.
Subscribe to the sports newsletter
Get the day's top sports headlines and breaking news delivered to your inbox by subscribing here.
---