Medical Lake toddler who died with dog in Hillyard fire was visiting aunt's home for Halloween party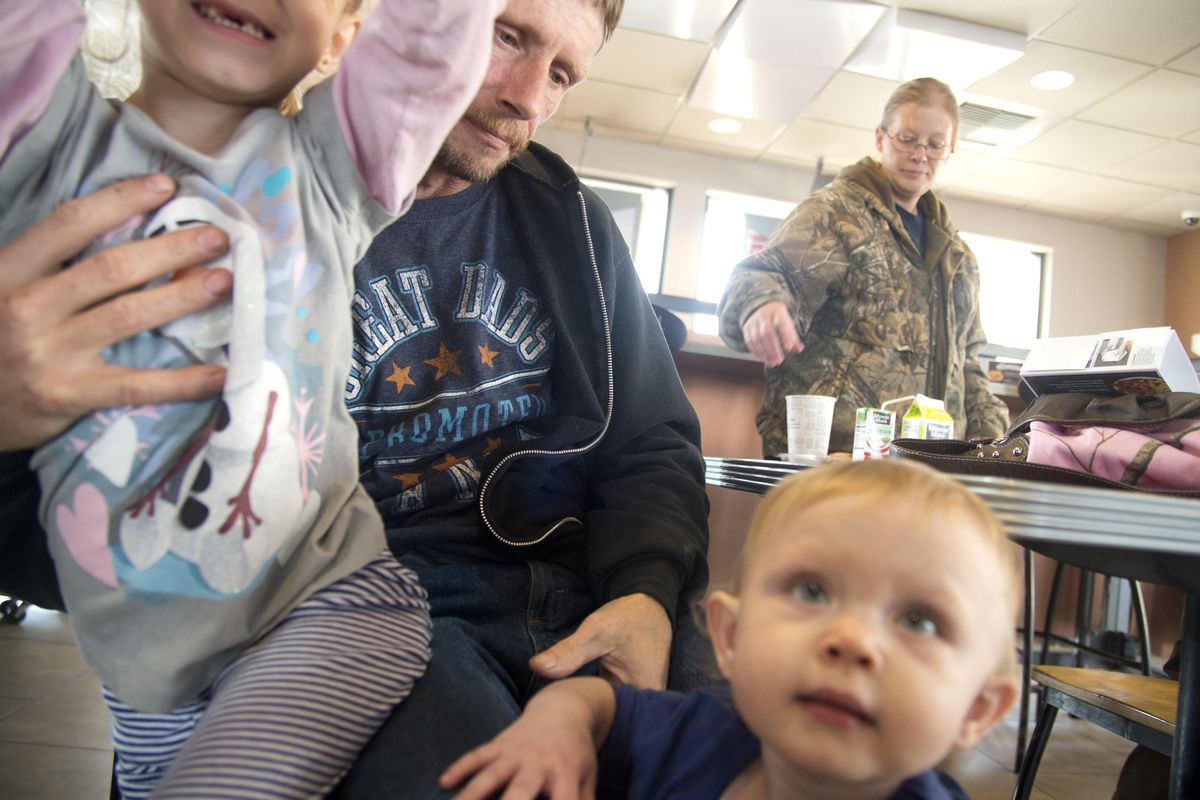 "Noah, come here please," Kayla Whitcher says to a rambunctious little boy on Monday. Then she pauses. "I mean Liam."
Another of Whitcher's grandsons, 3-year-old Noah Whitcher, died in a Hillyard house fire on Friday night.
The little boy was visiting his aunt's home, as he had many times. He wanted to stay overnight because there was a Halloween party planned on Saturday, his paternal grandparents said.
Noah was going to dress up as The Flash.
Instead, he died huddled on a bed with his aunt's dog Morey by his side, and his favorite teddy bear.
Morey, a dachshund-Chihuahua mix, "loved Noah from the minute he met Noah to the minute he left," Kayla Whitcher said on Monday.
"I keep saying, 'Is this a dream, am I going to wake up from this?' " Whitcher said Monday. "I feel like something is missing. I know something is missing."
Whitcher and her husband, Hal Whitcher, agreed to meet at a Jack in the Box restaurant in downtown Spokane, surrounded by four of their remaining six grandchildren.
Liam, a blond, inquisitive 2-year-old, was Noah's best friend, calling his older cousin "Doah." The two boys loved Batman, video games and sword fighting using tree branches. Noah was excited to start preschool next year.
"It's hard to explain to a 2-year-old that he's not here anymore," Kayla Whitcher said.
Noah's parents tried to talk him out of going to his mother's sister's house in Hillyard on Friday; they wanted a family weekend. But the strong-willed little boy insisted.
Neither parent wanted to talk to The Spokesman-Review, although they did give Kayla and Hal permission to talk about Noah. Noah's father's family all lived near each other in Medical Lake.
"He wanted to be so independent," Hal Whitcher said. "He would get mad when you would help him, too. He would hit ya, and he'd throw a big old tantrum because you were helping him."
So his parents relented and he went over to the small rental home where his aunt and his other grandfather lived. Noah had stayed at the house many times, Kayla Whitcher said.
"We let him go and then this happened," Hal Whitcher said.
When Kayla Whitcher saw Noah for the last time on Friday night, he was wearing a SpongeBob SquarePants tank top and chasing another of his young cousins, whom he loved.
"The last thing he said to me was, 'Bye Grandma, I love you,' " Kayla Whitcher said.
What happened next isn't clear. A neighbor said he saw flames and heard screaming around 11:30 p.m. He yelled for his wife to call 911 and then ran outside and started trying to fight the fire with his hose.
When firefighters entered the house just before midnight they found Noah's body.
Assistant Fire Chief Brian Schaeffer said the fire "melted everything." The Spokane Fire Department and the Police Department are investigating the cause of the fire and the boy's death.
In many ways Noah was a typical child; he loved video games, superheroes and climbing trees. What set him apart, his grandparents said, was his kindness.
"You would have a bad day and Noah would brighten that day," Kayla Whitcher said. "He would make you feel like there is not a problem in the world for you."
Noah was close to both his parents and his 5-year-old brother Seth.
Kenzie Sailors, Noah's paternal aunt, remembers the little boy's eyes. "He had the brightest, brightest eyes," she said.
Her mother, Kayla Whitcher interjects. "And we loved his big forehead."
"Yup, made him look like a little man," Sailors continued. "He would tell you what to do, he'd come in with his hands on his hips and boss you around."
Schaeffer said the rental home had a smoke alarm, but there were no batteries inside. Noah's three cousins, ranging in age from 7 to 11, survived the fire, as did two adults.
Hal Whitcher is angry. And although he said he is waiting for the investigation to be completed and all the facts to be released, he's sure about one thing.
"In my book it's neglect," he said. "Whether it was intentional or accidental, it's still neglect. Someone is to blame. A child lost his life and there is no reason. No excuses. No rationalizing it."
Hal is tough and lean from a career as a handyman and a roofer and doesn't look like a man who would cry. But Monday afternoon, speaking about the grandson he'd nicknamed "my little big boy," he broke.
"Poor child. Jesus Christ," he said. "Horrible way to go. Horrible. Oh my god, it's so horrible."
---