Seahawks left with mixed feelings after unlikely tie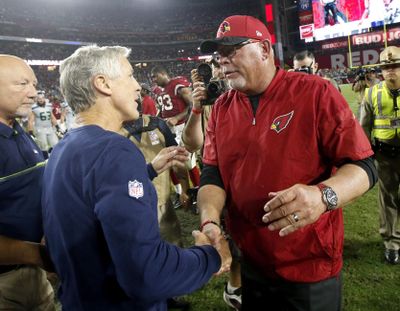 RENTON, Wash. – The first tie in the history of the Seattle Seahawks left Pete Carroll searching for a way to define its meaning.
It certainly wasn't a loss. Not with the way Seattle's defense withstood the most difficult of conditions, being subjected to 95 plays by one of the more potent offenses in the NFL and more than 46 exhausting minutes spent on the field.
But it also didn't feel much like a victory after Steve Hauschka badly missed a 28-yard field goal attempt in the closing seconds of overtime.
So less than 24 hours after walking off the field in Arizona, Carroll was still searching for the proper context to Sunday's 6-6 tie with the Cardinals.
"I've decided to make up our own place. We're going to put this in the extraordinary experience of battling, an opportunity to demonstrate who we are and what we're about," Carroll said. "And again, learn how to believe in one another. Count on each other to get stuff done even when it's really bleak sometimes. You just keep hanging on, keep believing."
Carroll had reason to be so encouraged after seeing the performance by Seattle's defense that somehow kept Arizona out of the end zone but left the likes of Bobby Wagner and Richard Sherman severely fatigued after being on the field for 46 minutes and 21 seconds, believed to be the ninth-longest time of possession in a regular-season game.
The Seahawks gave up 443 total yards to Arizona, but huge plays in overtime by Earl Thomas, Kelcie McCray and Wagner managed to keep Arizona from finding the end zone and created the situation where Chandler Catanzaro missed a 24-yard field goal attempt that could have won it for the Cardinals.
Between defense and special teams, McCray was on the field for 108 total plays.
"There was a bunch of guys that did a lot. It was a game of heroics," Carroll said. "I don't know if they see it that way. I see the stuff on their side too that you admire. But we had a bunch of guys that did some great things and played a ton of plays and were able to survive it."
Carroll said the team will be mindful of the rest and recovery needed for his defense this week before Seattle makes the road trip to New Orleans for an early kickoff Sunday.
"You'll see some names and things for different reasons to make sure our guys are bouncing back because right now it's about recovering," Carroll said. "We didn't get banged up much, but there will be a recovery mode here that we have to be in and make sure we get out of it and come out strong and fast and ready to play next weekend."
While the accolades were deserved for Seattle's defense, managing just six points raised more questions regarding Seattle's offense and specifically the protection by the offensive line. Seattle had only five first downs and 130 yards of offense in regulation.
Quarterback Russell Wilson was sacked just once, but was rarely comfortable throwing from the pocket. Seattle had very little success running the ball and faced numerous long yardage situations on second and third downs due to penalties.
There will be changes on the offensive line for likely the next few weeks. Left tackle Bradley Sowell suffered a sprained MCL in his right knee and, while he won't need surgery, will miss some time. Carroll indicated his replacement will likely come from the group that includes rookie George Fant and veteran J'Marcus Webb or a move by Garry Gilliam from right tackle to left tackle.
"The running game, we would be OK, we just need more plays," Carroll said. "You could see it in the fourth quarter. You could see there (were) runs there, there were plays to be had. Maybe it was the fifth quarter when it really showed up some. It's disappointing that we're on the same topic here again."
---