News > Nation/World
Ex-KKK Grand Wizard David Duke to debate at historically black college
Tue., Oct. 25, 2016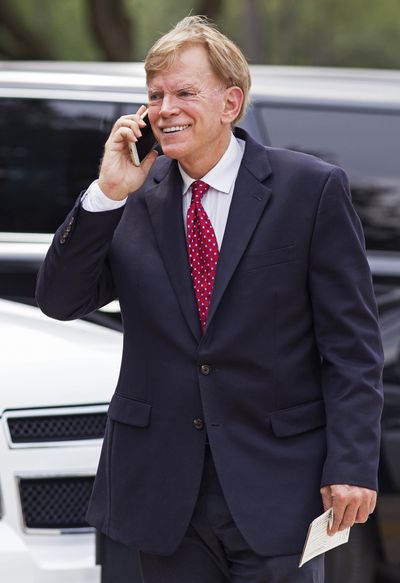 Former Ku Klux Klan Grand Wizard and current Louisiana Senate candidate David Duke will participate in a debate at historically black Dillard University.
Duke qualified by getting 5.1 percent in a poll commissioned by the media company that will carry the debate statewide. Candidates had to draw at least 5 percent to qualify for the Nov. 2 debate.
He'll join Republican state Treasurer John Kennedy, who got 24 percent in the poll, Democratic Public Service Commissioner Foster Campbell, who had 19 percent, Democratic attorney Caroline Fayard and Republican U.S. Rep. Charles Boustany, who each got 12 percent, and Republican Rep. John Fleming, who finished with 11 percent.
In Louisiana's election system, multiple candidates from the same party can run, with the top two candidates facing each other in a runoff election on Dec. 2.
Despite Duke's presence, Dillard said it was obligated to hold the event. But Joseph Caldwell, the college's student government association vice president, said there were plans to speak out about the debate.
"David Duke is unacceptable and he's not welcome here," he said.
Duke won Louisiana's runoff election for governor in 1991 and lost against Democrat Edwin Edwards, who overcame his reputation for corruption after numerous Republicans condemned Duke.
He was elected to the Louisiana House in a special election before an unsuccessful run for the U.S. Senate.
Local journalism is essential.
Give directly to The Spokesman-Review's Northwest Passages community forums series -- which helps to offset the costs of several reporter and editor positions at the newspaper -- by using the easy options below. Gifts processed in this system are not tax deductible, but are predominately used to help meet the local financial requirements needed to receive national matching-grant funds.
Subscribe to the Coronavirus newsletter
Get the day's latest Coronavirus news delivered to your inbox by subscribing to our newsletter.
---