News > Idaho
Police stumped by suspicious disappearance of Idaho X-ray tech
Tue., Oct. 25, 2016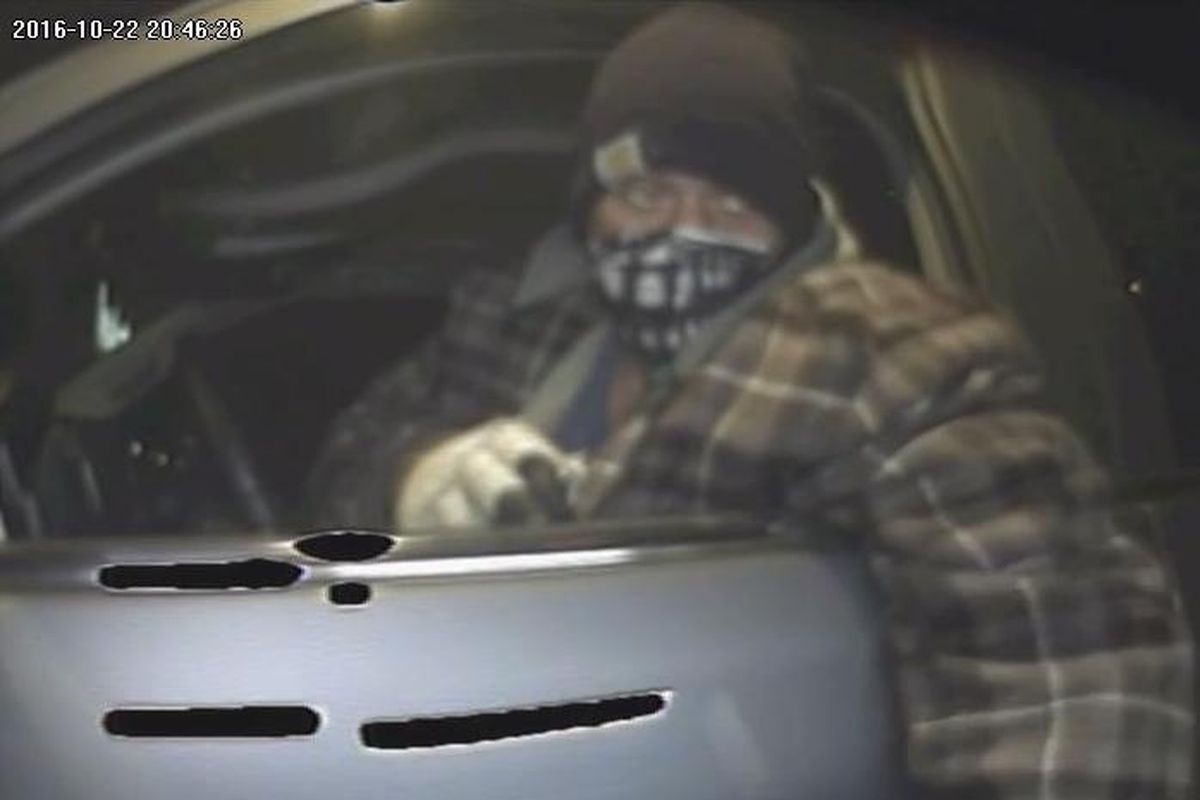 Police released this image of a person driving William "Bo" Kirk's pickup truck at a bankcda branch in Hayden Saturday night, about an hour before the truck was found on fire north of there in the 23000 block of N. Rimrock Road. (Post Falls Police Department)
Police are puzzled by the suspicious disappearance Saturday of a Coeur d'Alene man after he left his job as an X-ray technician at a Post Falls hospital.
William "Bo" Kirk, 41, went missing just after 7 p.m. after his shift at Northwest Specialty Hospital. Almost three hours later, his pickup truck was found ablaze in the northern part of Kootenai County. In between, someone driving the truck and wearing a mask stopped at two banks to take money out of Kirk's account using his ATM card.
Kootenai County sheriff's detectives said late Tuesday afternoon they had found a man's body in the Coeur d'Alene National Forest near the Hayden Creek Shooting Range, about an 8-mile drive from where Kirk's truck was found. Officials have not released an identity for the deceased man, confirmed the manner of death or said if that is related to the Kirk case.
Deputies were called to the Hayden Creek area in the Coeur d'Alene National Forest just after noon Tuesday for a reported deceased male. Two Coeur d'Alene men came upon the remains and contacted the Sheriff's Office. Deputies and detectives were still on the scene later Tuesday.
Forest Service Road 437, commonly known as Hayden Creek Road, was closed between East Hayden Lake Road and Forest Service Road 206, and would remain closed for an undetermined time, the Sheriff's Office said.
Police said Tuesday they believe two people were in the truck during those withdrawals.
"It's suspicious, there's obviously foul play involved, it's not right, something has gone bad here – and so what we are trying to do is figure out exactly what happened," Post Falls police Chief Scot Haug said earlier Tuesday afternoon.
"Our No. 1 priority is to find Mr. Kirk. Right next to that, we want to find any suspects involved in that and try to figure out what happened," Haug said.
Three Post Falls police investigators are working full time on the case, assisted by the Kootenai County Sheriff's Office and members of the North Idaho Violent Crimes Task Force. Extra employees have been brought in to answer the phones and process a wave of tips from people who saw the bank surveillance footage or other bulletins about the missing man.
Haug said a motive for what happened has been elusive.
"I have been thinking about that a lot since this incident happened, and I don't understand it right now," he said. "Right now none of us really knows why. It doesn't make sense, and that's what makes this case as complex as it is. Typically there's some rhyme or reason why something happens. And right now we don't have anything like that. So it doesn't make sense to us."
Kirk's family has met with investigators and has been cooperative, the chief added.
"Obviously they're distraught about missing a loved one," he said. "He has a very, very healthy relationship with his family. He had just talked to his son earlier, and they were going to make a trip to a haunted house together (Saturday night).
"There's no indication of any financial problems, there's no problems at work, no enemies that we're aware of at this point. That's what I mean when I talk about the complexity of it."
The person driving Kirk's truck stopped at 8:34 p.m. at a U.S. Bank branch at 6376 N. Government Way in Dalton Gardens, and withdrew cash from Kirk's account using a drive-thru ATM.
At 8:46 p.m., the same person pulled into a Bankcda branch at 162 W. Hayden Ave., Hayden, and took more money out of Kirk's account.
Police have video footage of the suspect from both banks. The driver is wearing a mask over the nose and mouth, a stocking hat and a bulky flannel sweater. Family members and friends have said it looks nothing like Kirk.
Haug said it appears a second person was inside the truck's cab at both stops, but it's difficult to make out the features.
Investigators are searching the area where the burning truck was found at 9:43 p.m. in the 23000 block of North Rimrock Road, south of Silverwood Theme Park. That's about a 20-minute drive from the second bank's location.
"There has been a lot of searching going on there," Haug said. He said he couldn't comment more on details of the search at this time.
"There has been an overwhelming amount of interest in people wanting to get involved," the chief said. "We've had over 100 tips. We've had probably another 100 on our Facebook page. People are really wanting to get involved and help find Mr. Kirk. We're hoping that will happen soon."
Rick Rasmussen, CEO of Northwest Specialty Hospital, said Kirk has worked there since 2012. Saturday was a normal shift, and Kirk left at the usual time. A co-worker saw him head to his truck in the parking lot about 7:05 p.m.
"It was a pretty standard Saturday. Nothing unusual. Your typical sore throats and stitches – just pretty common, urgent care Saturday," Rasmussen said.
He has been working closely with police this week, including reviewing the past week's patient cases to see if anything stood out.
"We're looking for any answer," Rasmussen said. "We're asking anybody if they remember anything. Did they see the vehicle?"
Security videos at the hospital show nothing out of the ordinary, he added.
Kirk mentioned something about picking up dessert or ice cream on the way home, so investigators are following that lead as well.
"From here, where did he go?" Rasmussen said. "He chews tobacco, and so they don't know if he stopped at a convenience store, so they're going to all the stores that sell ice cream and tobacco. They're just trying to look at anything."
He added, "Everybody's heart goes out to Bo and his family. And it's just one day at a time. We're just wanting answers, and hoping we find him … safe. It's so surreal. I've lived in Coeur d'Alene my whole life. I can't imagine something like this happening in our community."
Rasmussen said Kirk is a pitcher on the company-sponsored softball team and also volunteers on an employee committee that recently raked leaves at Hospice of North Idaho.
"Just a super guy," he said. "A big sports fan. I've actually golfed with him. Just a super nice man."
Kirk has a son in the U.S. Coast Guard who came home Monday to be with the family, he added. The hospital staff is preparing and delivering meals to the family.
"A nice North Idaho family, you know?" Rasmussen said.
Kirk's relatives also are out helping look for him. "There's just a lot of ground between Post Falls and where the truck ended up," Rasmussen said.
Kirk is white with black hair and brown eyes. He is 5-foot-8 and 170 pounds. He last was seen wearing dark-colored medical scrubs.
Anyone with information about the case is asked to call Post Falls police at (208) 773-3517 or via the department's website, www.postfallspolice.com. Updates will be posted on the Post Falls police Facebook page.
Local journalism is essential.
Give directly to The Spokesman-Review's Northwest Passages community forums series -- which helps to offset the costs of several reporter and editor positions at the newspaper -- by using the easy options below. Gifts processed in this system are not tax deductible, but are predominately used to help meet the local financial requirements needed to receive national matching-grant funds.
Subscribe now to get breaking news alerts in your email inbox
Get breaking news delivered to your inbox as it happens.
---