News > Spokane
Rob Brewster is redeveloping the old McKinley School in East Central Spokane
Tue., Oct. 25, 2016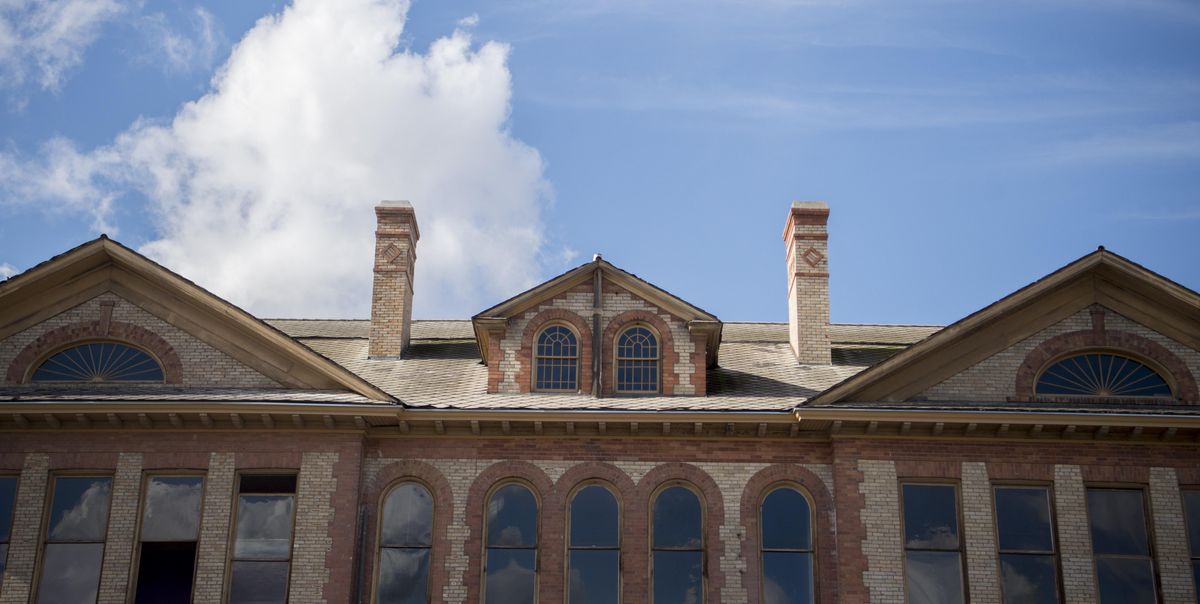 The former McKinley School is seen on Tuesday, Oct. 25, 2016, at 117 N. Napa St. in Spokane, Wash. (Tyler Tjomsland / The Spokesman-Review)
Old McKinley School in east Spokane may be getting a new life as a neighborhood gathering spot if a developer can turn plans into a project.
An investor group based in Seattle last summer bought the 1902 elementary and junior high school for $950,000 with plans to redevelop it into a mixed-use facility with a brewery.
Rob Brewster, the developer on the project, said it could be patterned after the McMenamins chain of popular pub and entertainment venues, but without lodging.
The old school property occupies a full city block bounded by Napa, Riverside, Magnolia and Main.
It includes a low-rise warehouse along Magnolia on the west side of the school.
The new owner is School Yard Billy LLC.
That is a takeoff on President William McKinley, for whom the school is named.
For Brewster, the project marks a return to Spokane after he suffered financial losses stemming from the Great Recession.
"I think it is one of the coolest buildings in Spokane," said Brewster, who made a name for himself a decade or more ago by restoring the Holley-Mason Building and Montvale Hotel.
He had other downtown projects, including the Hutton Building, which was later purchased by Spokane Teachers Credit Union.
The McKinley School was once one of the largest schools in what was then called District 81, where it served the needs of a neighborhood that expanded quickly at the start of the 1900s.
It was closed as a school in 1962 and later acquired by the Ross family, which ran Spokane Transfer and Storage Co.
Family members said Dale Ross was intent on saving the building, and at one point recommended it for the development of a community center.
Brewster said it makes more sense to turn the building into a commercial venture rather than a public use.
He said there's a strong trend in other cities for redeveloping older neighborhood landmarks.
McMenamins has been a leader in that dating back to redevelopment in 1990 of Edgefield, a former county poor farm east of Portland.
The East Central neighborhood should see some of that trend in coming years, Brewster said.
"I think this neighborhood stands on its own," he said.
With all of its older buildings and variety of businesses, Brewster said East Central has "texture."
About the time of the sale last summer, Brewster went to a pre-development conference at Spokane City Hall where city staff outlined various code and redevelopment requirements.
Notes from the conference indicated that Brewster was with InterUrban Development LLC, of Seattle.
The proposal calls for turning the 50,440-square-foot school building into a mix of brewery/distillery, restaurants, retail and possibly office use.
The 9,800-square-foot warehouse could have similar uses, including a concert venue or light industry.
Brewster said he has talked with neighborhood residents and business owners about his plan.
"We are trying to help that neighborhood get going economically," he said.
Jim Hanley, owner of Acme TV Home and Office at the Tin Roof, said the East Central Neighborhood is excited about the project.
Paul Mann, chairman of the Washington State Advisory Council on Historic Preservation, said, "I am delighted somebody wants to do something with that building."
He said local leaders had been reaching out to potential investors to find a buyer for some time.
One of the companies that was contacted was McMenamins, a popular and eclectic chain of brew pubs, historic lodging, movie theaters and art in Oregon and Washington, Mann said.
Brewster said he has admired the building for at least a decade.
He said he envisions the three-story McKinley School as becoming like McMenamins Anderson School in Bothell, Washington, but without the lodging.
He said he expects the project to take about two years to complete.
Local journalism is essential.
Give directly to The Spokesman-Review's Northwest Passages community forums series -- which helps to offset the costs of several reporter and editor positions at the newspaper -- by using the easy options below. Gifts processed in this system are not tax deductible, but are predominately used to help meet the local financial requirements needed to receive national matching-grant funds.
Subscribe now to get breaking news alerts in your email inbox
Get breaking news delivered to your inbox as it happens.
---