Sports > Seattle Seahawks
Seahawks unlikely to make a trade for costly offensive lineman
Tue., Oct. 25, 2016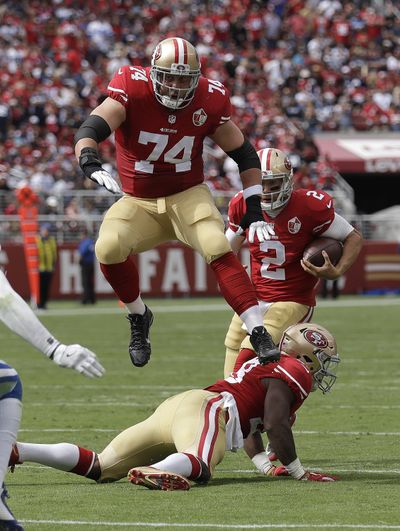 RENTON, Wash. – They were already at Plan B at the most important position on the offensive line.
So who or what is Plan C for the Seahawks, at the most important place along their most troublesome position group, for Sunday's game at New Orleans (2-4)?
That is what the NFC West leaders (4-1-1) spent Tuesday trying to decide. Left tackle Bradley Sowell sprained the medial collateral ligament in his knee during Sunday night's 6-6 tie at Arizona.
Sorry, trading for Joe Staley or Joe Thomas – or any other veteran Joe that would cost big bucks and high draft picks – wasn't likely under as deep a consideration as you would like.
"You got somebody that wants to give you a left tackle? Those guys don't exist, dude," Carroll told Bob Stelton of Seattle's 710-AM radio.
Well, they don't exist at any less than a steep price, in the case of San Francisco's Staley or Cleveland's Thomas. They have prices the Seahawks have been unwilling to pay since Carroll and general manager John Schneider began running the team in January 2010.
Both Staley and Thomas are rumored to be available for trade. That's a connecting of dots between ages, big contracts with multiple years left on them, losing teams – and the league's trading deadline coming up. It's Nov. 1.
The Browns are believed to have come close to trading Thomas, their third-overall draft choice in 2007, last year. His salary cap charge to a team that trades for him would be $4.39 million. That's what's remaining on his contract for this season, nine more weeks prorated on his $8.3 million base salary. He has two more years after this one left on his deal, at $8.8 million each in 2017 and '18. But none of that base pay is guaranteed. His team has no dead money against its cap for those years – it could renegotiate or cut that contract in any year with no residual effect on its salary cap.
For what it's worth, Cleveland coach Hue Jackson was pointed about it Monday.
"We. Are. Not. Going. To. Trade. Joe. Thomas," the Browns coach told the media in Ohio.
Staley, 32, was San Francisco's 28th overall pick in that same draft Thomas went to Cleveland. His contract is trickier than Thomas', and Pro Football Talk reported Sunday the 49ers want a first-round pick for Staley.
He is signed with the 49ers through 2019. His remaining salary for this season is $2.86 million, but because of bonuses his salary-cap hit is more than $11 million for next year and $7.7 million in 2018 and '19. His base salary jumps to $8.25 million in 2017. His "dead money," the money his team would carry against its cap if he is released in a given year, is currently $6.6 million next year, $4.4 million for 2018 and $2.2 million for '19.
Monday, 49ers coach Chip Kelly told Bay Area media when asked about the potential of San Francisco trading Staley: "That's news to me. Nobody's had any discussions with me about Joe being traded. We need Joe here."
Again, for what that's worth.
All of Staley's money – and Thomas', for that matter – is more than the Seahawks have been willing to spend to acquire an offensive lineman under Carroll and Schneider. In fact, they've splurged about everywhere but on the O-line.
They decided to build the Seahawks by paying big bucks to their 20-something defensive core – Earl Thomas, Richard Sherman, Bobby Wagner, K.J. Wright – plus to quarterback Russell Wilson and top wide receiver Doug Baldwin. They've chosen to skimp and get by with minimum and rookie contracts with starters on the offensive line.
That's how they've maintained their foundation players through second deals since 2012 while staying under each year's salary cap.
What is rich on Seattle's offensive line? J'Marcus Webb is Seattle's highest-paid blocker. The Seahawks are paying him $1.25 million guaranteed to be their backup guard and tackle this season. He got a two-year contract this spring with $2.45 million guaranteed.
A fraction of what Staley and Thomas get.
Yes, the offensive line needs a massive upgrade. The Seahawks have played two full games plus the first 59 minutes and 28 seconds of the opener against Miami without scoring a touchdown. They gained just 130 yards and scored but one field goal in four quarters Sunday before overtime at Arizona. Seattle is 27th in the league in its basis, rushing offense, at just 82.7 yards per game.
And, yes, Wilson is playing on a sprained left knee and sprained right ankle from being sacked in September. He isn't running at his normal speed, which is hurting both the running game and his usual, improvisational wonders in passing. Wilson's injuries have so far left him unable to mask the O-line's deficiencies as he had in previous seasons.
Sowell wasn't even Seattle's preseason plan at left tackle; Garry Gilliam was before the team moved him back to right tackle in August. Does Sowell being out multiple weeks, at least make Schneider change his M.O. and trade for a new blindside protector for Wilson midseason?
Not likely.
Not if the GM sticks to how he built this two-time Super Bowl team and perennial contender.
The only trades the Seahawks have made under Schneider and Carroll to acquire a veteran with the status at their position of Staley and Thomas have been for guys who carry and catch the ball. They made the deal in their overhaul first year of 2010 to get Marshawn Lynch from Buffalo. That was, of course, wondrous. Lynch became a Hall-of-Fame-caliber foundation upon which Seattle bludgeoned foes and won Super Bowl 49 three seasons ago.
The other such trade? Well, we all remember Percy Harvin.
Schneider may never forget the first-round pick he gave to Minnesota and the huge dollars he gave to the wide receiver. Harvin's injuries and fighting with teammates were not nearly worth it. Seattle traded Harvin in the middle of the 2014 season for a bag of kicking tees.
So it's more likely the Seahawks choose their in-house options. That, and wait for Wilson's knee and ankle to hopefully heal to the point he can run the read option and escape pass rushers again. And they'll wait for lead running back Thomas Rawls to return from a cracked fibula. The team expects that to be for the Nov. 7 home game against Buffalo.
On Monday, Carroll listed his options at left tackle while Sowell is out. One is a college basketball player. Undrafted rookie George Fant finished the game against the Cardinals.
"We've been counting on young George to jump up one of these times … and he did an admirable job for his first time ever," Carroll said. "We'll see how it goes. And we've got some choices.
"J'Marcus has moved around, played around. Of course, Garry has played over there. We have some things that we can work with. We'll let you know that later on."
Webb started 32 consecutive games at left tackle for Chicago in 2011 and '12, his second and third NFL seasons.
How well did that go? He hasn't played there since, and he is on his fourth team in five years.
Local journalism is essential.
Give directly to The Spokesman-Review's Northwest Passages community forums series -- which helps to offset the costs of several reporter and editor positions at the newspaper -- by using the easy options below. Gifts processed in this system are not tax deductible, but are predominately used to help meet the local financial requirements needed to receive national matching-grant funds.
Subscribe to the sports newsletter
Get the day's top sports headlines and breaking news delivered to your inbox by subscribing here.
---