Sports
In brief: Spurs rout Warriors in Kevin Durant's debut
Tue., Oct. 25, 2016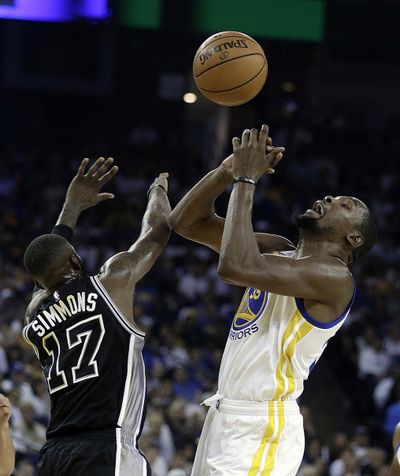 NBA: Kawhi Leonard scored a career-high 35 points and the San Antonio Spurs emphatically spoiled Kevin Durant's long-awaited Warriors debut Tuesday with a 129-100 rout that sent Golden State fans for the exits early in Oakland, California, on opening night.
Durant had 27 points and 10 rebounds, but little looked in sync for MVP Stephen Curry and the reigning Western Conference champions in a forgettable first game – and quite a different one after the Warriors dominated at home and came out of the blocks last season with a record 24-0 start.
Leonard scored 31 points by the end of the third, LaMarcus Aldridge added 26 points and 14 rebounds and Gregg Popovich outcoached a couple of his close friends on the opposite bench in reigning NBA Coach of the Year Steve Kerr and top assistant Mike Brown.
James nets opening-night triple-double: LeBron James had his 43rd career triple-double, Kyrie Irving scored 29 points and the Cleveland Cavaliers, who raised their championship banner before the game, beat the visiting New York Knicks 117-88 in an NBA season opener.
James scored 19 points and added 11 rebounds and 14 assists in front of a raucous home crowd that was on its feet from the pregame ceremony until late in the game, celebrating the city's first championship in 52 years.
James, who spoke to the crowd before the game, continued his perfect record on ring nights. He was 2-0 when the Miami Heat players were presented with their championship rings.
Irving scored 19 points in the third quarter, when Cleveland used a 20-4 run to take a 74-53 lead. Kevin Love scored 23 for the Cavaliers.
Carmelo Anthony led New York with 19 points and Derrick Rose had 17.
Cleveland's players, coaching staff and front office personnel received their championship rings in the pregame ceremony. The basketball game was only part of a big night in town. The Cleveland Indians played Game 1 of the World Series against the Chicago Cubs across the street at Progressive Field.
The Knicks, who missed the playoffs the last three seasons, are expecting major improvement after acquiring Rose from Chicago to run the offense and signing center Joakim Noah, who was scoreless in 21 minutes.
New York, playing its first game under new coach Jeff Hornacek, trailed by 13 in the second quarter but rallied to cut the lead to 45-43 at halftime. A pair of dunks by James and 3-pointers from Irving and Love pushed the lead to 61-49.
Kristaps Porzingis scored 16 points for New York.
NBA, players release video urging unity: Dwyane Wade, Kyle Korver, Chris Paul and Carmelo Anthony are among the NBA stars featured in a video where the league and its players continue trying to address the divide in many communities throughout the country.
The one-minute video features clips of multiple interactions with children – including one where uniformed police officers play street basketball with them – and ends with the Boston Celtics linking hands and arms in a show of unity.
Wade, Korver, Paul and Anthony narrate the video, which ends with the players saying basketball "unites us."
Crosby returns to power Penguins
NHL: Pittsburgh Penguins captain Sidney Crosby is just happy to be back playing hockey again.
His teammates feel the same way, as a goal from Crosby in his first appearance of the season was all the Penguins needed to overcome a slow start. Crosby jump-started a comeback as Pittsburgh rallied from an early two-goal deficit to beat the visiting Panthers 3-2.
"We started off behind the 8-ball there getting down, but we stayed in it and had a big second half," Crosby said. Crosby, who scored on the power play, missed the team's first six games with a concussion.
Stamkos notches four points in Lightning win: Steven Stamkos matched a career-high with four points – two goals and two assists – and visiting Tampa Bay beat Toronto 7-3.
Frederik Andersen gave up seven goals on only 24 shots, the third time in five starts he has allowed at least five goals and fourth time he's allowed four or more. The 27-year-old has an .851 save percentage so far this season.
Alex Killorn, Victor Hedman, Nikita Kucherov, Vladislav Namestnikov and Jonathan Drouin added goals for Tampa Bay, while Ben Bishop made 40 saves.
Wild shut out Bruins: Devan Dubnyk made 27 saves, Charlie Coyle and Chris Stewart scored 12 seconds apart and Minnesota used four second-period goals to beat the Bruins in Boston 5-0.
Ryan Suter and Jason Zucker each had a goal and an assist for Minnesota, and rookie Joel Eriksson Ek got his first three NHL assists.
Jason Pominville scored in the third period, and Dubnyk got his 20th career shutout and the first for Minnesota this season.
Red Wings notch fifth straight win: Dylan Larkin scored two goals to lead the Red Wings to their fifth consecutive win, a 4-2 home decision over the visiting Carolina Hurricanes. Andreas Athanasiou had a goal and an assist and Thomas Vanek scored for Detroit (5-2-0). Petr Mrazek made 28 saves for the Red Wings, whose last five-game winning streak was Jan. 13-27, 2015. Jordan Staal and Victor Rask scored for Carolina while Cam Ward stopped 21 shots.
Bayer Leverkusen upset in German Cup
Soccer: Bayer Leverkusen coach Roger Schmidt was helpless to intervene as his side slumped a 4-3 defeat on penalties at third-division Sportfreunde Lotte in the second round of the German Cup.
Schmidt was watching TV coverage on a tablet from the team bus as Lotte goalkeeper Benedikt Fernandez saved Julian Baumgartlinger's spot kick and then Luka Tankulic fired the home side, which had played 40 minutes with 10 men, into the third round.
The 49-year-old Leverkusen coach was serving the first of his two-game ban for shouting an insult at Hoffenheim counterpart Julian Nagelsmann during their sides' Bundesliga game on Saturday.
Liverpool tops Tottenham in English League Cup: While the English League Cup lacks prestige, it still provides a platform in the early rounds for out-of-favor players or those lacking in confidence to make an impact. Liverpool striker Daniel Sturridge and Arsenal winger Alex Oxlade-Chamberlain did just that Tuesday.
Both scored twice to secure passage for their youthful teams into the quarterfinals, with Liverpool beating Tottenham 2-1.
Sturridge, who has failed to score in seven Premier League matches this season, has only found joy in front of goal in England's second-tier knockout competition when top-flight typically deploy weaker teams. He also scored twice in August in the League Cup – his last Liverpool goals.
Local journalism is essential.
Give directly to The Spokesman-Review's Northwest Passages community forums series -- which helps to offset the costs of several reporter and editor positions at the newspaper -- by using the easy options below. Gifts processed in this system are not tax deductible, but are predominately used to help meet the local financial requirements needed to receive national matching-grant funds.
Subscribe to the sports newsletter
Get the day's top sports headlines and breaking news delivered to your inbox by subscribing here.
---