News > Pacific NW
Moscow, Idaho, triple murderer wants to take back pleas
Tue., Oct. 25, 2016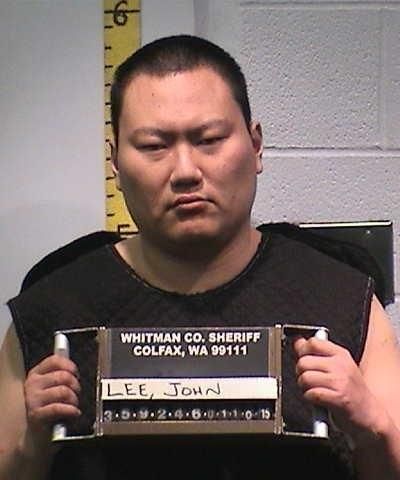 MOSCOW, Idaho – A Moscow man convicted of killing three people last year is asking to withdraw his guilty pleas.
John Lee, 31, filed a two-page handwritten motion Monday arguing he was "not in the right state of mind" when he entered the pleas. Lee is serving a sentence of life in prison without the possibility of parole for the murders.
He was sentenced in May for the January 2015 shooting spree that killed his adoptive mother, Terri L. Grzebielski, 61; his landlord, David M. Trail, 71; and Moscow Arby's manager Belinda G. Niebuhr, 47. Seattle resident Michael M.M. Chin, 41, was also injured in the incident.
As part of a plea agreement that Lee accepted in March, he entered Alford pleas to three counts of first-degree murder and one count of aggravated battery. By entering Alford pleas, Lee did not admit guilt but acknowledged there was enough evidence to convict him.
In the motion filed Monday in Latah County 2nd District Court, Lee argues he was not mentally fit when he accepted the plea agreement in March and when he was sentenced in May.
"Noises were effecting (sic) my decision making and I didn't feel I had free will," Lee wrote. "… Now that I am properly medicated mental health problems will no longer interfere with my decision making."
In an attached affidavit, also two pages long and handwritten, Lee adds that he attempted to tell a member of his defense team that he was not satisfied with the plea agreement a few days after accepting it.
"I expressed that I felt that the guards and certain people were pressuring me and in some instances torturing me to either confess or accept a plea deal," Lee wrote.
He argues that he said he wanted to withdraw the pleas and that he didn't like the conditions of the plea agreement, including the waiver of his right to appeal.
"At that moment I started hearing noises which told me not to withdraw," Lee wrote.
According to the document, Lee made it "abundantly clear" he wanted to withdraw his pleas.
"In my opinion my defense should have withdrawn my plea and had me medicated so I could make rational decisions," Lee wrote.
Defense attorneys Charles Kovis and Deborah McCormick represented Lee in the case.
Lee's motion comes after a court decision last week that denied his request for his sentence to be reduced. According to the ruling written by Judge John R. Stegner, the plea agreement does not allow for modifications to Lee's sentence.
The plea agreement spared Lee from the death penalty. Despite its waiver of his right to appeal, Lee has filed an appeal with the Idaho Supreme Court and is awaiting a response.
Lee is being held at the Idaho Maximum Security Institution in Kuna.
Local journalism is essential.
Give directly to The Spokesman-Review's Northwest Passages community forums series -- which helps to offset the costs of several reporter and editor positions at the newspaper -- by using the easy options below. Gifts processed in this system are not tax deductible, but are predominately used to help meet the local financial requirements needed to receive national matching-grant funds.
Subscribe to the Coronavirus newsletter
Get the day's latest Coronavirus news delivered to your inbox by subscribing to our newsletter.
---