A&E > Food
Sugar pumpkins: Not just for pies
Wed., Oct. 26, 2016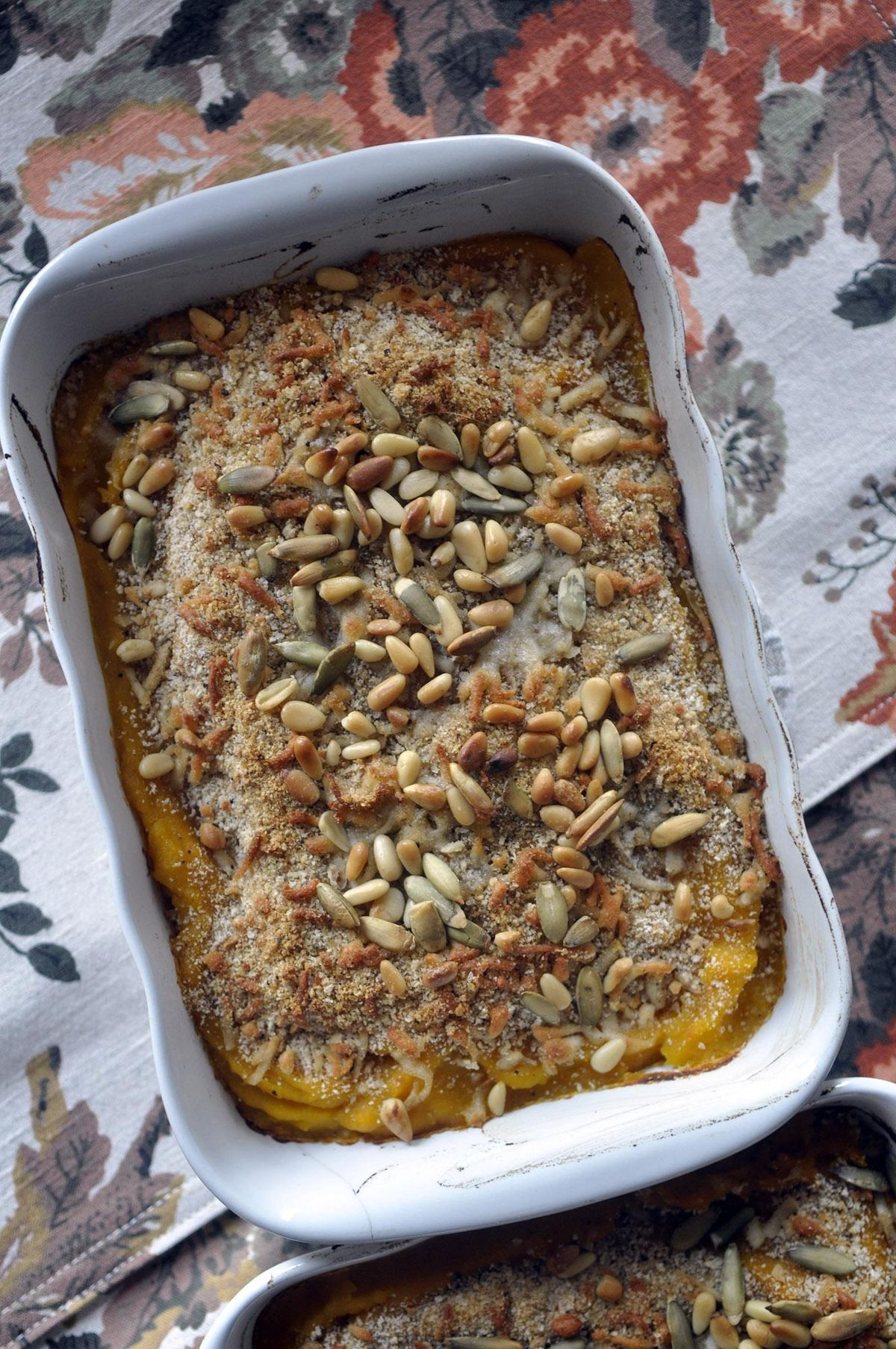 The bright orange puree of cute-as-a-button sugar pumpkins is worth the extra effort - and not only for pies, but for savory dishes, too, such as this sugar pumpkin gratin. ADRIANA JANOVICH adrianaj@spokesman.com (Adriana Janovich / The Spokesman-Review)Buy a print of this photo
Sugar pumpkins aren't just for pie.
This might sound obvious, but it needs to be said – particularly because of all of those stickers and signs at the store that all-too-often label them pie pumpkins.
Cute as a button, with deep orange skin and firm flesh, sugar pumpkins are smaller and sweeter than their taller and wider carving-pumpkin counterparts. And their beautiful, bright orange puree is worth the extra effort. It does take a little work to scoop out the seeds and stringy insides of all pumpkins – even the cute, little sugar ones.
Some chefs, including Martha Stewart, advise peeling the skin from hard, raw, sugar pumpkin using a vegetable peeler, then steaming chunks in a steamer basket set over a sauce pan. I tried this method, but found it easier to steam the pumpkin pieces skin-on; once thoroughly cooked, the skins easily detach.
Easier still: roasting sugar pumpkin halves and scooping out the soft flesh. The skin slips right off. Alton Brown recommends this process. Plus, roasting seems to concentrate the pumpkin flavor.
Whichever way you prefer to cook your sugar pumpkin, toss the done pieces into the bowl of a food processor, and process until smooth and creamy. The vibrant puree will remind you of baby food, but never mind that.
You're going to elevate it with bread crumbs, cheese, pine nuts and pepitas.
Pumpkin and Pecorino Gratin with Pine Nuts and Pepitas
Adapted from Martha Stewart
The original recipe featured six ingredients: white bread, Pecorino Romano cheese, pumpkin puree, butter, salt and pepper. This adaptation adds layers of flavor and texture.
3 tablespoons butter, cut into small pieces, divided
2 shallots
1 clove garlic
3 cups sugar-pumpkin puree (See recipe below)
Coarse salt and freshly cracked pepper, to taste
1 cup bread crumbs
1/2 cup grated Pecorino Romano cheese
5 ounces goat cheese crumbles (optional)
1/4 cup raw pine nuts
2 tablespoons raw pepitas
Preheat oven to 450 degrees.
In small skillet or frying pan, melt 1 tablespoon butter. Add shallots and garlic, and cook over medium heat until golden brown and soft. (Deglaze with a splash of white wine, if desired.)
Add garlic-shallot-butter mixture to the bowl of a food processor with the pumpkin puree, and process until smooth. Season with salt and pepper, to taste. Then, spoon mixture into 1-quart baking dish.
In a small mixing bowl, combine bread crumbs, Pecorino Romano cheese, salt and pepper, to taste. Sprinkle bread crumb-and-cheese mixture atop sugar-pumpkin puree. Dot with goat cheese crumbles, if using. Sprinkle with pine nuts and pepitas. Dot with remaining butter. Bake until crumb topping is browned and pine nuts and pepitas are toasted, 15 to 20 minutes.
Notes: Sage pairs well with pumpkin. Consider adding fresh sage leaves, about 1/4 cup, to this recipe for an herbaceous flavor. Toss the leaves with the butter, shallots and garlic, then process them along with the sugar-pumpkin puree. Or, rather, pulse the leaves with the bread crumbs and Pecorino Romano cheese for an earthy, aromatic topping. And, for a little less bite, use 2 tablespoons butter and omit the shallots and garlic.
Sugar-pumpkin Puree (steamed)
From Martha Stewart
1 sugar pumpkin, about 4 pounds, peeled, seeded and cut into 2-inch chunks
Set a steamer basket in a saucepan filled with 1-inch water. Cover; bring to a boil. Add pumpkin. Cover; cook until very tender, about 15 minutes. Puree in a food processor until smooth.
Notes: Unlike deeply ridged, hard squash such as acorn, smooth sugar pumpkins are easy to prep. Cut off the top and bottom ends, then use a vegetable peeler to remove the skin. For tougher skin, make a few more passes with a vegetable peeler.
Sugar-pumpkin Puree (roasted)
Adapted from ohsheglows.com
2 (2- to 3-pound) sugar pumpkins
Olive oil, for brushing
Preheat oven to 350 degrees.
Using a sharp knife, slice off the stems. Slice each sugar pumpkin in half lengthwise. With a sharp-edged spoon, scoop out the seeds and guts.
Brush inside with olive oil and place face down on a baking sheet lined with parchment paper.
Roast for about 45-50 minutes. (The exact time will vary depending on the size of the pumpkins.) The skin will be slightly darker and you should be able to poke a fork through quite easily. Let the pumpkin cool for 10 minutes before handling. Grab a large spoon and peel away the very thin skin. It comes off almost effortlessly. Puree in a food processor until smooth.
Local journalism is essential.
Give directly to The Spokesman-Review's Northwest Passages community forums series -- which helps to offset the costs of several reporter and editor positions at the newspaper -- by using the easy options below. Gifts processed in this system are not tax deductible, but are predominately used to help meet the local financial requirements needed to receive national matching-grant funds.
Subscribe to the Spokane7 email newsletter
Get the day's top entertainment headlines delivered to your inbox every morning.
---