News > Spokane
'Viva La Nina!' Snowstorms expected to blitz Spokane region this winter
Wed., Oct. 26, 2016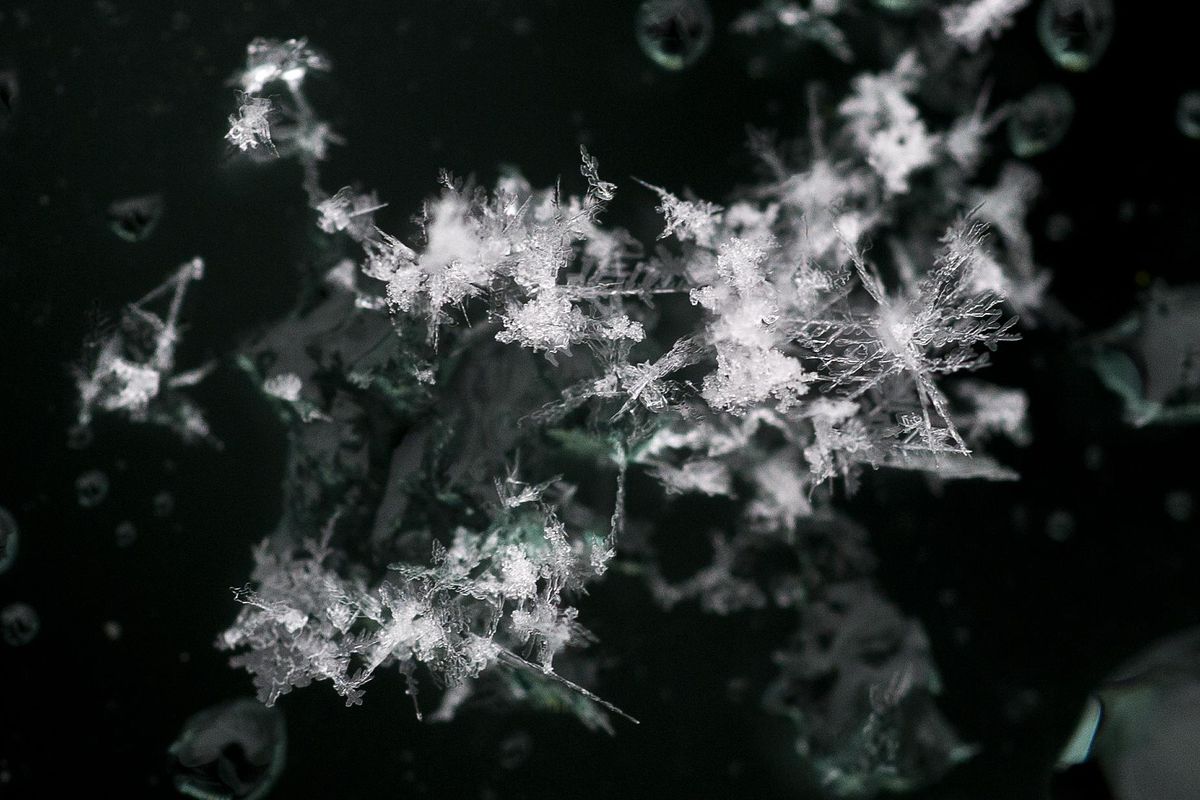 As a winter strom arrives in Spokane, Wash., snowflakes land and melt on a car window on Wednesday, Feb. 23, 2011. (Colin Mulvany / The Spokesman-Review)
Winter storms will push into the Pacific Northwest with heavy snowfall that's been missing for the past several years as the region braces for great skiing and hazardous travel.
The preseason outlook predicting snowstorm after snowstorm is due to a La Nina cooling of the equatorial Pacific Ocean. That means the likelihood of more snow and colder temperatures targeting the Pacific Northwest.
One local meteorologist says Spokane should be ready for about 5 1/2 feet of snow this winter.
The shift from a warm El Nino phase the last two winters to a cool La Nina was picked up by tropical sea surface observations last summer by the Climate Prediction Center.
The approach of a heavier winter has created something of a buzz, especially in places where snow is seen as a good thing.
"We are all excited this year," said Brad McQuarrie, general manager at Mt. Spokane Ski and Snowboard Park.
He said word is getting out and customers are already booking lessons and other programs. People are also eager to buy new gear with the expectation that it'll get used sooner than later, he said.
A potentially good ski season comes after two winters of limited snow, especially the 2014-15 season when Spokane saw just 17.6 inches.
The winter of 2015-16 saw 34.2 inches of snow in Spokane, also well below the 30-year average of 44.9 inches.
Both were not a surprise since they came during El Ninos that are known for mild winters.
Mt. Spokane has already seen its first shot of snow with 3 inches falling on the upper slopes last week. That led to the first snowman at the Vista House on top.
McQuarrie said he hopes snow will regularly fall on valley floors because that traditionally encourages people to drive to the mountains for fun.
Dave Law, a veteran weather forecaster who works as a part-time meteorologist for KHQ-TV, said that while snow may not be welcomed by everyone, it's a happy event on the slopes.
"In the winter recreation world, 'Viva La Nina' is the saying," he said.
Law, who supervises the weather observers at Spokane International Airport, has closely studied El Nino and La Nina events and said that the setup this season could lead to substantial snow.
When a La Nina winter follows an El Nino as expected this winter, snowfall can be heavy, Law said.
That is why he is predicting 64 inches of snow in Spokane this winter.
Residents don't have to look back far to recall a pair of record-breaking snow years.
Spokane had 93.5 inches of snow in the winter of 2007-08 followed by 98.1 inches in 2008-09, which stands as the heaviest snow year on record since 1881.
December 2008 set a record for most snow in a single month with 59.7 inches.
The month also saw a dramatic snow dump of 23.6 inches in 34 hours on Dec. 17 and 18, paralyzing the region until plows could clear roadways.
But forecasting winter weather weeks and months in advance can be inexact and tricky.
While La Nina and El Nino provide strong guidance, there are other climate influences that can derail preseason outlooks based on equatorial water temperatures.
Ron Miller, forecaster for the National Weather Service in Spokane, said that a La Nina or an El Nino doesn't guarantee anything.
"They just tilt the odds," he said.
The upcoming winter will likely seem snowier and colder, but that's partly because the past two winters saw lighter snowfall, he said.
"We are looking at at least a normal winter," he said.
But older gauges for assessing the severity of winter such as the size of the crop of seeds hanging in Norway maple trees are mostly a guess. (There are a lot of them this year, however.)
The Farmers Almanac is giving a different outlook than climate prediction experts. The almanac is calling for a wet and mild winter in the Pacific Northwest.
The winter outlooks arrive just as the region is seeing one of its wettest Octobers on record.
Spokane had more than 4 inches of rain this month through Wednesday morning, making this October the third wettest on record with five days left in the month.
Miller at the weather service said he sees no connection between a wet October and a snowy winter.
The first snow may not be far off if the past nine years are any guidance.
From 2007 through 2015, the first snow of the season came from Nov. 5 to Nov. 28, according to Law.
Spokane street crews are prepared for whatever winter brings. They are switching to two shifts next week for overnight coverage in case it gets icy and they have equipment and supplies at hand.
"We are always ready," said Marlene Feist, city spokeswoman.
Local journalism is essential.
Give directly to The Spokesman-Review's Northwest Passages community forums series -- which helps to offset the costs of several reporter and editor positions at the newspaper -- by using the easy options below. Gifts processed in this system are not tax deductible, but are predominately used to help meet the local financial requirements needed to receive national matching-grant funds.
Subscribe now to get breaking news alerts in your email inbox
Get breaking news delivered to your inbox as it happens.
---