Sports > Seattle Mariners
Grip on Sports: For the Cubs, a curse will be lifted tonight but it remains to be seen if they can actually win
Fri., Oct. 28, 2016 A GRIP ON SPORTS • The World Series returns to Wrigley Field tonight for the first time in 71 years. How long has that been? So long neither of our major presidential candidates were alive when it happened. Read on.
••••••••••
• The Curse of the Billy Goat is about to be lifted. Wrigley Field, the greenest baseball field I've even seen, will host a World Series game tonight. The Cubs vs. the Cleveland Indians. Game Three. What a wonderful time.
Since the dawning of a new century, baseball fans have seen the Curse of the Bambino lifted, as the Boston Red Sox finally overcame the worst trade in history.
And now a tavern owner's curse – probably delivered with a whole bunch of curse words and levied because he wasn't allowed to bring his goat to the game (before you have the image of a GOAT – or Greatest Of All Time – realize this was a real goat, a stinking, smelly animal; it was a way different time) – will also be assigned to the dust heap of history.
Unless, of course, you align yourself with the party of folks who believe the curse meant the Cubs would never win another Series, not just get to one. But those kooks are just a bunch of naysayers who don't know what they are talking about.
Just like the presidential candidate of the other party.
• My only encounter with Wrigley came way back in the late-1980s (or only 40 some years into the Curse), when our family took a Clark Griswold-like vacation that included almost a dozen major league stadiums, many of which no longer exist. Old Comiskey, Milwaukee County, Riverfront, Veteran's, they all were interesting in their own way. But Wrigley was different.
I remember walking up the ramp behind home plate on that mid-summer day and emerging into a land of green. It was like Emerald City come to life. The grass, the walls, the scoreboard, everything was green. Well, the beer was yellow – and expensive. But everything else was green.
It rained throughout the game. It was a rout. We had two boys under the age of 10 with us, both of whom didn't like being wet – and let us know. It was still as good a day at the ballpark as I've ever spent.
• So what are you looking forward to watching this weekend? High school football? It's not supposed to rain tonight and there is a GSL showdown at Gonzaga Prep if that's your cup of tea.
Or how about college football tomorrow? The Eagles' annual battle with Montana is sold out, but you can watch it on TV. And there is a great Pac-12 game from Utah also on tap. Of course, the Cougars play late and are heavy favorites against Oregon State, which is a bit scary.
Then there is Sunday. NFL day. The RedZone Channel. Enough said.
•••
• WSU: The Washington State defense will be a little undermanned tomorrow in Corvallis, what with the loss of nose tackle Robert Barber to a season-ending, school-mandated suspension. Jacob Thorpe has a feature on one of the players who has had to step up this season due to a player being suspended, Dylan Hanser (pictured). When Logan Tago was charged with a crime, Hanser moved up a notch. … Jacob also has his pick for Saturday's game. … Speaking of Barber, we linked Stefanie Loh's story on WSU's student conduct system yesterday, but we didn't get the sidebar on the system's past issues. … Not everyone thinks Oregon State is overmatched this week, even if the Cougars have developed a decent running game.
Elsewhere in the Pac-12, USC took advantage of some advantageous scheduling, using its bye week to prepare for and then destroy California 45-24 last night. The conference's football product is pretty darn good. The off-the-field stuff isn't up to par right now. … ESPN's made-for-Saturday-morning show, GameDay, will be in Salt Lake City tomorrow and that's adding to the excitement of No. 4 Washington's visit. The Utes hope to steal a few passes and a win. … Mike Leach talked about it. Oregon has done something proactive the past couple years to keep Arizona State from stealing the offense's signs. … Arizona's quarterbacks are getting healthy, though the Wildcats still have injuries elsewhere, and Stanford will be starting a new one this week. … UCLA and Colorado, which meet next Thursday, have byes this week. Despite that, there is a lot going on this weekend.
• EWU: Yes, it is Montana week for the Eagles. Jim Allen has a story on a defensive end who will play a huge role in keeping the prolific Griz offense in check. … Jim also has this piece which previews Montana from its perspective. … And there was a live chat yesterday on SportsLink. Jim offers a transcript. … The volleyball team rallied for a home win last night. … Around the Big Sky, North Dakota has filled a big hole with a big walk-on. Weber State will try to take advantage this week. … This week's game between Sacramento State and Cal Poly features old high school teammates. … Southern Utah is tired of hearing about how last year's conference title was tainted due to its schedule.
• Preps: There were two 3A football games last night at Albi Stadium, with Mt. Spokane cruising past Rogers 45-10 and Shadle Park assuring itself a playoff berth with a 21-14 win over North Central. Greg Lee has both stories – there is also a photo report from Colin Mulvany – and he also has this piece previewing the Idaho State cross country meets that occur this weekend.
• Indians:
A couple of players the Cubs will be counting on to win the Series began their professional careers in Spokane. Josh Horton
caught up with
Indians' manager Tim Hulett this week to talk about them.
• Seahawks: The Hawks will be in New Orleans this weekend and we will have to wait and see if Russell Wilson will be able to play after being limited at practice all week. It also looks as if Kam Chancellor will miss another game. … Wilson talked with the media yesterday and mentioned his impending fatherhood. … Richard Sherman's Harry Potter look caught the eye of a new Seahawk fan. … Sherman also has his views on the NFL's ratings drop.
• Mariners: There is one baseball video game no relatively young Mariner fan will want to miss next spring. … Robinson Cano and Kyle Seager are Gold Glove finalists again.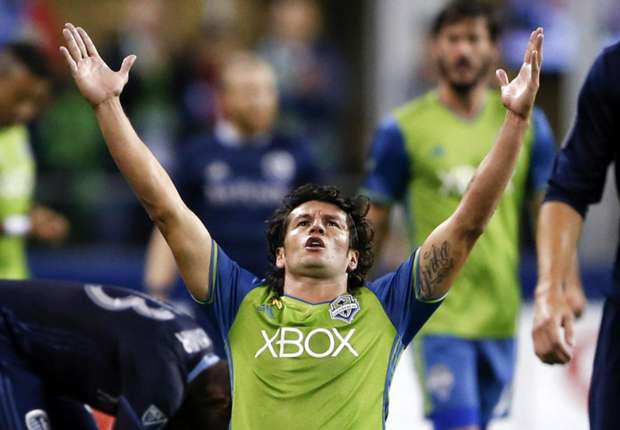 • Sounders: One game, one goal, a whole lot of controversy. That was the simple story of last night's knockout match with Sporting Kansas City, though there were undercurrents. KC scored first but the player was ruled offsides. Nelson Valdez (pictured), the high-priced veteran striker who hasn't scored this season, got one after stretching the limits of the offsides rule. Seattle's 1-0 victory moves them into the Western Conference semifinals against FC Dallas. The two-match series begins Sunday in Seattle.
•••
• Another nice morning. Hah. But we aren't supposed to get rain. At least not today. Tomorrow, that's another story. Until later …
Subscribe to the sports newsletter
Get the day's top sports headlines and breaking news delivered to your inbox by subscribing here.
You have been successfully subscribed!
There was a problem subscribing you to the newsletter. Double check your email and try again, or email
webteam@spokesman.com
---
Subscribe and login to the Spokesman-Review to read and comment on this story