News > Spokane
Prosecutors: Coeur d'Alene's 'Bo' Kirk abducted and shot in road rage killing
Mon., Oct. 31, 2016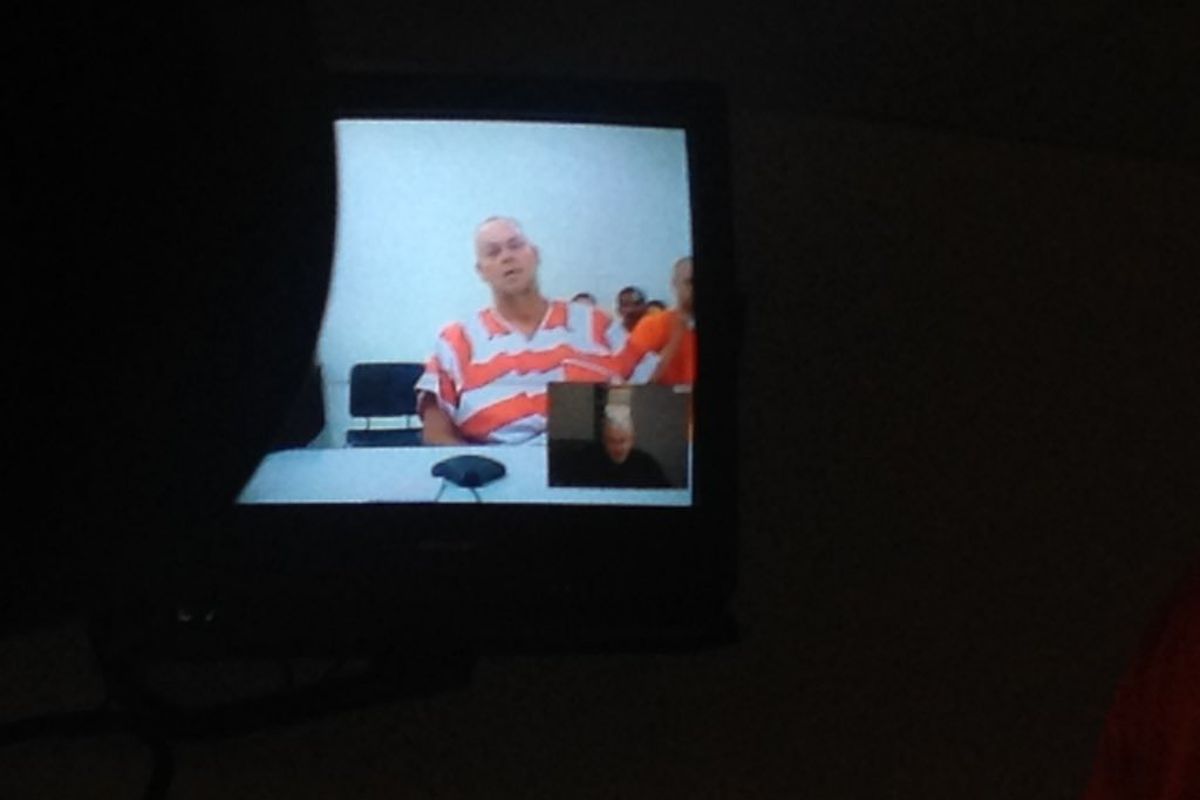 David E. Hutto, 44, appears in 1st District Court on Monday, Oct. 31, 2016, to face 2nd degree murder charges in the death of William 'Bo' Kirk, 41, of Coeur d'Alene. (Katie Chen / KHQ)
An apparent random road-rage incident resulted in the death of a Coeur d'Alene X-ray technician, prosecutors alleged in court Monday afternoon.
William "Bo" Kirk was kidnapped, bound and shot to death, prosecutors said.
David E. Hutto, 44, is accused of killing Kirk on Oct. 22, using a handgun.
A judge set bail at $2 million, twice what a prosecutor recommended. Hutto faces up to life in prison if convicted.
Apparently prompted by something Kirk did while driving his pickup truck, Hutto allegedly followed and abducted Kirk, Deputy Prosecuting Attorney Rebecca Perez told 1st District Magistrate Judge James Stow.
"This appears to be a random attack," Perez said as Hutto, dressed in red-and-white striped jail clothing, appeared via a video feed from jail.
Hutto then took measures to conceal the crime, including setting Kirk's pickup truck on fire, she said at the hearing.
A second person, suspected of aiding Hutto, has been arrested and is in the custody of federal agents. The U.S. attorney's office said Monday it has no comment on that man's arrest or any potential charges he faces.
Members of Kirk's family were in the courtroom for Monday's hearing. They declined to comment afterward.
Hutto was arrested Friday evening at the Coeur d'Alene Burger King on Appleway Avenue and booked into the Kootenai County Jail on suspicion of second-degree murder. His arrest came three days after Kirk's body was found near Hayden Creek in the Coeur d'Alene National Forest.
Investigators haven't revealed how they found Hutto or what evidence they have of his involvement in Kirk's death. Autopsy results are not being released yet.
Kootenai County Sheriff Ben Wolfinger credited the "great detective work" of his investigators working the case with the Post Falls and Coeur d'Alene police departments and the North Idaho Violent Crimes Task Force.
"They worked hard. I don't think anybody got more than about four or five hours of sleep any night since we found Bo Kirk's body," Wolfinger said Monday.
Investigators were flooded with over 400 tips from the public after authorities released photos and video showing someone driving Kirk's pickup truck to two local banks before 9 p.m. Oct. 22 and withdrawing cash from Kirk's accounts. The driver wore a mask over his nose and mouth, a stocking hat, a bulky flannel sweater and gloves. A second man was partly visible in the truck in surveillance videos released to the public.
Kirk's truck later was found on fire in the 23000 block of North Rimrock Road, 8 miles from where his body was found near the Hayden Creek shooting range.
Kirk, 41, disappeared Oct. 22 after he left his job as an X-ray technician at Northwest Specialty Hospital in Post Falls. The husband and father of three never made it home that evening.
Investigators served a search warrant Friday at the home where Hutto has been staying in the 1300 block of East Miles Road in Hayden.
Court documents show that Hutto has multiple convictions for grand larceny, burglary and breach of trust with fraudulent intent in South Carolina. Perez said Hutto is wanted on warrants from several other states.
Stow appointed the public defender's office to represent Hutto.
Local journalism is essential.
Give directly to The Spokesman-Review's Northwest Passages community forums series -- which helps to offset the costs of several reporter and editor positions at the newspaper -- by using the easy options below. Gifts processed in this system are not tax deductible, but are predominately used to help meet the local financial requirements needed to receive national matching-grant funds.
Subscribe now to get breaking news alerts in your email inbox
Get breaking news delivered to your inbox as it happens.
---