News > Spokane
Spokane filmmaker's 'Night of the Witch' project pays tribute to '80s horror genre
Mon., Oct. 31, 2016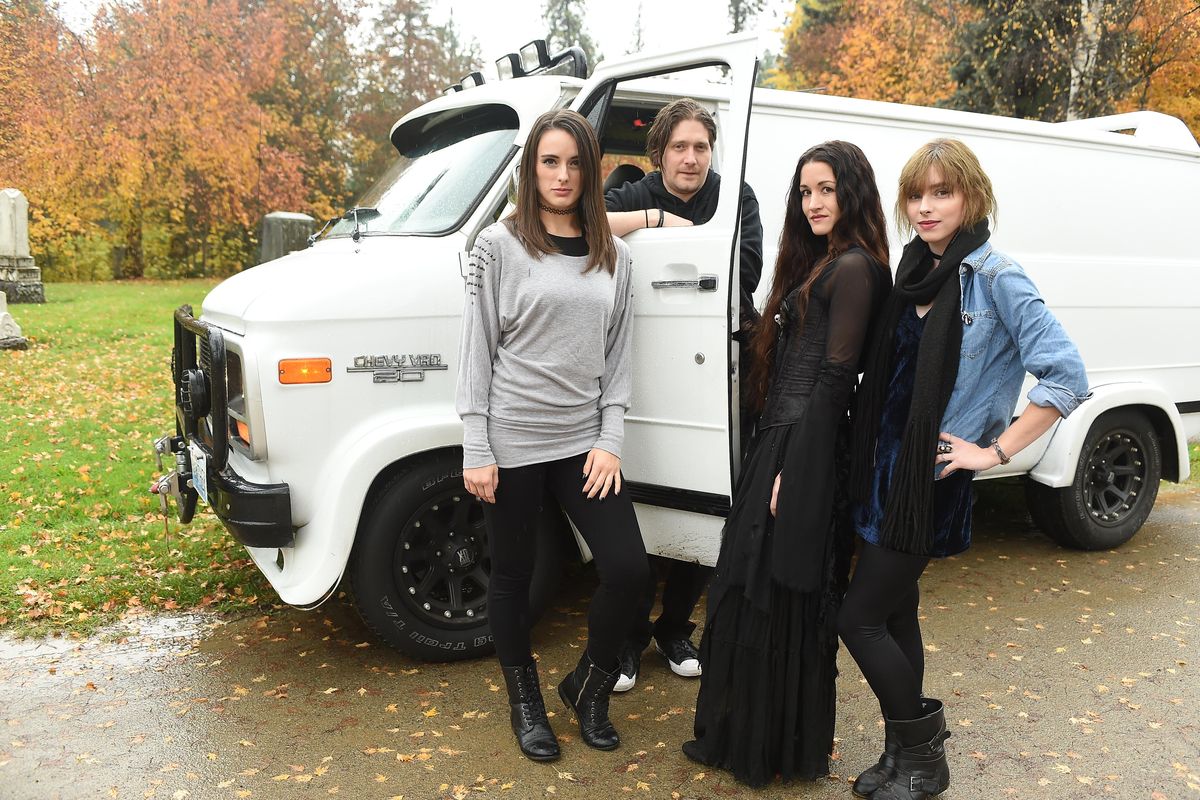 From left, Brooke McCormick, director Jesse Hennessy, Shannon Stroup and Maxine Barber. Hennessy and the three actors are working on an independent horror film, "Night of the Witch." Stroup, with the help of lots of movie makeup, will play the witch. (Jesse Tinsley / The Spokesman-Review)Buy a print of this photo
As Heath Ledger's Joker once said, "If you're good at something, never do it for free."
Unfortunately, for the cast and crew of "Night of the Witch," an indie horror-comedy movie preparing to begin filming in Spokane next year, free labor is mostly par for the course.
There's no financial backing from large Hollywood studios. There's no producer with wads of cash to throw down on ornate sets or special effects. There's no movie theater chain awaiting exclusive rights to screen the film. There's no horde of rabid fans lining up to spend $9 on a movie ticket.
There's only the blood, sweat and tears it takes to shoot, edit and release an independent horror movie in Spokane – with emphasis on "blood."
"We do it because we love it," said Shannon Stroup, who's set to play the self-described sexy yet terrifying villain – an evil witch whose looks are equal parts Elvira and Stevie Nicks. "Everyone that came together to do this is volunteering their time and talent."
On Father's Day weekend last June, the film's writer-director, Jesse Hennessy, gathered a small group of actors and crew, and they all drove out to a crew member's property in Deer Park. From dusk till dawn each night, they shot a proof-of-concept trailer used to promote the film's funding drive on Indiegogo.
As of Sunday, "Night of the Witch" had raised $2,522 of its $50,000 goal. Those dollars will go toward things like catering, costumes, sets and gallons of fake blood.
The money will also go to paying people to take time off work, as everyone attached to the movie has a daytime priority to worry about. Some members of the crew work on "Z Nation," the Syfy channel zombie series filmed in Spokane. Others have their own companies to run. Parts of the cast are still in school, while some are baristas who do modeling work in their free time.
"I actually went to school for chemical engineering," said Stroup, who received her graduate degree at the University of Washington and worked in the pharmaceutical field for seven years. "But acting was always something I was interested in."
Even Hennessy has to do something to pay the bills. He cooks at Picabu Bistro, the same location he shot one of his short horror films, "Chef's Cut," about a deranged chef who uses his culinary skills to chop up humans, in addition to vegetables and steaks.
In the nearly 10 years he's been making movies, Hennessy has never received a penny for his work – such is the life of an independent director, he says. But as he always tells people, "You can't think about that at all."
"But having money to make films? Now that would be nice," he said.
Hennessy has been mulling over the story for "Night of the Witch" for a few years. It's the first feature film he and many of the cast and crew have worked on – and he assures people it's a love letter to the '80s horror genre.
"There's lots of blood, boobs, bad lines, rad hair – just like the tag line says," Hennessy said. "But it's not a paint-by-the-number film; there is heart deep down in there, past all of the beer and cocaine in the script."
The plot centers around a group of teens on their way to a cabin for a night of fun – booze and sexual relations included. Along the way, they pick up a hitchhiker – an older but still-cool-enough-to-hang-with-the-kids woman who, to nobody's surprise if they're fans of the genre, begins a murderous rampage.
"For an actor, to be the villain is like the ultimate dream," Stroup said. "You always remember the villain."
The film's heroine, played by Brooke McCormick, is the shy, nerdy girl who breaks out of her shell. Max Barber plays the rebellious rocker who's constantly flashing the sign of the horns – the now ubiquitous gesture for "rock on!" Later in the movie, the teens employ the help of a rugged witch hunter, played by Jason Young.
And, you guessed it, there's a chain saw involved at some point.
"I grew up watching '80s horror movies," Hennessy said. "For my first feature film, I wanted to make sure it was fun '80s horror. Within the first five minutes of seeing it, you know what kind of movie you're going to see."
Upon the movie's release, Hennessy has plans to shop it around to local and international horror film festivals. He's not expecting it to be the next big horror hit, like "Paranormal Activity" or "The Blair Witch Project," he says.
Realistically, he just wants the audience to enjoy it, and maybe spill their popcorn during a good scare.
"You just have to keep your audience in mind," he said. "What would be fun for them to see? Make sure that idea is conveyed in everything you're doing."
Local journalism is essential.
Give directly to The Spokesman-Review's Northwest Passages community forums series -- which helps to offset the costs of several reporter and editor positions at the newspaper -- by using the easy options below. Gifts processed in this system are not tax deductible, but are predominately used to help meet the local financial requirements needed to receive national matching-grant funds.
Subscribe now to get breaking news alerts in your email inbox
Get breaking news delivered to your inbox as it happens.
---