A&E > Food
Just keep swimming: Rawdeadfish aims to rebuild after fire
Thu., Sept. 1, 2016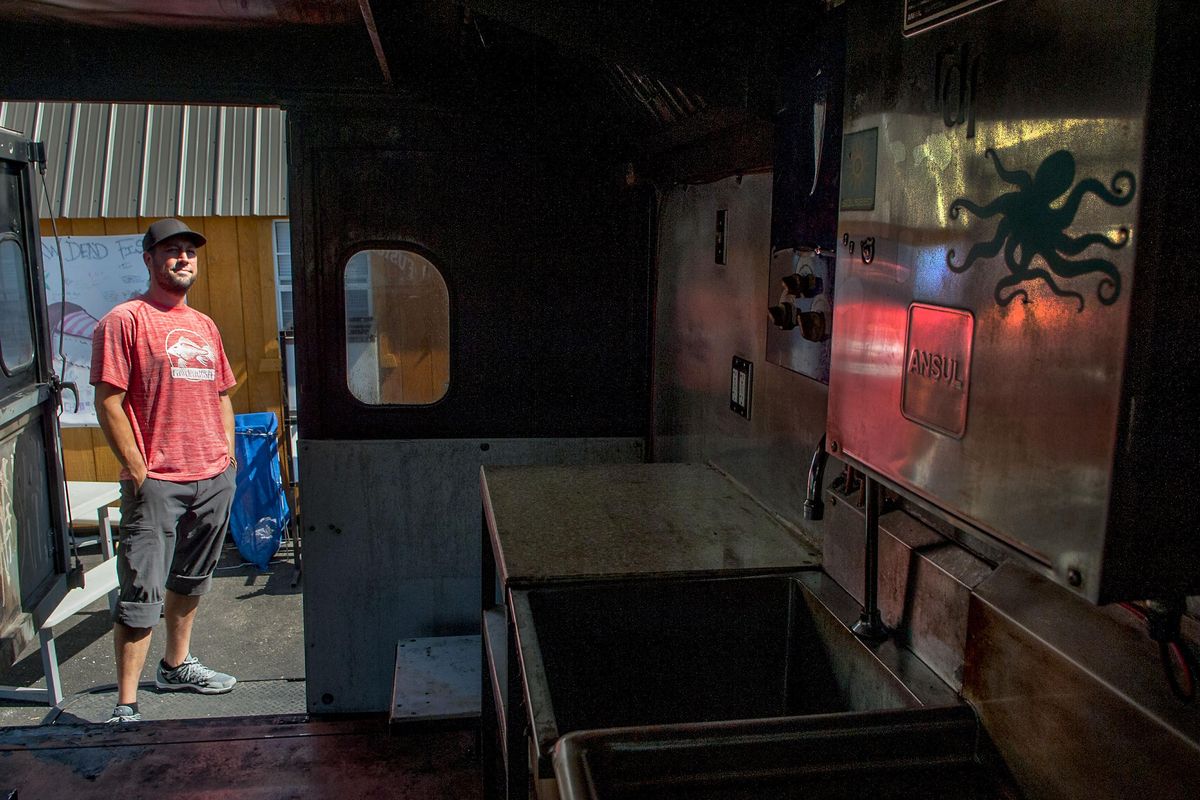 Travis Whiteside, sushi chef and owner of the food truck Rawdeadfish, looks over his food truck, which was damaged in an electrical fire Aug. 14. He's hoping to rebuild and reopen the popular food truck this fall. An employee has set up a GoFundMe campaign to help offset costs. (Photos by Kathy Plonka kathpl@spokesman.com)
It's difficult to tell from the outside.
Octopus arms – neither charred, nor melted – protectively reach down and around the walk-up window. The coral reef remains intact. So does the logo bearing the name of the food truck: Rawdeadfish.
Inside, however, the smell of smoke lingers. The service counter is warped and melted, its corners curling. Black soot covers the walls – most surfaces, really.
Still, owner and sushi chef Travis Whiteside considers himself lucky. The two propane tanks on back of his food truck didn't blow.
"It could've been much worse," he said.
Ever since his popular sushi food truck suffered an electrical fire in mid-August, Whiteside has been waiting – to rebuild, to get back to work. While he sorts out insurance claims, one of his employees has started an online fundraiser to cover the cost of the deductibles and other expenses associated with coming back after the blaze.
Whiteside, 38, opened Rawdeadfish in April 2015 after a two-decade sushi career in Coeur d'Alene. He got into the business at 16, and his apprenticeship at the now-closed Takara lasted 11 years. It's where he learned the tricks of the trade and, he said, "really fell in love."
With the texture. With the taste. With the diversity of flavors.
"You've got an endless amount of flavors you can put into a roll," Whiteside said.
In 2005, he left Takara to open the sushi bar at Bonsai Bistro. Two years later, he left Bonsai to open the sushi bar at Fisherman's Market and Grill. Then, it was back to Bonsai.
About four years ago, the 1996 Lake City High School graduate started thinking about opening a sushi food truck. In 2014, he bought the truck and got to work with his dad, Ray, on outfitting the interior with a freezer, refrigerator, five sinks and other equipment needed to prep and store raw fish. He estimates it cost about $20,000 and six months to build out the truck.
"We kind of nickel-and-dimed it," he said.
But, the idea was simple: bring sushi back to the street.
"Basically, sushi started out as street food," Whiteside said.
Sushi has been around in some form since eighth-century Japan. In the early 19th century, it became popular at mobile food vendors in Tokyo, where it was an early fast food.
A year and four months after Whiteside opened Rawdeadfish, business was booming.
"We were on such a roll, pun intended. Things were going unbelievably well," about 45 percent above last summer's sales, Whiteside said.
One of the most popular items wasn't even on the menu. The $16 Sushi Rito – "like a burrito, but sushi," Whiteside said – featured two types of fish, crab, avocado, cucumbers, spicy mayo, flying fish roe, sriracha and tempura veggies wrapped in soy paper. It was big, "and it was – is – delicious," Whiteside said.
Another of his favorites: the chef's choice Surprise Me Roll because "I could get creative."
Whiteside's a big fan of octopus, too. There's the image of one wrapping its tentacles around the truck. There's another tattooed on his upper right arm, enfolding a sushi knife. He was hoping octopus would be a signature ingredient at Rawdeadfish, but it's proven to be unpopular among Coeur d'Alene customers. One octopus offering remains on the menu: tako nigiri sushi for $5.
His North Idaho roll includes fresh salmon, green onions, avocado and cucumber. The deep-fried Bruce Lee roll features tuna, crab, cream cheese, avocado, spicy mayo, eel sauce and sriracha. Family-size meals cost $50 for small and $70 for large, and Whiteside requests advance ordering.
He hopes to reopen in fall. Meanwhile, he's waiting to learn whether the truck is a total loss or if the interior, or at least parts of it, can be cleaned and salvaged. His sushi knives "might be salvageable." One was handmade in Japan, a gift from a customer and "priceless in my book."
The point-of-sale system is toast. Whiteside also said he lost roughly $500 worth of produce and fish – from albacore tuna to yellowtail, salmon, shrimp and softshell crab.
Fire broke out at the truck, parked – along with a half-dozen others – in the Best Food Court at 510 E. Best Ave. in Coeur d'Alene, around 2:30 a.m. Aug. 14. Folks from Taco Works, a nearby truck, saw the smoke and called Whiteside and 911. He got there after police and just seconds before firefighters.
"It was really, really hot," he said. "There was a lot of smoke. (The truck) wasn't engulfed. It didn't start flaming up until they opened the doors. And it didn't take them long to put it out."
The cause, Whiteside said, appears to have been a faulty fan.
Days later, a part-time employee set up a GoFundMe.com campaign. Within a week and a half of the fire, about 30 people had contributed just over $1,000 in donations of $5 and $10 and $50. The goal is $7,000.
"It kind of broke my heart when the fire happened because I know how much he loves his job and owning that truck, and I wanted to help," said Shara Fouts, who started the campaign.
"Insurance doesn't cover everything," she said. "I honestly didn't know how much he needed; I just threw a random number out there."
Fouts used to work with Whiteside at Bonsai. When he started the truck, she helped out, working a couple of days a week.
"I know people love the truck," Fouts said. "The faster he gets the money, the faster everyone can get their sushi back."
Local journalism is essential.
Give directly to The Spokesman-Review's Northwest Passages community forums series -- which helps to offset the costs of several reporter and editor positions at the newspaper -- by using the easy options below. Gifts processed in this system are not tax deductible, but are predominately used to help meet the local financial requirements needed to receive national matching-grant funds.
Subscribe to the Spokane7 email newsletter
Get the day's top entertainment headlines delivered to your inbox every morning.
---