UI football by the numbers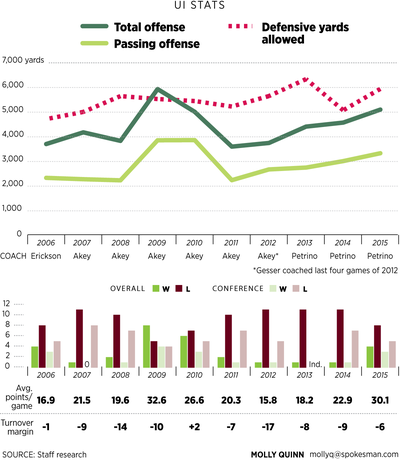 Paul Petrino is the son of a former college college coach, and he loves recruiting players who grew up with similar backgrounds. That shows on Idaho's roster.
At least seven players on this year's team are football coach's sons. The list includes Zach Cable, whose father Tom is the Seahawks' offensive line coach and was the head coach at Idaho; Matt and Mike Linehan, whose dad Scott is the offensive coordinator for the Cowboys; and Ty Graham, whose father John is an assistant at Eastern Washington.
All three of Idaho's quarterbacks – Matt Linehan, Gunnar Amos and Mason Petrino – are coach's sons.
5,000 plus
The Vandals' offense has garnered most of the headlines in the preseason, but the team could use a pick-me-up from the defense. Last year, Idaho opponents gobbled up nearly 6,000 yards of offense. It marked the ninth consecutive season that the UI defense gave up at least 5,000 yards.
For context, the Idaho offense has eclipsed 5,000 yards of offense only three times the last decade, including last year.
Elevating running game
Departed running back Elijhaa Penny rushed for 1,159 yards last season, but Vandals offensive coordinator Kris Cinkovich wasn't totally satisfied. Idaho ranked 96th in the FBS in rushing offense with 147.2 yards per game.
"If we want to reach our goals, we have to be higher than (96th) in the country in rushing the ball," Cinkovich said. "So to me that's a point of emphasis all the way around."
The Vandals' rushing attack will be led by speedy Aaron Duckworth, slimmed-down Isaiah Saunders and, if healthy, Denzal Brantley.
In the trenches
Since Petrino took over, Idaho has a track record of sticking young offensive line into live action. Returning starters Steven Matlock and Jordan Rose played as true freshmen, and they'll be joined in the starting lineup this season by another true frosh – Noah Johnson.
Johnson joined UI in January after graduating a semester early from Fayetteville (Ark.) High School. He got first-team reps in the spring and has been a mainstay with the first five O-linemen in the fall.
Johnson was familiar with the Idaho program after playing in Fayetteville with Mason Petrino when Paul coached at Arkansas.
Recharged Rehkow
Last year Austin Rehkow was a semifinalist for the Lou Groza Award, given to the nation's top placekicker, and a first-team Sun Belt Conference punter. But the Spokane native wants to cap his decorated career with more.
His specific goals: improve in the percentage of his kickoffs that reach the end zone and rank at the top of the FBS in net punting.
"Whether it be a 70-yard punt or a 35-yard punt we drop inside the 5, whatever's going to make it harder for the offense, that's ultimately my goal," Rehkow said.
Pressure to add pressure
Petrino has emphasized creating a more disruptive pass rush from his defense this year – a task that can't just be shouldered by the defensive line and front seven.
"It's everybody," Petrino said. "That's the secondary doing a good job of covering them. That's our linebackers (doing their job).
Idaho collected a mere 13 sacks in 2015, tied for the third fewest in the FBS. Petrino expects to unleash sophomore outside linebacker Kaden Elliss on quarterbacks more this fall. He was second on the team last year with four QB hurries.
New receivers coach looks familiar
When quarterbacks coach Bryce Erickson left in the offseason to take the Lake City High School job, Petrino decided to shake up his offensive staff – and take on more responsibility.
Charley Molnar, who was the wide receivers coach, moved over to fill Erickson's role. And Petrino is now overseeing the receivers, a position he coached in the NFL with the Falcons and at Arkansas, Louisville and other schools.
"He's the best receivers coach in the country," Cinkovich said.
To fill the vacancy left by Erickson, Petrino hired Bozeman (Mont.) High coach Troy Purcell as inside linebackers coach.
Key to victory
Idaho had yet to start its full preparation for Week 1 opponent Montana State when Petrino gave the key to the game: "We've got to take care of the ball, and we've got to get turnovers on defense."
It's a simple point, but Petrino knows the importance of takeaways and turnover margin. The Vandals had a negative turnover margin in each of his first three years and every year since 2010.
QB Matt Linehan also has focused on continuing to cut down on interceptions. He had nine INTs last year as redshirt sophomore after throwing 18 in 2014.
---