Sports > Outdoors
Adventurer solos Lewis and Clark Trail by foot, kayak
Sat., Sept. 3, 2016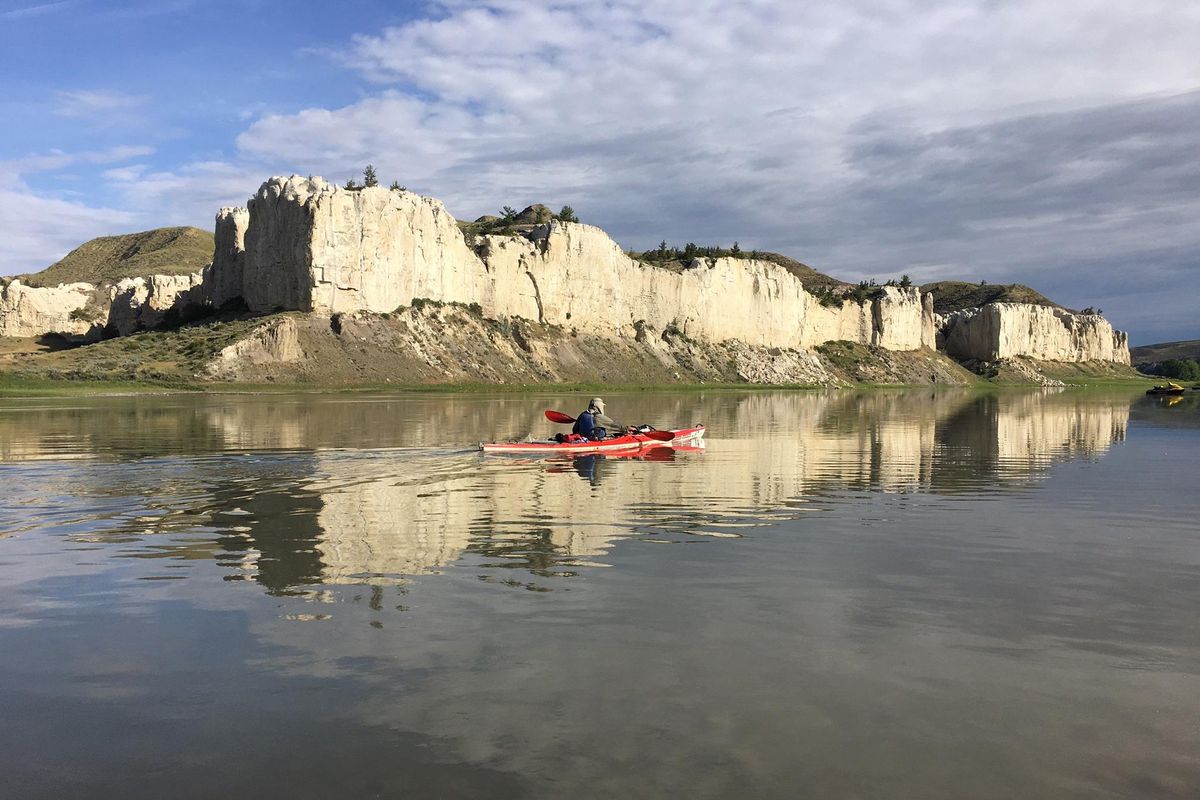 Buck Nelson paddles past white cliffs on the Missouri River as he traces the Lewis and Clark Trail from east to west. (Courtesy Buck Nelson / Courtesy Buck Nelson)
Bruce "Buck" Nelson appreciates a good adventure.
He's hiked the Continental Divide, Pacific Crest and Appalachian trails. He's canoed the length of the Mississippi River, hiked and hunted his way across Alaska and spent 70 days living off the land on Admiralty Island, home to 1,600 brown bears.
Since late March, the 58-year-old retired smoke jumper from Fairbanks, Alaska, has been retracing the steps and paddle strokes of the Lewis and Clark Expedition the hard way – under his own power.
Here's a quick recap.
Nelson departed St. Louis on March 24, walked to Yankton, South Dakota, and started paddling against the current of the Missouri River. When the river's push or the wind was too strong, he pulled his boat upriver while walking along cobbled banks.
At places like Great Falls, Montana, he used a cart to portage his boat and gear around obstacles. At Three Forks, Montana, where the Madison, Jefferson and Gallatin rivers join to form the Missouri, he ditched the boat and started walking. He climbed Lemhi and Lost Trail passes, strolled the length of the Bitterroot Valley and hopped over the divide to the Lolo Motorway.
Nelson emerged from the Bitterroot Mountains last week and walked from Weippe to Orofino, Idaho, where he got back in his kayak.
He paddled into the confluence of the Snake and Clearwater rivers and nosed his kayak onto Greenbelt Boat Ramp. He planned to rest a day and to shove off for Astoria, Oregon, the next day.
What is it about epic journeys that appeals to him?
"It's something I have always enjoyed. Since I was a kid, I liked to go out into the woods for several days at a time," he said. "My brother and I would go out and we would call it living off the land. We would go out for two or three days and not bring any food."
Being difficult makes these journeys even better.
"Just the simple challenge aspect of it is fun to me," he said. "Some people say why would you do something so hard, but that adds a lot to the satisfaction of the trip to me. It's just satisfying completing something that is difficult."
Nelson grew up on a farm in east central Minnesota and started fighting western wildfires when he left home. He's lived in Fairbanks for 35 years and has been retired since 2008. Now he plans and executes adventures and sometimes writes books or produces videos about them.
He authored "Alone in the Fortress of Bears," about his 10 weeks of fishing, foraging and hunting on Admiralty Island, and DVDs about hiking and hunting in the Brooks Range of Alaska.
His Lewis and Clark trip came about on a whim. Nelson was planning to hike Idaho's Centennial Trail after slogging north from Arizona to Nevada. But he read an account of somebody paddling the Missouri, something that had long been in the back of his mind since a float down the Yellowstone River, one of its tributaries.
"I found a couple of accounts of people who had paddled up the Missouri, and I figured if they could do it, I could probably do it too, and I figured it would be fun to retrace the whole route of Lewis and Clark and to do it by walking and paddling similar to what they did."
Fighting currents and wind as he headed up the Missouri has been the most daunting aspect. His least favorite part has been the suspicion he has garnered in some people.
"In the East, it's so unusual to see people walking around that several times people called the police to report, 'Somebody was walking down the road and you better check them out,' " he said. "I am normally not looked at as a possible criminal and I didn't really enjoy that."
Finding three bison skulls on the Missouri ranks as his favorite experience. He also enjoyed kayaking past the famous White Cliffs in the Missouri Breaks section of the river in Montana.
The best hiking was near the western edge of the Lolo Motorway, where a trail leaves the gravel road and passes through huge cedar and ponderosa pine trees.
"Nobody was on the trail, just a lot of deer and whatnot had been using the trail, so that was pleasant."
Even the days when he has walked along highways with cars and trucks roaring past have been enjoyable.
"So much of it is about attitude, like walking down the Bitterroot Valley. I could have been cursing the fact there were cars nearby, but instead I looked the other way and looked at the mountains and the horses and things. It was fun. I have enjoyed it all."
Along the way, friends have met up with him and helped him get supplies, or provided him with a home-cooked meal and a place to grab a shower. An old smoke-jumping buddy delivered his kayak to Orofino on Tuesday. But most of the time he has had only himself for company.
"I never get lonely," he said. "That makes me an unusual person and it makes it a lot easier to do trips like this."
With his return to the kayak it would seem the hard part of the journey is mostly over. But still ahead are dam passages and dealing with the famous wind of the Columbia River Gorge.
"People always theorize about what is dangerous and they always want to warn me about bears and lunatics and snakes and whatnot, but there is very few things more dangerous than water if you are not careful, so that is what I respect."
He figures he'll approach the Columbia River Bar where the river meets the Pacific Ocean around Sept. 15. He hasn't decided if he'll attempt to kayak the notorious stretch of water. Meantime, he'll make his way downriver on a schedule that's all his own.
"I like to do trips like this myself. It's such a major advantage to go at your own pace, to go fast when you are in the mood and to go slow when you are in the mood," he said.
"Pacing is so important and the freedom is important. You give up a lot of that when you team up with someone."
Local journalism is essential.
Give directly to The Spokesman-Review's Northwest Passages community forums series -- which helps to offset the costs of several reporter and editor positions at the newspaper -- by using the easy options below. Gifts processed in this system are not tax deductible, but are predominately used to help meet the local financial requirements needed to receive national matching-grant funds.
Subscribe to the sports newsletter
Get the day's top sports headlines and breaking news delivered to your inbox by subscribing here.
---