Sports
WSU running backs coach Jim Mastro believes Colin Kaepernick should use different stage
Sat., Sept. 3, 2016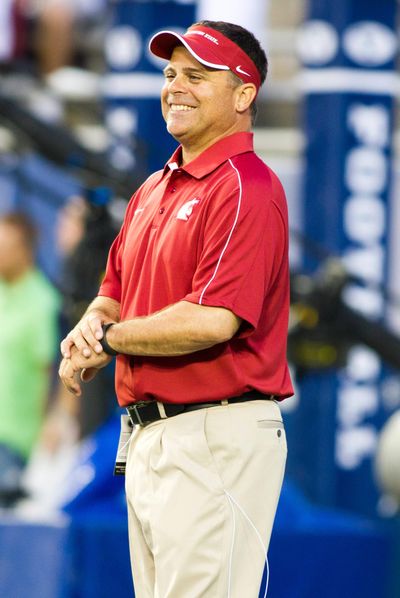 PULLMAN – Colin Kaepernick was one of the most explosive players Jim Mastro coached during 10 seasons at Nevada.
The current WSU running backs coach then coached running backs and quarterbacks for the Wolf Pack, and grew particularly close to Kaepernick's family.
Kaepernick has spent the last week as perhaps the most controversial figure in sports after the quarterback sat during the playing of the national anthem before a preseason NFL game, and subsequently telling reporters that he refused to show pride in a flag for a country that oppresses people of color.
His stance was immediately polarizing, drawing widespread condemnation from those who saw it as disrespectful of those who have served in the armed forces and other branches of service, but support from those who appreciate him highlighting issues of racial inequality, or at least support his right to speak his mind.
Mastro, who knows Kapernick better than nearly every person who has so far weighed in, respects the quarterback's fervor. But he said he cannot support the manner in which he made his protest.
"I'm OK with him having something he's passionate about, but I don't agree with the stage at which he used it," Mastro said. "He disrespected the most sacred symbol this country has – our flag – and a leader never leads from sitting down. Having a cause and being passionate about something, I'm all for that. The way in which he tried to deliver it, I do not agree with."
On Friday, Kaepernick announced that he will donate $ 1 million to groups that help people affected by the issues to which he has tried to bring attention, while stressing that he supports and appreciates the men and women of the United States armed services.
Local journalism is essential.
Give directly to The Spokesman-Review's Northwest Passages community forums series -- which helps to offset the costs of several reporter and editor positions at the newspaper -- by using the easy options below. Gifts processed in this system are not tax deductible, but are predominately used to help meet the local financial requirements needed to receive national matching-grant funds.
Subscribe to the sports newsletter
Get the day's top sports headlines and breaking news delivered to your inbox by subscribing here.
---
Subscribe and log in to the Spokesman-Review to read and comment on this story