Sports
Spokane Indians players not interested in becoming part of lawsuit
Sun., Sept. 4, 2016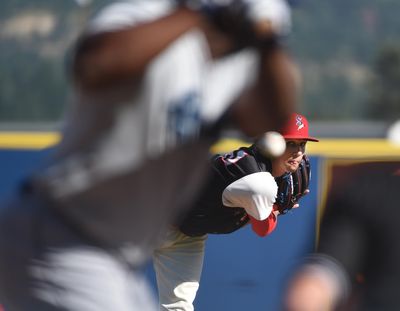 Minor league baseball is a grind. But it's one Spokane Indians players were prepared for.
There has been much controversy of how minor league baseball players are treated in recent years, specifically with how players are paid. It's gained steam in recent years with Senne v. Office of the Commissioner of Baseball, a case that alleges a violation of federal and state labor laws. The case is scheduled to go to trial in February.
But, as many Indians players will tell you, it's not the money that draws players to this lifestyle.
"Personally it doesn't bother me," Indians starting pitcher Tyler Phillips said on the pay in minor league baseball. "I just love playing baseball.
"We know we aren't getting the best pay, but we know it's for the end result. This is just going through the process like everything else is."
A big help for Indians players is that many expenses are taken care of. All players are provided housing, either through a host family or at Mirabeau Park Hotel in the Spokane Valley, where players of Latin heritage commonly stay. Most meals are catered by the Texas Rangers while they are at the stadium, and on the road, players receive meal stipends, usually $40 per day.
"They do take care of us," Phillips said. "It's not as bad as everyone would kind of expect. In the offseason it's not what you want, and it's a little harder to survive off of that, but we do pretty well for ourselves."
Many players either have part-time jobs or head back to school – like starting pitchers Alex Daniele and Kyle Cody – in the offseason. With most players making $200 to $250 per week, the majority of players can't afford to relax when the season's over.
Senne v. Office of the Commissioner of Baseball was denied class certification by a U.S. District Court judge in California in July, meaning the case cannot continue as a class-action lawsuit. However, the same judge has granted a request to reconsider the class certification.
No one on the Indians' 33-man roster had opted-in on the lawsuit.
"There's no reason to sign it," Spokane catcher Seth Spivey said. "We just to got to be thankful they are giving us the opportunity to reach our goal. You can't knock the system. That's baseball. It's been like that for 100 years. It's going to keep being like that."
Otto Klein, Vice President of the Spokane Indians, declined comment on the lawsuit itself. But based on what he's seen in his 22 seasons with the Indians, players are fortunate to be where they are.
"I think they are fortunate because they're choosing to chase a dream. And they have that opportunity to chase the dream." Klein said. "Sometimes, all dreams come with a sacrifice.
"Not everybody gets that opportunity to play professional baseball."
Local journalism is essential.
Give directly to The Spokesman-Review's Northwest Passages community forums series -- which helps to offset the costs of several reporter and editor positions at the newspaper -- by using the easy options below. Gifts processed in this system are not tax deductible, but are predominately used to help meet the local financial requirements needed to receive national matching-grant funds.
Subscribe to the sports newsletter
Get the day's top sports headlines and breaking news delivered to your inbox by subscribing here.
---