News > Education
St. Aloysius school celebrates a century of teaching and caring
Thu., Sept. 8, 2016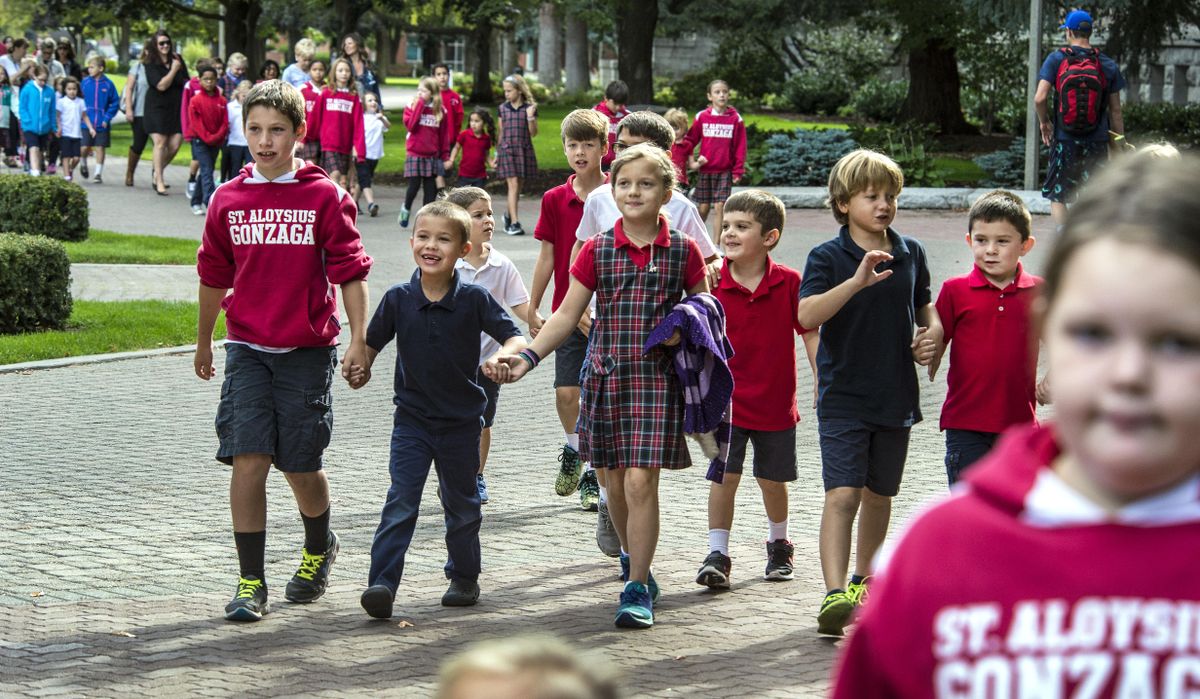 Over 300 students from St. Aloysius Gonzaga Catholic School make their way from the class room to St Aloysius Catholic Church on the Gonzaga University campus on Thursday to celebrate the school turning 100 years old on Sept. 8, 2016. (Dan Pelle / The Spokesman-Review)
When Ann McLane's husband died last year, the third-grade teacher at St. Aloysius Gonzaga Catholic School took some time off to grieve.
"It was terrible," she said of her time away from the school. "It was terrible."
For her that proves St. Aloysius is doing something right.
"It takes 10 hugs a day to be healthy," she said. "I have that within 10 minutes of walking in the door."
On Thursday the school celebrated its 100th birthday.
More than 300 students, along with teachers and some parents, attended Mass at St. Aloysius Church on Gonzaga University's campus Thursday morning. An all-school picnic was held in the evening.
"There is that neat sense of community that is unique to a school that is 100 years old," Principal Angie Krauss said. "We honor relationships here."
The concern and care McLane received from the school community is integral to the school's DNA, she said.
"It's truly a family and it's so much more than an education," she said.
More than 700 people attended her husband's funeral, many of them St. Aloysius alums.
"Every child in the school sent me a handwritten sympathy card last year," McLane said.
Every decision that's made at the school is informed by the school's mission statement, whether it's constructing a new building or what to teach in class, Kraus said.
"If I were to say what defines us it's our love of Christ and going out and living it," she said.
The school was founded in 1916 by the Sisters of Holy Names Academy and the St. Aloysius Gonzaga parish. There were 195 students in the first class. In 1940 the school moved to its current location on Mission Avenue. Since then the building has been expanded and Krauss hopes to break ground on a new, 31,000-square-foot building next summer. The school offers instruction in grades kindergarten through 8.
Throughout that time the focus on the mission statement has kept the school on track, and given it continuity.
"We kind of stand on their shoulders," Pete Hanson said of the sisters who founded the school. "We have a legacy of people who have gone through this."
Hanson has taught physical education at the school for 20 years and his two children attended the school. The school's alumni network has also helped the school grow. Hanson points to well-known alums, like John Stockton, as examples of that support.
Krauss also credits the alum network for funding a number of scholarships and endowments. Two of the founders of Garco Construction, Tim Welsh and Frank Etter, both graduated from St. Aloysius. Garco is building the new addition, and has established an endowment and a scholarship.
"If you're a practicing Catholic and you want a Catholic education we will make it work for you," Krauss said of paying for the private school.
For fifth grader Andy Sage, 10, and his 6-year-old brother Mathew Sage, the reason they like St. Aloysius is simple.
"I just enjoy it because I like being around him," Andy said, gesturing to his brother. Mathew adds, "We like each other."
Local journalism is essential.
Give directly to The Spokesman-Review's Northwest Passages community forums series -- which helps to offset the costs of several reporter and editor positions at the newspaper -- by using the easy options below. Gifts processed in this system are not tax deductible, but are predominately used to help meet the local financial requirements needed to receive national matching-grant funds.
Subscribe now to get breaking news alerts in your email inbox
Get breaking news delivered to your inbox as it happens.
---