Sports
Central Valley rolls to 43-0 win over Lake City
Fri., Sept. 9, 2016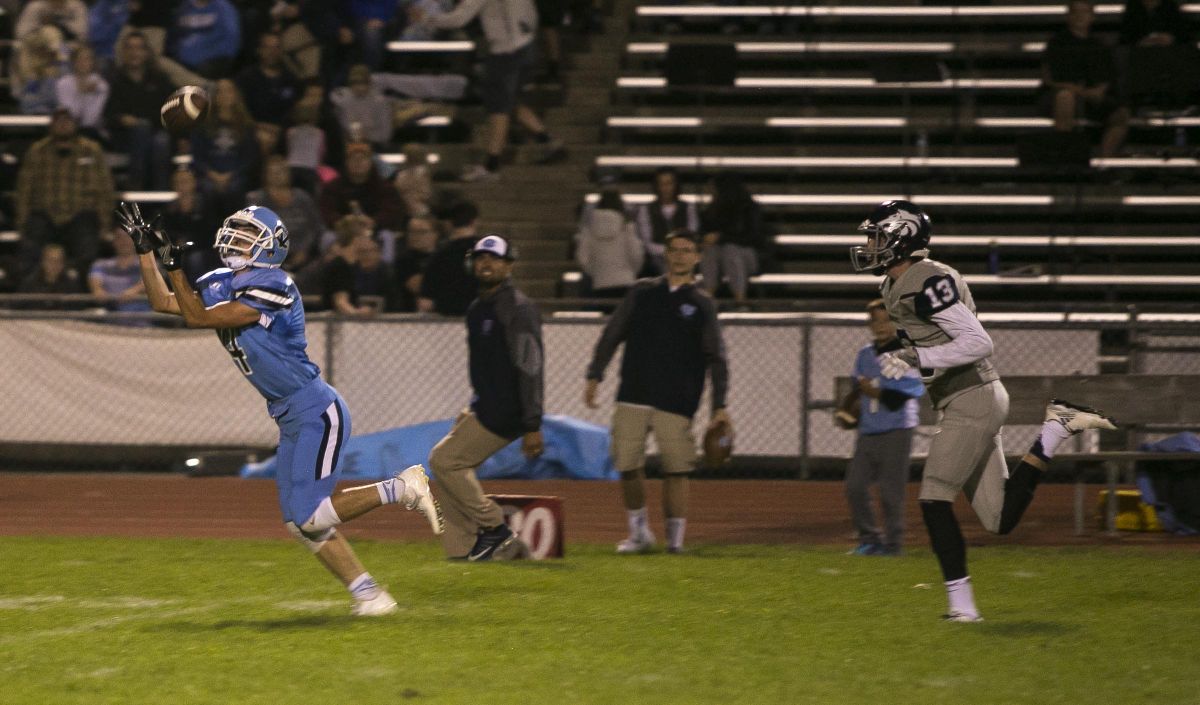 Central Valley's Jase McCammond pulls in an interception of a pass that was intended for Lake City's Jason Pierard during the second quarter Friday night at Central Valley High School. (BRUCE TWITCHELL / Special to The Spokesman-Review)
Everything that could go right for the Central Valley defense did go right Friday night. The offense, on the other hand, needed a half to get going.
Regardless of the first-half offensive struggles, the Bears forced seven turnovers on their way to a 43-0 victory over the visiting Lake City Timberwolves. Six of those takeaways were interceptions.
Cornerback Jase McCammond picked off three passes and Christian Williams snagged two of his own. Jase Edwards had one interception, which he returned for a touchdown.
Lake City (1-2) fumbled the ball late in the game as well.
"We went back to the basics this week defensively," CV first-year head coach Ryan Butner said. "We were not complicated whatsoever (and) focused a lot of our attention on fundamentals because last week we really thought that got away from us against Coeur d'Alene."
The final score wasn't exactly a perfect illustration of the CV offense's performance. The offense couldn't find the end zone in the first half and had to settle for two Ryan Rehkow field goals of 30 and 49 yards for its only offensive points of the first half. The BYU commit also missed from 50 and 39 yards.
CV quarterback Conner DeGeest didn't have his best performance in the first half, often missing his targets.
CV (1-1) even went with freshman quarterback Matt Gabbert for a series in the second half. Gabbert was able to move the ball with his arm and legs but soon had to leave the game with an injury.
That put DeGeest back under center. Shortly after returning, though, DeGeest threw an interception that was nearly returned for a touchdown.
Despite the struggles, though, DeGeest was able to regroup.
"He just felt confident throwing the ball (in the second half) and he connected on a few passes that were obviously right on the target and good enough for a touchdown," Butner said.
DeGeest looked like a new quarterback in the second half, throwing two touchdowns and taking advantage of the good field position.
His two touchdowns were 22- and 10-yard strikes to Nate Bannon.
CV also brought in Grant Hannan late in the game at quarterback. Hannan connected with Brian Munro on a 19-yard touchdown.
Lake City couldn't put together sustained drives. An interception by Brayden Pollow put the Timberwolves 10 yards from the end zone. But a CV interception two plays later ended any hope of scoring.
The Timberwolves' only threat came with backup quarterback Bryce Buttz behind center. Buttz moved Lake City 54 yards before throwing an interception to Williams.
Local journalism is essential.
Give directly to The Spokesman-Review's Northwest Passages community forums series -- which helps to offset the costs of several reporter and editor positions at the newspaper -- by using the easy options below. Gifts processed in this system are not tax deductible, but are predominately used to help meet the local financial requirements needed to receive national matching-grant funds.
Subscribe to the sports newsletter
Get the day's top sports headlines and breaking news delivered to your inbox by subscribing here.
---