Sports
Skyline trips up Gonzaga Prep 26-23 in triple overtime
Fri., Sept. 9, 2016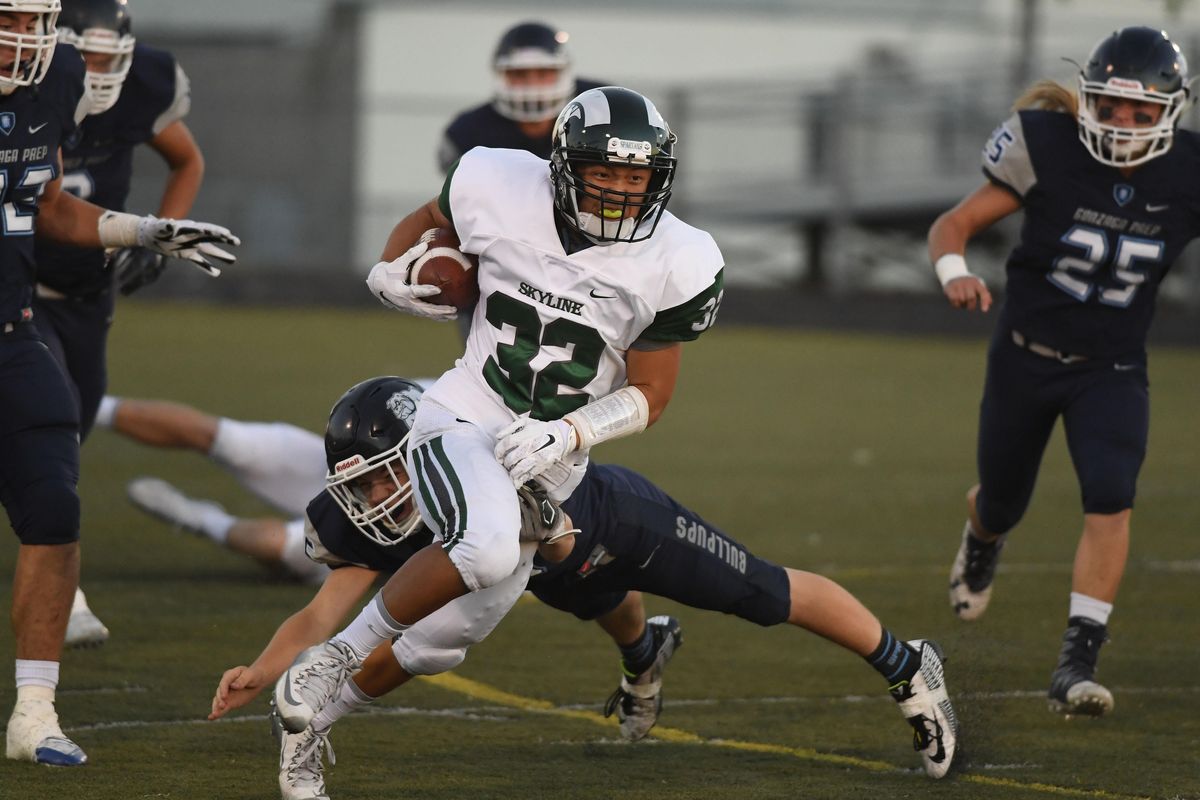 Skyline running back Isaiah Shim (32) scores the Spartans' first touchdown on a 68-yard run during the first half of a high school football game at Gonzaga Prep, Friday, Sept. 9, 2016, in Spokane, Wash. (Colin Mulvany / The Spokesman-Review)
In a game featuring tradition-rich football teams trying to find new identities, visiting Skyline took a big step in that direction Friday.
The Spartans bounced back after a turnover-plagued season-opening loss to knock off Gonzaga Prep 26-23 in triple overtime in a game involving the 2015 State 4A finalists.
Yes, it says Skyline and Gonzaga Prep on the uniforms. But the teams are mere shells of the two that faced off last year with the Bullpups securing the state championship.
Skyline coach Mat Taylor scoffed at the idea of revenge. His team stressed putting behind a game that saw them commit six turnovers in the third quarter of a 38-27 loss at Richland.
Taylor went to a play he likes to dial up no matter the year when quarterback Drew Kistner hit running back Isaiah Shim on a screen pass from the 10-yard line, and Shim bounded untouched in the end zone for the winning score.
Moments earlier, Bullpups kicker Seth Kuykendall drilled a 34-yard field goal to put G-Prep ahead 23-20 after the first possession of the final overtime.
G-Prep coach Dave McKenna told his players in a huddle moments after the game that he was greatly disappointed in their play. Not so much the loss but how they lost.
The Bullpups put the ball on the turf seven times, losing three – along with several other mental mistakes.
"Way too many mistakes, way too many mistakes," a still fired up McKenna said, yelling at his players to quickly sing the school fight song and sprint to postgame mass. "We had a lot of chances and we didn't capitalize on them. We have to get better. We're better than that, I know we are, but that's unacceptable."
McKenna said every player will be challenged to step up and improve when the Bullpups prepare for a league opener against Ferris next Thursday.
Skyline took a 6-0 lead on the first play from scrimmage. Shim, who rushed for 179 yards, sprinted 68 untouched.
G-Prep's defense, put on its heels frequently by an inconsistent offense, started tackling much better thereafter.
Skyline's touchdown stood through the first quarter.
G-Prep (0-2) evened it up at 6-6 when quarterback Ryan Gross found Devin Culp on a 6-yard connection with 8:46 to go before halftime.
Skyline took a 13-6 lead into intermission when Shim scored on a 9-yard run with 40 seconds to go in the second quarter.
G-Prep tied the score at 13-13 when Sam Lockett blocked a punt and picked it up in stride, returning it 8 yards for the TD with 1:34 to go in the third quarter.
Both teams had chances in the fourth, but the defenses were stellar.
G-Prep had the ball first in the opening overtime. Max Johnson scored on a 5-yard run.
Skyline answered, forcing the second overtime. Both teams missed field goals in the second extra session.
Then the teams each got a turn from the 10-yard line.
G-Prep stalled and settled for the Kuykendall field goal. Skyline got the winner on its second play.
"It's easy to talk about revenge and the rematch and I'm sure coach (McKenna) was saying the same thing," Taylor said. "But that is last year's team. This is this year's team. I'm really proud of the resilience of our kids. There were lots of things where they could have given up. We had lots of turnovers. We had seven last week and five this week. The bottom line is I'm as proud as I can be of these kids."
Local journalism is essential.
Give directly to The Spokesman-Review's Northwest Passages community forums series -- which helps to offset the costs of several reporter and editor positions at the newspaper -- by using the easy options below. Gifts processed in this system are not tax deductible, but are predominately used to help meet the local financial requirements needed to receive national matching-grant funds.
Subscribe to the sports newsletter
Get the day's top sports headlines and breaking news delivered to your inbox by subscribing here.
---