Sports
Blanchette: Huskies already look fine-tuned, if not appreciated
Sat., Sept. 10, 2016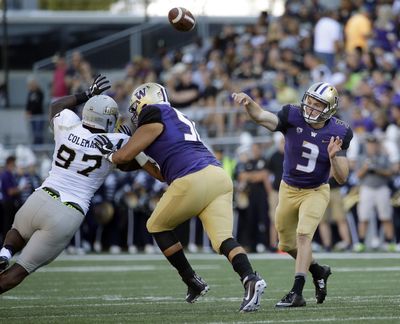 SEATTLE — Like opening weekend of March Madness, the fun in the first couple of weeks of college football is discovering who isn't who we thought they were.
Tennessee, for instance, scared witless by Appalachian State, or Washington State having to take the FCS Walk of Shame. On Saturday it was No. 2 Clemson, needing 17 points in the fourth quarter to beat Troy — the unknown southern Troy, not the overhyped Hollywood poseur. And Oklahoma State, losing on a Hail-Mary-and-lateral to Central Michigan, made possible by referees — believe it or not — not in the employ of the Pac-12.
Here on Montlake, however, a certain surreality is setting in.
Not only are the Washington Huskies cruising at Icarus altitudes not experienced in 15 years, but they're actually, you know, taking care of business.
Startling stuff, seeing as how even coach Chris Petersen couldn't backpedal fast enough when the first poll installed his Huskies at No. 14 to start the season.
"I'm really scared that you guys are dead wrong again," he said, throwing the voters under the bus, "because you usually are."
But then came a 48-13 wipeout of Rutgers and, on Saturday, a 59-14 clubbing of Idaho — hardly definitive measuring sticks, but given the faceplants native to the game's supposed power teams at season's sun-up, at least a suggestion that nobody's dead wrong.
"Awesome out there, huh?" Peterson allowed.
Actually, he was referencing the cloudless skies, the 71-degree sunshine, the glint off the water of Lake Washington — or was it off all the empty seats in Husky Stadium? The announced attendance was 60,678, but that was accurate only if you take out the "attend" part.
So at least one part of Washington's game is not yet Top 10.
Oh, about that — the revisions to the AP poll after the first week put Washington at No. 8, the first time they'd cracked the first 10 since 2001. That's a mere 238 polls ago. Given how rubbing elbows with that kind of company normally gets Husky fans more tingly than a $40 Chardonnay, the lukewarm turnout seemed odd, but maybe fans need to see better prey before parting with their disposable income.
The Vandals put up a good fight for a quarter, and then just a fight. It was instructive to see Idaho coach Paul Petrino pass on punts and go for it on fourth down from his own 37, the UW 48 and the Idaho 40 all inside the game's first 17 minutes.
"It was because I thought they were so much better and we had to, to give us a chance to win," he admitted. "One of them maybe wasn't very smart. I just thought in order for us to win, we were going to have to keep the ball away and stay on the field. So I went for a few."
The last one, alas, led to a four-touchdown onslaught in the second quarter that got the Huskies out of a minor offensive funk and Jake Browning into a rhythm.
Presuming he's out of rhythm yet.
In his two outings this season, the sophomore quarterback is 41 of 55 — just under 75 percent — for 581 yards and eight touchdowns. His quarterback rating, for those who parse such things, is 207.6 — which is a little like batting .400 for April.
At one point Saturday, he reeled off 13 straight completions, often buying time with his feet — though Petersen cautioned that maybe that should come with an asterisk.
"He did a great job of scrambling out there and keeping his eyes down field," Petersen acknowledged. "We have actually been working on that quite a bit. It is going to come up every game, and those plays can actually be harder to defend.
"But when you go back, what I want to look at is, did he need to escape? Did he have things that he could have got the ball out? I know one early on when he threw a touchdown, he didn't need to make it so spectacular."
Perhaps this seems like an extraordinary quibble — results are results — but surely Browning and Co. are going to have to be more fine on the details when it's Stanford and Oregon across the line and not the Sun Belt refugees.
The Huskies dominated in all the areas they should be expected to, both in muscle and skill. If they're not running the ball crisply, Petersen said that's a facet that sometimes doesn't get exploited until later in games — and in both weeks, UW has been well into the depth by then.
Petrino certainly has no quibble with the Huskies' ranking.
"They felt like it," he said. "I wouldn't be surprised if they're there at the end of the year, that's for sure."
Meanwhile, all Petersen would allow is that, "The first two weeks, they were pretty good."
He makes for a tough crowd. But then, somebody has to be.
Local journalism is essential.
Give directly to The Spokesman-Review's Northwest Passages community forums series -- which helps to offset the costs of several reporter and editor positions at the newspaper -- by using the easy options below. Gifts processed in this system are not tax deductible, but are predominately used to help meet the local financial requirements needed to receive national matching-grant funds.
Subscribe to the sports newsletter
Get the day's top sports headlines and breaking news delivered to your inbox by subscribing here.
---