Sports
Cougars wake up too late to catch Boise State in 31-28 defeat
Sept. 10, 2016 Updated Sat., Sept. 10, 2016 at 11:59 p.m.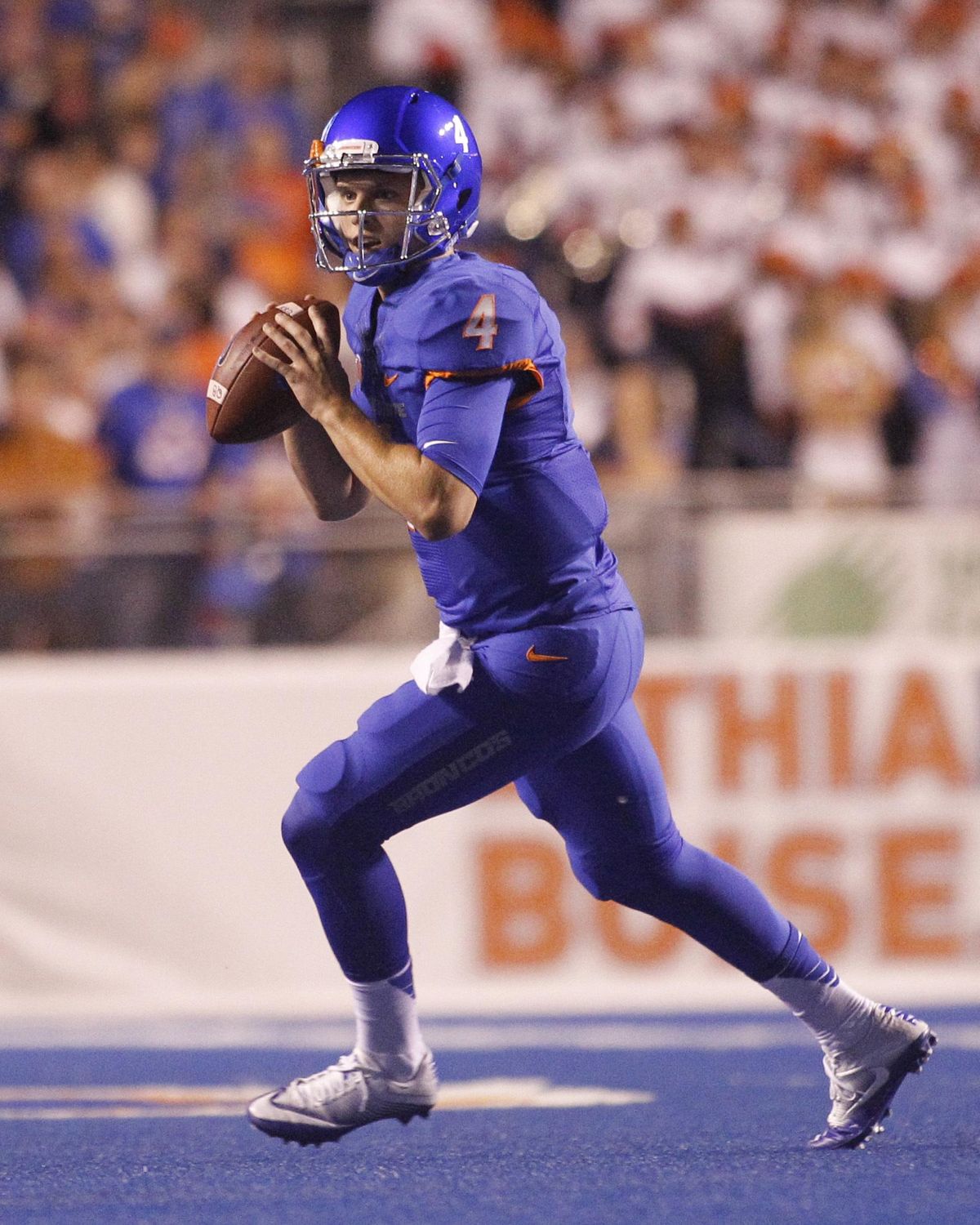 Boise State quarterback Brett Rypien threw for 299 yards, but also had three interception in win over Washington State in Boise, Idaho on Saturday. (Otto Kitsinger / Associated Press)
BOISE – There may be some more of that old fourth-quarter magic left in these Cougars, but not enough for Washington State to fritter away its opportunities in the first three periods.
But the Cougars do not have the toughness to pair with pull-it-out-of-your-hat, per head coach Mike Leach.
"As coaches up to this point we've failed to make our team as tough as it needs to be, starting with me," Leach said. "That's going to change."
And once again it cost them during Saturday's 31-28 loss at Boise State. The Cougars seemed out of it throughout, scoring on just one of their first six trips across midfield. And then just when things seemed about over, Shalom Luani intercepted Brett Rypien for the second time and Luke Falk threw a 33-yard touchdown pass to Gabe Marks to bring WSU within three points.
It looked a lot like the UCLA comeback last year. Or the Oregon comeback. Or maybe the one at Rutgers.
Why, the Broncos were so beguiled by WSU's late-game wiles that they threw a pass at the end zone after effectively securing the win, where it was intercepted by Charleston White.
But in the end the game more resembled that crazy 60-59 loss to California in 2014, with the Cougars providing some clock management issues of their own and coming up on the wrong end of a game that left fans of both sides scratching their heads.
"It's like a boxer if he's really good at hitting the bag, and then all of a sudden he fights a boxing match and he won't throw any blows. That's who we are," Leach said. "We have to be a tougher football team and right now we're not. Right now we've got a bunch of good, nice, jolly guys who will work their asses off, at times, but as soon as anybody hits them or there's any adversity, we fold."
The Cougars had 53 seconds left to tie or take the lead after White's interception, but lost previous time between plays, particularly before finally calling timeout before the last desperate heave (it fell incomplete).
Falk and Leach said afterward they thought Gabe Marks had clearly achieved a first down on the play before, and that the clock should have stopped for the chains to move. But sand continued to pour out of the hourglass, and it cost the Cougars.
"It's an unfortunate situation," Falk said. "It would have been nice to know the spot earlier."
WSU (0-2) was left to wonder what it left on the field in the first three quarters that could have provided some buffer during the wild fourth.
Unable to score from close range, the Cougars finally did some long-range bombing of their own with Luke Falk's 50-yard touchdown pass to Tavares Martin late in the third quarter. But the score seemed to do little more than waken the Broncos, who completed passes of 18, 15 and 36 yards after the score, then opened the fourth quarter with a seven-yard touchdown run by Jeremy McNichols.
The Cougars got across midfield three times in the first half. The result of those drives was an 85-yard interception returned for a touchdown, a punt and a blocked field goal attempt.
The pick-six was brutal. WSU had a breezy opening drive, as quarterback Luke Falk completed six of his first seven passes, peppering the Broncos defense with quick hits to his playmakers and briskly moving the WSU offense down the field.
There was something off about his pass from the 23-yard line, however, as either Robert Lewis ran short on his route or Falk's pass drastically overshot the diminutive receiver. Regardless, Falk's offering went straight to BSU cornerback Tyler Horton, who outran the Cougars offense 85 yards to the opposite end zone.
The blocked field goal might have cost the Cougars their best chance to put some measly points on the board heading into the locker room, but for Shalom Luani's 27-yard interception. The safety, who was suspended for the season-opener against Eastern Washington, fumbled at the end of the return, but the Cougars recovered at the BSU 26-yard line.
Shortly thereafter, Falk threw a shovel pass to Jamal Morrow, who ran 10 yards for WSU's first score.
With only 42 seconds left in the half, BSU managed to get some points back, however. Brett Rypien's 40-yard pass to Cedrick Wilson got the Broncos in scoring range, and Tyler Rausa's 31-yard field goal put BSU up 17-7 at the half.
On the first drive of second half Rypien threw two deep passes at Darrien Molton, yielding a pass interference but then a pass breakup. Rypien tested Molton again on third-and-10 and was again denied, leading to a punt.
The Cougars could not capitalize with a score, however, and on the next drive the BSU offense was run to perfection. Running back Jeremy McNichol began to gash the Cougars defense with runs of 25 and 11 yards, and just as the WSU defense began peeking into the backfield, Rypien went over the top with a 47-yard touchdown pass to a wide open Thomas Sperbeck.
The Cougars got as far as the BSU 13-yard line on the ensuing drive. But a quarterback sneak on 4th-and-1 against a stacked BSU defense went nowhere, marking WSU's fifth unsuccessful trip into Broncos territory of the night.
Local journalism is essential.
Give directly to The Spokesman-Review's Northwest Passages community forums series -- which helps to offset the costs of several reporter and editor positions at the newspaper -- by using the easy options below. Gifts processed in this system are not tax deductible, but are predominately used to help meet the local financial requirements needed to receive national matching-grant funds.
Subscribe to the sports newsletter
Get the day's top sports headlines and breaking news delivered to your inbox by subscribing here.
---