Sports
North Dakota State tops Eastern Washington in overtime
Sat., Sept. 10, 2016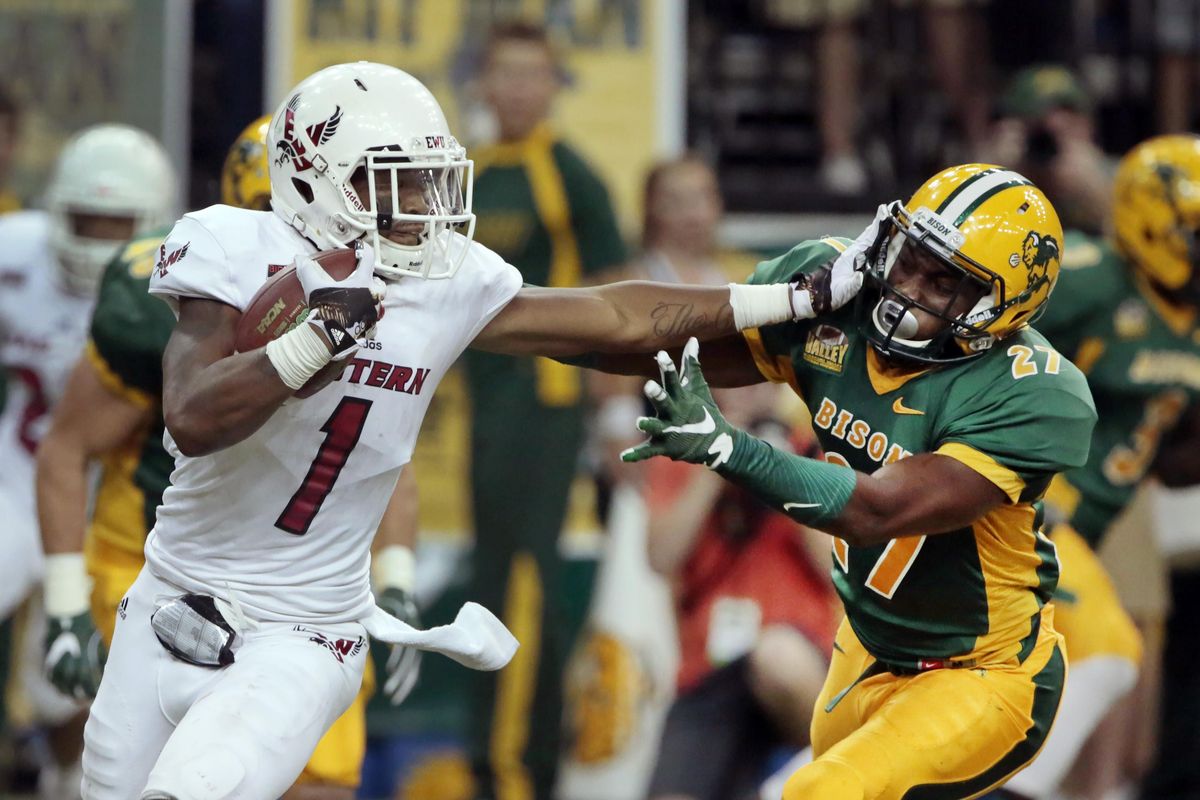 Shaq Hill of Eastern Washington tries to avoid Isaac Cenescar of North Dakota State University during the Saturday game at the Fargodome. NDSU won 50-44. (Dave Wallis / The Forum)
FARGO, N.D. – Upon further review, this one was a classic.
Eastern Washington's 50-44 overtime loss at North Dakota State had a little of everything: acrobatic catches, improbable plays, unlikely heroes and momentum that moved like a whipsaw for more than 60 minutes.
And, yes, it also had half a season's worth of official replays, but that only seemed to heighten the tension in the Fargodome.
This was a drama worth savoring – though that may take some time for the Eagles, who took a late three-point lead only to watch the Bison make all the big plays at the end in front of a sellout crowd of 18,906.
"I'm not caught up in the end result, but with how I feel about how these guys came in here and battled," Eastern coach Beau Baldwin said. "It was a game either team could have won and came down to the wire."
That's where the Eagles finally tripped. Leading 44-41, Eastern gave up a game-tying field goal in the final minute, then missed a potential game-winning 48-yard kick on the final play of regulation.
Overtime was short but cruel: On second-and-6, Eastern quarterback Gage Gubrud was intercepted on a bad throw over the top, and Bisons running back Lance Dunn won it on the next play after a 25-yard sweep around left end.
"Give them credit, they found a way to win," Baldwin said of the five-time FCS national champions. "We'll be back swinging next week."
That's Saturday's home opener against fifth-ranked Northern Iowa, which will be smarting after a 20-14 home loss to Montana.
How many Eagles will come up swinging may depend on the trainers: With linebackers Miquiyah Zamora (hamstring) and Alek Kacmarcik (concussion) already out, the Eagles lost roverback Cole Karstetter to an Achilles injury and All-America wide receiver Cooper Kupp to a sprained shoulder.
The Eagles trailed 21-7 late in the first half. That's when Gubrud regained his form from last week's 45-42 win at Washington State, hitting Kupp for an 8-yard touchdown pass and leading another drive that ended with Roldan Alcobendas' 37-yard field goal.
There was no immediate word on the severity of the injury to Kupp, whose right arm was in a sling after he took a hit just before halftime.
The Bison twice took double-digit leads. The last came with 9 1/2 minutes left, when Gubrud threw into triple coverage and linebacker Nick DeLuca took it 41 yards the other way for a score.
That made it 41-31, but Gubrud relied on receivers Kendrick Bourne (eight catches, 133 yards) and Mt. Spokane product Stu Stiles to bring the Eagles back.
Last year, Stiles caught all of seven balls for 60 yards. Against the Bison, he had eight receptions for a game- and career-high 169, including a 34-yard touchdown that cut the deficit to 41-37 with 7:49 left.
Gurbud took it from there, converting a third-and-7 by hitting Stiles for 37 yards to set up true freshman running back Tamarick Pierce's 1-yard run to give Eastern its only lead of the game 44-41 with 4:32 left.
Gubrud finished 26 of 40 for 450 yards, four touchdowns and three interceptions.
Local journalism is essential.
Give directly to The Spokesman-Review's Northwest Passages community forums series -- which helps to offset the costs of several reporter and editor positions at the newspaper -- by using the easy options below. Gifts processed in this system are not tax deductible, but are predominately used to help meet the local financial requirements needed to receive national matching-grant funds.
Subscribe to the sports newsletter
Get the day's top sports headlines and breaking news delivered to your inbox by subscribing here.
---