News > Spokane
Bird Aviation Museum soars on after founders' deaths
Mon., Sept. 12, 2016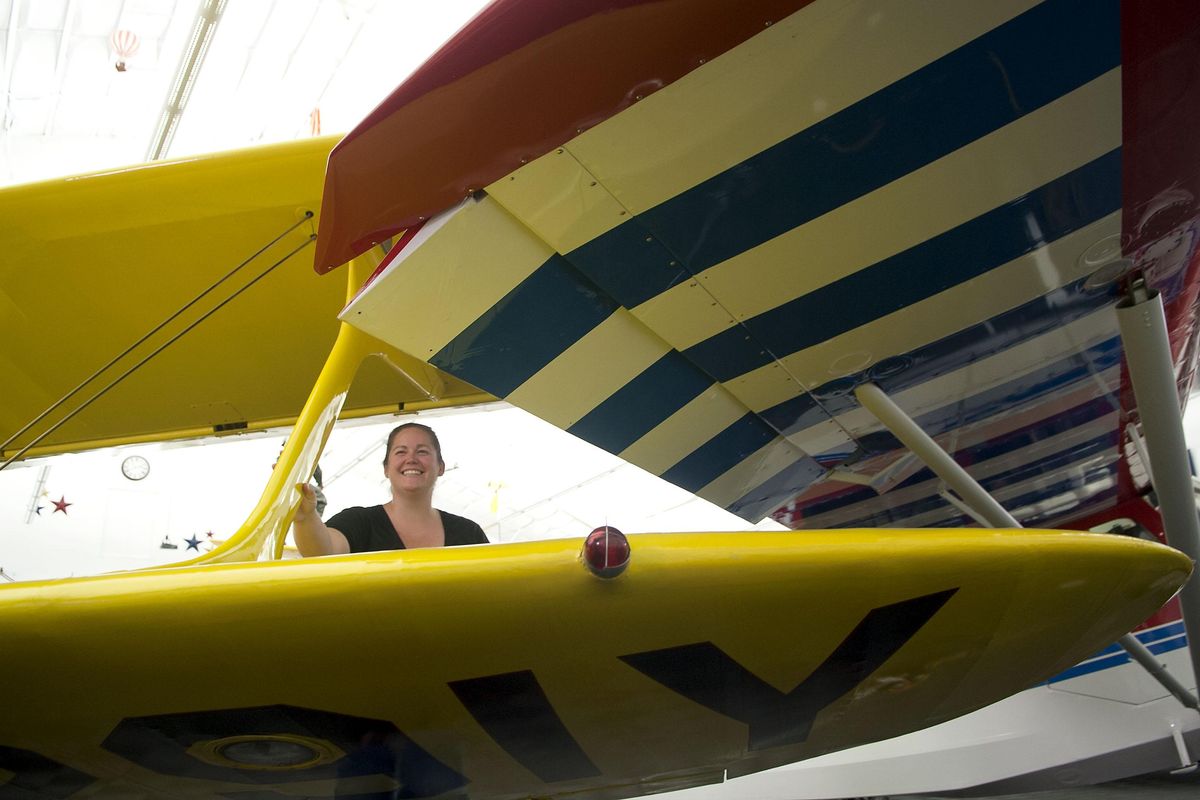 Rachel Schwam gives a tour of the Bird Aviation Museum and Invention Center in Sagle, Idaho, on Wednesday, Aug. 31, 2016. She is carrying on the operation after the death last year of her mother and stepfather, who founded the collection of vintage aircraft and cars south of Sandpoint. Pamela Riddle Bird and two friends were killed in a small plane crash near Hope, Idaho, on Oct. 8, 2015. Just two months earlier, her husband, the renowned inventor Dr. Forrest Bird, died at the age of 94. (Kathy Plonka / The Spokesman-Review)
SAGLE, Idaho – A photo of a premature baby girl on a respirator is displayed inside a glass case on the second floor of the Bird Aviation Museum and Invention Center, a treasury of artifacts and gadgets on a wooded ranch near Lake Pend Oreille.
"It's actually yours truly, me," said Rachel Schwam, pointing to the fragile newborn in the exhibit.
She is standing in a room dedicated to the achievements of Dr. Forrest Bird, renowned for inventing the modern respirator – a device credited with saving thousands of lives, including Schwam's in 1983.
More than a decade after Schwam was on the Baby Bird respirator, she met its creator when Bird began courting her mother in Florida. Pamela married Forrest in 1999, and in 2007 they opened the museum near their home 17 miles from Sandpoint.
The institution quickly grew into a regional attraction, popular among aviation and history buffs, inventors and schoolchildren. Morley Safer from "60 Minutes" arrived for a story that aired as "The Birdman of Idaho."
But tragedy struck last year when the museum's co-founders died within 10 weeks of each other. Forrest Bird died Aug. 2, 2015, at age 94. On Oct. 8, Pamela Bird, 59, and two close friends were killed in a plane crash minutes after they took off from a runway on the ranch.
A group of schoolchildren was visiting the museum that Thursday morning when the staff learned the four-seat Cessna Skylane was missing. It had slammed into a steep ridge and burst into flames a few miles northeast of Hope, directly across the lake.
In a preliminary report, federal investigators gave no cause for the crash, which also took the lives of Donald and Bessie "Tookie" Hensley, of Mohave Valley, Arizona. A museum employee snapped a picture of the three friends in the plane shortly before takeoff.
"I am thankful for it because it's the last photo of my mom," Schwam said. "That's her doing what she loved."
The image is in the museum now, along with one of the last photos of "Doc" Bird in the chair where he'd greet visitors.
"He would love to watch the people come in," Schwam said. "It was through mid-July last year when he was here every day."
Now she is carrying on without them, continuing their vision for a place to educate and inspire, and especially spark young minds.
"Knowing what they wanted, we'll continue their legacy," she said.
To educate and inspire
When one enters the hangar-like Bird Aviation Museum and catches sight of gleaming vintage aircraft parked around the floor and suspended from the ceiling, a couple of thoughts come to mind: Wow! And, why here?
"This was Forrest and Pam's home, and why not?" Schwam said.
Forrest Bird flew for close to 80 years, mastering the controls of biplanes, jets, gliders, helicopters, float planes, strategic bombers and more. His father was a World War I pilot, and Bird served with the Army Air Corps in World War II and assisted in the Korean and Vietnam wars, retiring as a colonel.
He piloted Gen. George Patton, flew alongside Howard Hughes, and met Orville Wright, Henry Ford, Charles Lindbergh, Chuck Yeager and John Glenn. And in an epic life of adventure and accomplishment, Bird collected aircraft, 21 of which are in rotation at the museum. He also had classic cars and motorcycles, mementos of aviation history and many prototypes of his respirators.
Putting it all on display was long a dream of his. Pamela Bird, who worked for inventors' rights and helped entrepreneurs bring products to life, had a desire to showcase innovation. The couple chose a picturesque, 250-acre cattle ranch near their home to build a unique attraction that celebrates advances from the century past with an eye toward what the future will bring.
"His vision of the museum was to educate and to inspire. And my mom called the invention center the imagination room," Schwam said. "That was one thing they wanted to do, and why we host summer camps (for kids), is because they both wanted people to be inspired and to create. And you have to prepare for future generations to come."
To many they may have seemed an unlikely pair. Doc was 35 years older than Pamela, but she didn't seem to notice, once describing him as "one of the youngest people I've ever met." They shared a strong intellectual bond and spent their years together following their mutual passions for adventure, science and technology.
And they flew around the world. Forrest would challenge Pamela in the air by turning off the engines and forcing her to devise an emergency landing plan.
He was a humble man, even when he met people who had survived to adulthood thanks to his respirators. Before the Baby Bird, about 70 percent of premature babies died. The invention cut the mortality rate to less than 10 percent worldwide.
He fashioned his first respirator prototype from three strawberry shortcake tins.
Bird also developed the anti-G pressure suit regulator during World War II. The device helped fighter pilots reach an altitude of 40,000 feet, giving the U.S. and its allies a downwind advantage in dogfights.
For the community
Even with the shock of losing both her mother and stepfather last year, Schwam was prepared to keep the museum going. She has helped run it since the opening day on July 7, 2007.
"You grow into a job like this, because even though they're your parents, you still have a responsibility and a time commitment, and it's not just for them, it's for the community," she said. "I've always done it, and so now it's just without that little extra bit of help."
The museum relies heavily on about 40 volunteers, including teachers, pilots, astronauts and inventors.
"Our volunteers come from a wide variety of backgrounds, so you never know who's going to be greeting you at the door," Schwam said. "It could be a World War II pilot, it could be a modern-day inventor."
One of them is Jon Proctor, a retired TWA flight steward from Sandpoint.
"Doc used to say he wanted a car for every season, and that was his winter car," Proctor said, pointing to a hulking 1948 Chrysler Windsor, inside an auxiliary building stuffed with more planes, cars and memorabilia, including Bird's two presidential medals. "He swapped cars a lot."
Forrest Bird, who taught Schwam to fly before she could drive and flew her in a large helicopter on her wedding day, was buried in a simple pine box under some trees next to his beloved museum.
To mark what would have been his 95th birthday last month, the museum staff and volunteers enjoyed one of his favorite treats, root beer floats.
The family is still waiting for the final report on the cause of the crash that killed Pamela Bird. For now, Schwam is thinking about the future, including a surprise new exhibit for 2017.
"The sad part is history is dying off," she said, "and we're lucky to have this great museum in such a small community that has pieces of history where kids can still see it."
Local journalism is essential.
Give directly to The Spokesman-Review's Northwest Passages community forums series -- which helps to offset the costs of several reporter and editor positions at the newspaper -- by using the easy options below. Gifts processed in this system are not tax deductible, but are predominately used to help meet the local financial requirements needed to receive national matching-grant funds.
Subscribe now to get breaking news alerts in your email inbox
Get breaking news delivered to your inbox as it happens.
---