News > Voices
Woman's 13,000 hours helping veterans leads to award
Wed., Sept. 14, 2016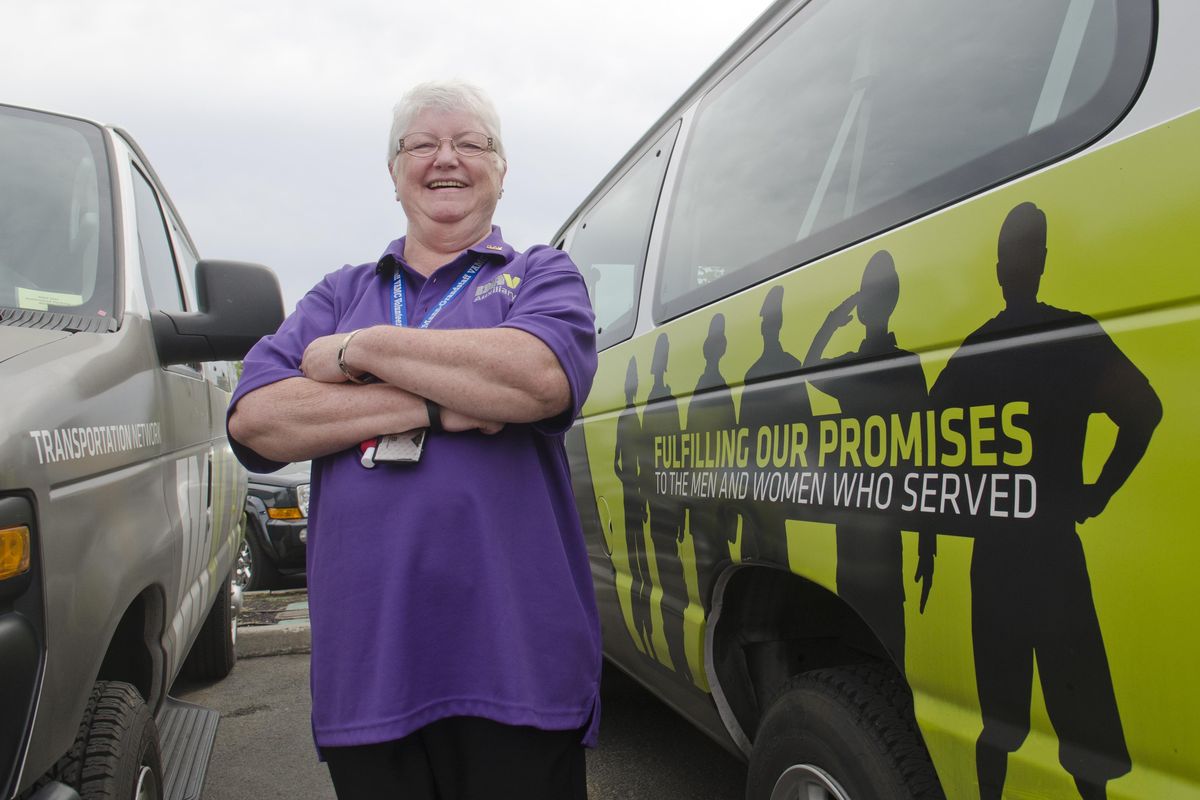 Volunteer transportation coordinator Jeannie Kyle, who's recently received the national volunteer award from the Disabled American Veterans, stands Aug. 31, 2016, between two of the vans volunteers use to transport patients to and from the Mann-Grandstaff Veterans Administration Medical Center. She has volunteered more than 14,000 hours since starting at the VA in 2004. (Jesse Tinsley / The Spokesman-Review)
In July, Disabled American Veterans volunteer drivers logged 872 hours and 12,285 miles, transporting 234 veterans to and from appointments at Mann-Grandstaff Veterans Affairs Medical Center in Spokane.
And that was a slow month.
Jeannie Kyle is the person in charge of scheduling those 48 drivers and nine vans, and she's racked up some impressive statistics, too. In August, the 62-year-old hospital service coordinator was honored with the Seal Award at the DAV National Convention in Atlanta for having amassed 14,000 volunteer hours.
The Seal Awards are conferred each year in memory of George H. Seal, who was DAV's director of voluntary services and a leading organizer and administrator of the VA Voluntary Services program from 1952 until his death in 1977.
Kyle was the DAV auxiliary recipient of this year's award.
For the past 11 years, she has coordinated the complex schedule of drivers and vans, including those from as far away as Libby, Montana, and Lewiston.
James Deen, voluntary service specialist at the VA, said the program is "all about access of care."
Glancing at Kyle, he said, "I can't even begin to tell you what her value is."
Ambulatory veterans who don't drive or don't have cars still need to get to their appointments at the medical center, and the DAV provides that transportation.
"What makes Jeannie special is she knows the regulars – she knows their stories," Deen said.
Those stories are important to Kyle.
"My husband, brother and stepson are all veterans," she said.
She began volunteering for DAV auxiliary in 1987 by staffing a "Forget Me Not" donation table. From there, she launched into community service projects like providing food baskets for needy families, and for many years, she helped cook and serve at her unit's monthly veteran luncheons.
"I like to cook," she said. "To sit and do absolutely nothing is not my idea of living."
But she found her true calling in organizing transportation for veterans in need. Part of her duties includes interviewing potential volunteer drivers, many of them veterans themselves.
"Jeannie is a mother hen to the drivers," Deen said. "They call her the 'General.' "
She's passionate about volunteerism, even enlisting her husband, an Air Force veteran, to volunteer for the past eight or nine years.
"It's dangerous to know me!" she said.
The most recent award isn't the first time her work has been noticed. Kyle has received other honors, including a presidential award for volunteerism from President Barack Obama.
Deen is thrilled to see his colleague recognized.
"She's the heart and soul of the program," he said.
Kyle works about 32 hours a week and plans to continue volunteering as long as possible.
"It gives me a reason to get out of bed in the morning," she said. "And it gives me a sense of giving back to veterans who gave so much to us."
Local journalism is essential.
Give directly to The Spokesman-Review's Northwest Passages community forums series -- which helps to offset the costs of several reporter and editor positions at the newspaper -- by using the easy options below. Gifts processed in this system are not tax deductible, but are predominately used to help meet the local financial requirements needed to receive national matching-grant funds.
Subscribe now to get breaking news alerts in your email inbox
Get breaking news delivered to your inbox as it happens.
---