Hot Dog Bob offers food, directions, sense of humor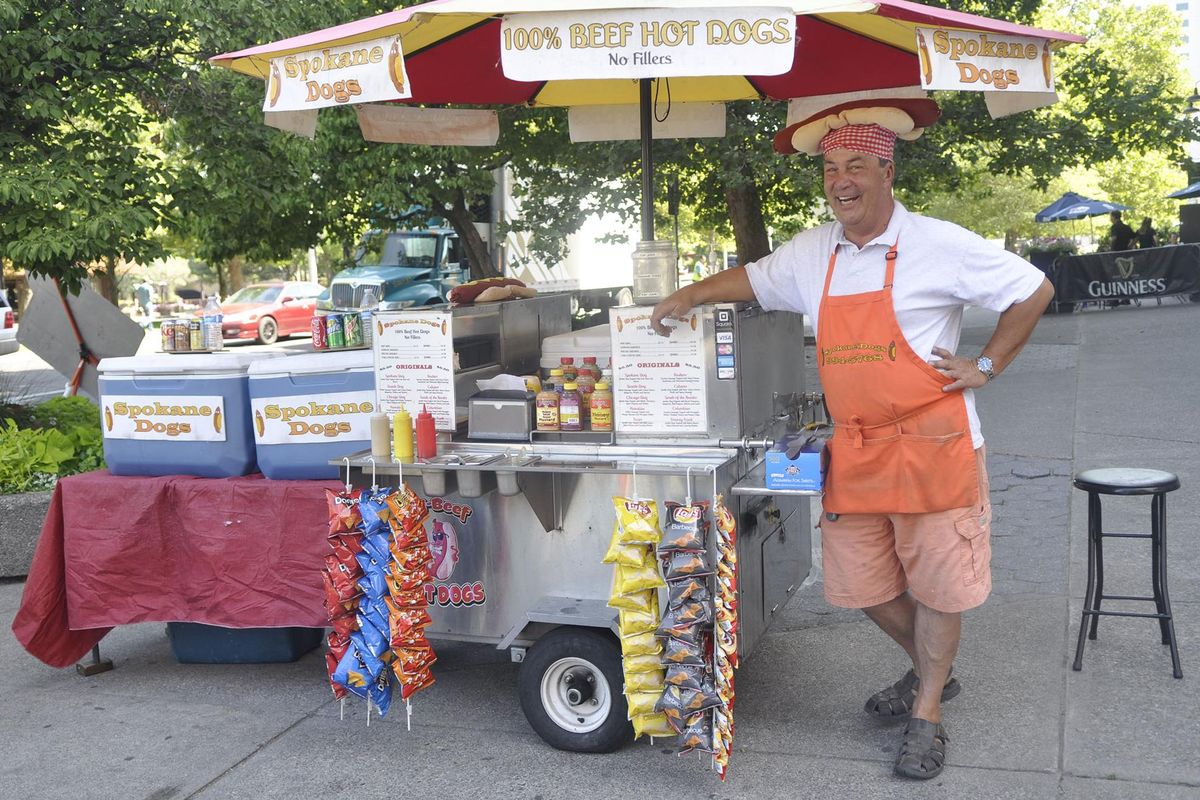 He didn't always have the hat. But it's become his trademark, as noticeable as his bright orange apron and the yellow-and-red umbrella that covers his cart.
When he's not wearing the thing – floppy and wide and shaped like his signature menu item – Hot Dog Bob hears about it from everybody from teens who want to pose in selfies with him to the bus driver, who – one day when he wasn't wearing the thing – hollered out to him, "Where's the hat?"
Bob Hetnar only wears it when he's working.
"At this point, I would not be allowed not to wear it," he said.
Since he set up shop four years ago, the hat, like Hetnar himself, has become a fixture in downtown Spokane. Spokane Dogs is now a seasonal institution and its proprietor an unofficial ambassador for the city.
Hetnar does more than sling hot dogs. He gives directions and restaurant recommendations, poses for pictures, keeps an eye on things and treats people's pets to day-old hot dogs. Perhaps more importantly, he generates smiles.
"Everybody looks at the hat and giggles," Hetnar said. "It's an icebreaker."
That's why he wears it.
It shows people, perhaps potential customers, that he has a sense of humor. And it starts conversations, even if those conversations aren't about condiments – he carries 16, plus 23 toppings – but where to find the Visitor Information Center.
"I want to be an asset," Hetnar said. "We're all part of the downtown business community. I try to support it, and it supports me."
Hetnar, 59, started his hot dog cart in March 2013, shortly after he retired from the city of Spokane. He had worked as a senior operator for the wastewater treatment plant, putting in 11 years in all. Before that, he worked in the food and hospitality industries. So, in a way, running a hot dog cart was a return to his roots.
Winding down his fourth season, Hetnar thinks of himself not only as a street-food vendor but as a watch dog for and representative of the city – or, at least, downtown. When he first started his "fun retirement job," he didn't know where the Visitor Information Center was. "I had to go online and Google it."
Now, he guesses he gives directions five or six times a day. On his corner, the southeast section of Howard Street and Spokane Falls Boulevard across from Riverfront Park and next to Boo Radley's, he's met people from "Australia and New Zealand to Germany and Russia and everywhere in between."
If they're not looking for hot dogs, Hetnar recommends restaurants within walking distance: Mizuna, Steelhead Bar and Grill, Rocky Rococo, O'Doherty's Irish Grille, Satellite Diner, Madeleine's Café and Patisserie.
He arrives around 10:30 a.m. and is ready for business a half-hour later. He's generally packed up by 4 p.m., and he always takes Tuesdays off. Otherwise, he's usually out there Wednesday through Monday from March through October.
Business depends on the weather. If it's too hot or too cold, he stays in. "If it's going to be below 50 and raining, it's really iffy," Hetnar said. "It's simply not worth it; nobody wants to eat outside in miserable weather."
He slings 100-percent beef hot dogs. There are no vegetarian options. And they're all "dirty water dogs," meaning they're boiled in beef broth made more fragrant with onions, garlic and spices. He won't say which ones. "That's a secret. That's the magic elixir."
Weekdays, he sells an average of 80 to 100 hot dogs. Weekends vary.
"No one comes every day," Hetnar said. "But I have regulars that I can count on, mostly downtown office workers."
First-timers often ask, "What's good?" and he tells them, "It depends on what you like."
His hot dogs come from Cloverdale Meats, which makes "a quality hot dog," Hetnar said. "All-beef is the best."
Of his 16 condiments, 11 are mustards and nine of those are Beaver brand. There's French's yellow and Gulden's brown, too – plus, Heinz ketchup, Best Foods mayo and relish. Toppings include onions, peppers, pickles and cream cheese.
The Spokane Dog comes with coleslaw and bacon. The Reuben features sauerkraut. The jumbo is a quarter-pounder. A regular, his No. 1 seller, is half that size. He sells German and Polish sausages, too. "The German has a little more pepper. The Polish is a little sweeter."
Lunch rush is 11:30 a.m. to 12:30 p.m. But business slows this time of year. September and October are probably Hot Dog Bob's quietest months.
Andy Dinnison, owner of Boo Radley's next door and Atticus Coffee and Gifts a couple of doors down, was skeptical when Hot Dog Bob first showed up. But Hetnar has won him over.
"He's always positive," Dinnison said. "He's very approachable."
And on his days off, people will come into Boo Radley's looking for Hot Dog Bob. "Everyone on the staff eats there fairly regularly," Dinnison said. "I think he enjoys people and his customers and being an ambassador for downtown."
Born in New Jersey and raised in the U.S. Virgin Islands, Hetnar moved to Spokane in 1978 when he was 21 and newly married. These days, he's a widower, grandpa and snowbird who splits his time between Spokane and Florida.
"I do this job for personal satisfaction," Hetnar said. "I get so much positive reinforcement every day. It's a smile. It's a happy face. It's a moment's conversation."
It's those selfies people want him to pose for – "And I do realize it's because I don't look like Tom Selleck. It's the hat."
Hetnar started wearing it his second year in business when he "barely broke even." But, the year before, "I lost money," he said. It wasn't until the third year, he said, that he started turning a profit. He needs to make $45 a day 150 days a year to break even.
"You can't eat hot dogs every day. No one can," said Hetnar, who enjoys one about once a week. His favorite: "a regular hot dog on a white-bread bun with French's yellow mustard, the basic hot dog I had when I was a kid.
"You're never going to catch me eating cream cheese on a hot dog."
---