Central Valley starts fast, holds off Mead, 38-27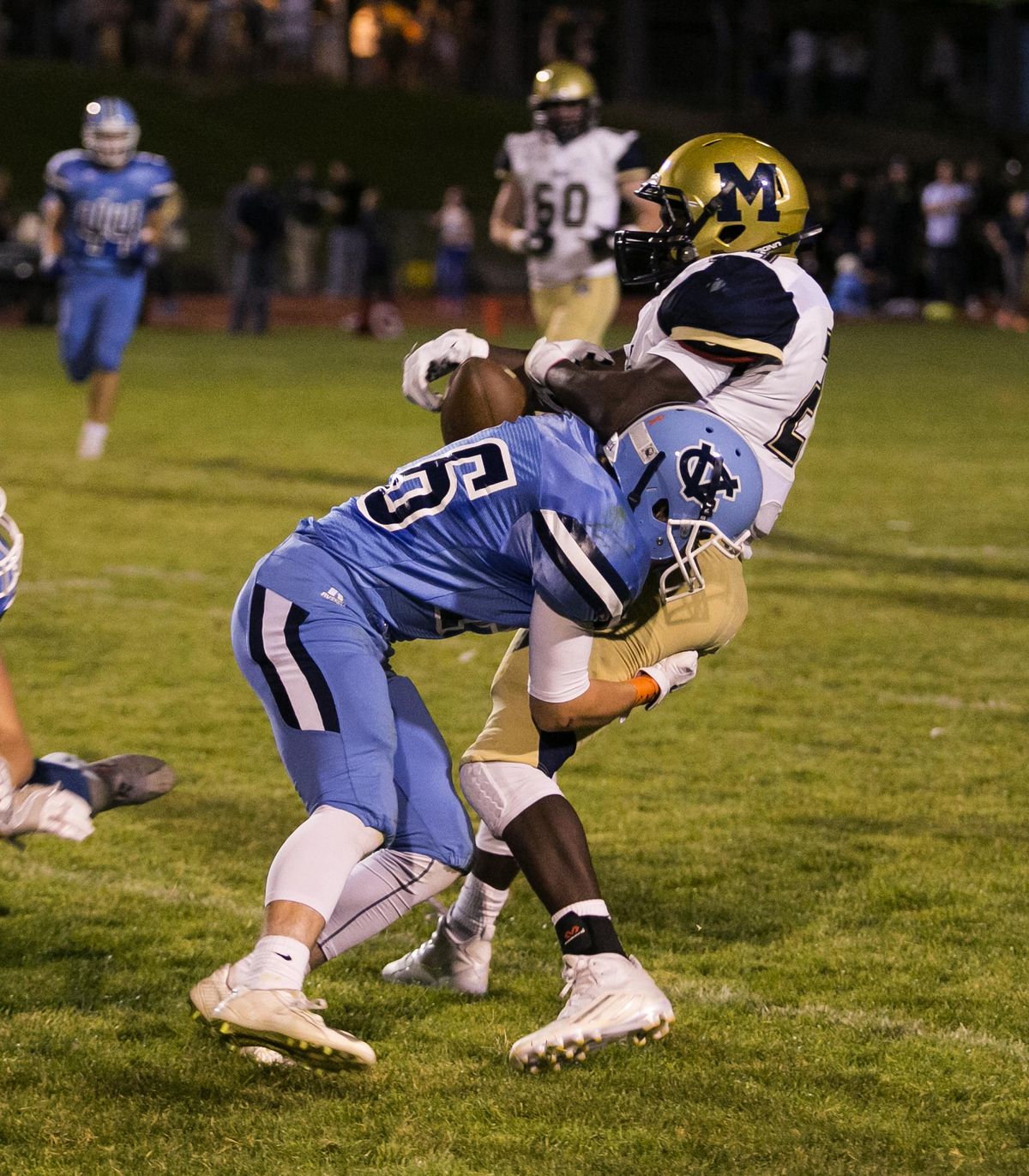 Welcome to the 2016 football season Central Valley.
Actually, it's more welcome to a maligned offensive line.
Central Valley jumped on the visiting Mead Panthers early and never let up in a 38-27 decision in a 4A Greater Spokane League opener Friday.
Bears linemen Wyatt Wickham, Peyton Gibbs, Ryan Terriff, Trystian Arnold and Michael Vose proved their first-year coach Ryan Butner right.
Butner said before the season that CV would piece together a line. The Bears started to see good signs in the second half of a lopsided win last week against Lake City.
"This was the offensive effort we've been looking for since the start of the season," Butner said. "We've been telling our kids to trust the system, that we think we can move the ball. This was a real indicator of what we can do. I think we can get better as well."
The line did wonders in opening paths for senior scatback Braedon Orrino.
On a quick trap, Orrino scooted through a hole untouched and outsprinted the Panthers to the end zone on a 60-yard breakaway that extended a fast start to 28-7 lead in the second quarter.
Still, Mead has quick-strike capability. On the fourth play of the Panthers' next possession, quarterback Payton Loucks hit a streaking Joseph Heitman on a 51-yard connection, pulling Mead within 28-14 with 7:40 remaining before halftime.
Mead had four more possessions but couldn't sustain a drive thereafter.
CV had another opportunity when the Bears recovered a fumble at Mead's 37-yard line.
The Bears' possession stalled and Ryan Rehkow's 47-yard field-goal attempt had plenty of distance before clanking straight back off the right upright.
CV took a 28-14 lead into halftime.
Butner knew his team had to start taking time off the clock in the second half. That's where the line and Orrino came through.
Orrino finished with 189 yards on 34 carries.
"I have to give credit to my line," Orrino said. "They were opening up big holes."
CV (2-1) used a 37-yard field goal from Rehkow and a 3-yard TD run by Conner DeGeest for a 38-14 lead early in the fourth quarter.
Mead scored two more times to pull within the final score.
In the first half, DeGeest and Mead quarterback Payton Loucks each attempted 26 passes with Loucks throwing for 211 yards and DeGeest 194.
Mead had to pass exclusively in the final two quarters. Loucks finished with 408 yards and DeGeest ended with 233.
"Braedon ran the ball incredibly well and our offensive line looked as good as they've looked the entire year," Butner said. "We made a commitment obviously in the second half that we wanted to run the ball. We vacated our passing game a little bit but for a good reason. We were getting behind those big bodies and chunking up yardage. Those are the longest drives we've had and some of the longest drives we've had in the last couple of years."
If the season plays out like CV envisions now, the Bears will meet defending state champ Gonzaga Prep for the league championship in the final week of the regular season.
Mead (1-2) needs help to have a shot at one of the two postseason berths.
---