Sports
Robert Barber one of two WSU players arrested Friday on preliminary charge of felony assault
Fri., Sept. 16, 2016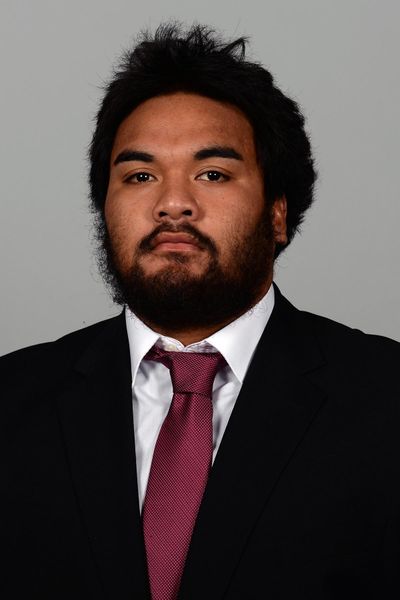 PULLMAN – The Pullman police will recommend that two Washington State football players and two other people be charged as the result of a July 23 party fight that left two people hospitalized.
The recommendations were confirmed by Pullman police chief Gary Jenkins at a joint press conference with WSU athletic director Bill Moos on Friday afternoon.
Football players Robert Barber and Toso (T.J.) Fehoko were arrested Friday morning on preliminary charges of second-degree assault, a felony, and were subsequently released.
"Part of the reason we're able to identify these two is that part of it was on video," Jenkins said. "I think that somewhat points to the vulnerability of student-athletes that a lot of them are very recognizable in the community and it makes them much easier to identify than students not involved in athletics."
Two more football players face charges in separate incidents. Jenkins confirmed that police will recommend Shalom Luani be charged with second-degree assault following his late August arrest outside a Domino's Pizza, after he allegedly struck a victim. Furthermore, the police will recommend Logan Tago be at least charged with felony robbery after he and a group allegedly attacked and stole beer from a 23-year-old victim on June 4.
While Jenkins acknowledged that there was "some corroborating evidence" to Leach's recent claim that Luani was subsequently jumped outside of the Domino's, but that "we do not have anyone at this point that can be identified as someone who would have committed that assault."
Jenkins said he knew that robbery was one of Tago's charges, but was unsure whether he would be charged with assault. Theft is one of three crimes that coach Mike Leach says is cause for immediate dismissal from his football team, the other two being drug use and physical violence toward women.
Barber's and Fehoko's cases will be forwarded next week to the Whitman County prosecuting attorney who will ultimately determine whether or not to file charges, and determine the severity of those charges.
Charges will also be requested against Pedro Diaz, 19, and Dylan Rollins, 19, both WSU students, for disorderly conduct for their roles in provoking physical altercations in the July 23 incident. Rollins was punched by Dylan Axelson, a football player, but investigators concluded that Axelson acted in self defense.
The fight allegedly broke out when someone threw a firework into a crowd in the back yard of a house party. Witnesses identified WSU football players as the instigators who left the scene prior to the police's arrival. Police questioned 61 witnesses, including 22 football players.
Upon arrival at the scene of the fight, police found 24-year-old Jackson Raney on the ground unconscious and 22-year-old Alexander Rodriguez bleeding from the mouth due to a fractured jaw. Raney and Rodriguez were transported to Pullman Regional Hospital for treatment.
Jenkins stressed that the football players interviewed were cooperative with the investigators.
Both Jenkins and Moos spoke positively about the relationship between the WSU athletic department and local police. They each acknowledged a system by which the athletic department is notified when a player is arrested, although Moos alluded to recent communications that caused the pair to meet on Thursday, along with school president Kirk Schulz.
"We do have a protocol that neither of us are going to get into detail, but there was a couple glitches," Moos said. "Not pointing any fingers. I can probably point some to my staff if I need to, but want to make sure that myself and the president were notified when these kinds of situations occurred."
Jenkins says that he is changing department protocols regarding how information is released to the media.
Furthermore, Jenkins said he does not think recent comments by Leach alleging targeting of football players by the police department impacted the investigation into the July 23 fight.
"Our investigators and detectives investigate their interactions based on the evidence that's presented to them," Jenkins said. "They follow those leads. An outside influence like that would not have any influence on the investigation."
Local journalism is essential.
Give directly to The Spokesman-Review's Northwest Passages community forums series -- which helps to offset the costs of several reporter and editor positions at the newspaper -- by using the easy options below. Gifts processed in this system are not tax deductible, but are predominately used to help meet the local financial requirements needed to receive national matching-grant funds.
Subscribe to the sports newsletter
Get the day's top sports headlines and breaking news delivered to your inbox by subscribing here.
---