News > Spokane
Spokane's old Wonder Bread bakery sold, new buyers mulling future use
Fri., Sept. 16, 2016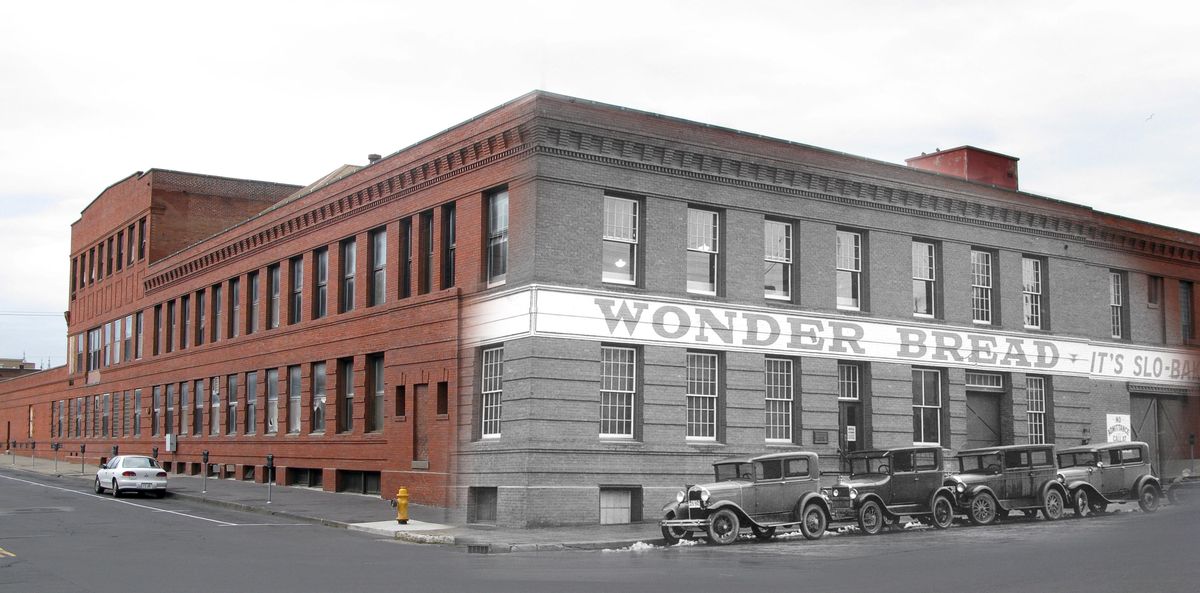 The old Continental Baking bakery on Broadway, between Post and Lincoln, is shown here alongside a historical photo, circa 1930, the heydey of the building when it baked Wonder Bread. (Jesse Tinsley / The Spokesman-Review)
A historic brick bakery that occupies most of a city block near the Spokane Veterans Memorial Arena has been sold, but its new use hasn't been decided.
Wonder Bread and Hostess products were last baked there in 2000. The 111,000-square-foot building is between Lincoln and Post streets and Mallon and Broadway avenues.
The buyer is an investment group called Wonder Spokane LLC. Investors don't have specific plans for the property, said Pete Mounsey, a representative of that group.
Mounsey said the location is "a pretty great spot," close to the Arena, Riverfront Park, the Spokane River and new development at Kendall Yards.
"It's just a terrific location," he said. "We're going to evaluate our different options."
He said it's likely the building would have more than one use, such as residential and retail, for example.
He noted that the property is zoned so that a 12-story building could occupy the 1.75 acres.
Mounsey's group closed the deal for the building Friday morning, shortly before it was scheduled to be sold in foreclosure on the steps of the Spokane County Courthouse.
Everyone involved said the deal was particularly complex. The buyers reportedly paid $3,025,000 for the building, but the seller, Dr. Marcus DeWood, said the amount of money realized on the sale was $2.4 million. Jeff McGougan, of NAI Black, represented DeWood and Dave Black, also of NAI Black, represented the buyers.
David's Pizza occupies a portion of the block, but that's a separate parcel and was not included in the sale, Black said.
He said the former bakery "should lend itself well to rehabilitation."
Businessman David Ackerman built the plant in 1909. Continental Baking bought the operation in 1925 and the Spokane plant began making Wonder Bread. It changed hands again in 1995, and operated until 2000. At its peak, the bakery pumped out 500,000 pounds of bread products a week, enticing passers-by with the aroma.
Mounsey said development of homes and businesses west of the bakery location at Kendall Yards was an attraction; "It's a terrific part of Spokane to be in," he said. "The north side of the river has a tremendous amount of potential."
Mounsey, who grew up in Spokane but now lives in Denver, said he has other real estate investments in the region.
Local journalism is essential.
Give directly to The Spokesman-Review's Northwest Passages community forums series -- which helps to offset the costs of several reporter and editor positions at the newspaper -- by using the easy options below. Gifts processed in this system are not tax deductible, but are predominately used to help meet the local financial requirements needed to receive national matching-grant funds.
Subscribe now to get breaking news alerts in your email inbox
Get breaking news delivered to your inbox as it happens.
---