Sports
WSU Cougars football players of the game versus Idaho Vandals
Sat., Sept. 17, 2016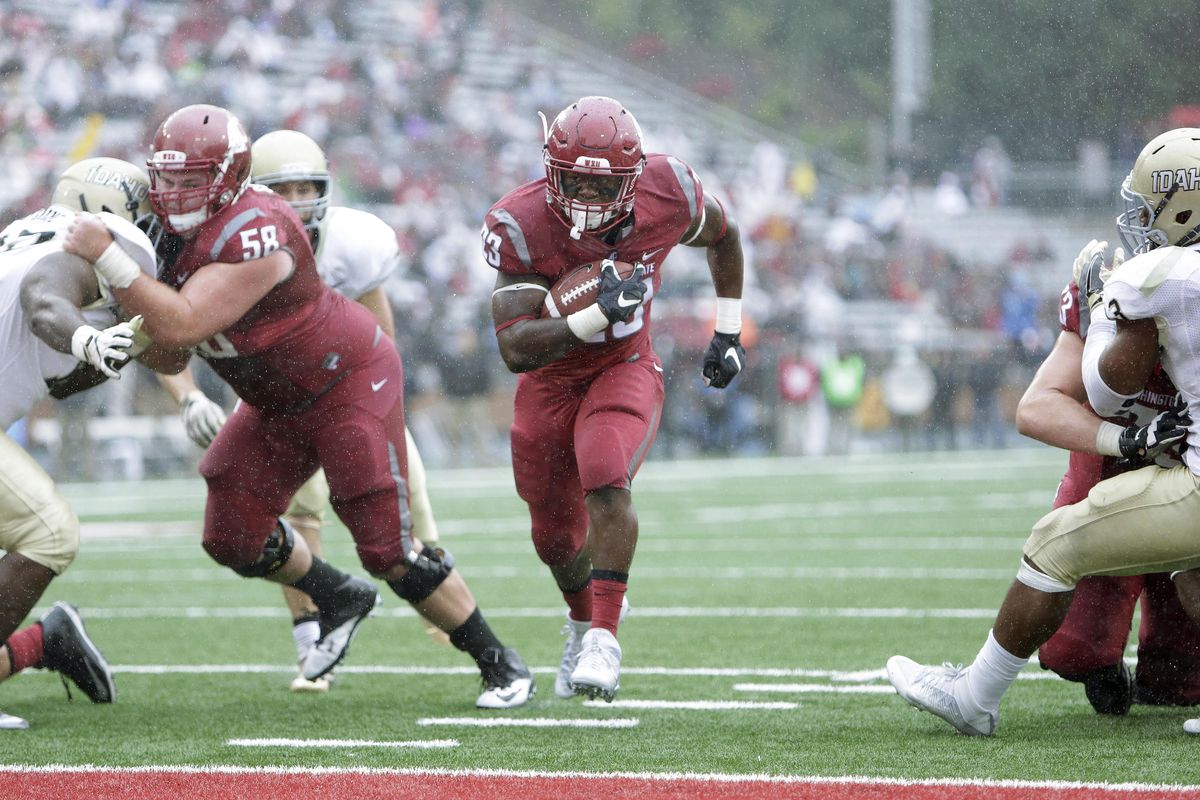 Washington State running back Gerard Wicks (23) runs for a touchdown during the second half of an NCAA college football game against Idaho in Pullman, Wash., Saturday, Sept. 17, 2016. Washington State won 56-6. (AP Photo/Young Kwak) ORG XMIT: WAYK118 (Young Kwak / Associated Press)
Game Ball
James Williams: WSU fans have been expecting big things from the redshirt freshman running back ever since his impressive performance in the Crimson and Gray game last spring. After only a few glimpses of the team's most athletic running back in the first two games, average fans finally got to see what all the fuss was about. Williams led the running backs with 14 carries and 126 yards on Saturday, also scoring his first ever touchdown. Perhaps most impressively, Williams was never tackled for a loss while gaining an average of nine yards per rush.
Offensive player of the game
Gerard Wicks: The starting running back, Wicks was also never tackled behind the line of scrimmage. He only got seven carries, but gained 40 yards and a touchdown on the ground. Furthermore, Wicks scored a special teams touchdown, scooping and scoring when Idaho's Reuben Mwhela fumbled during a kickoff return.
Defensive player of the game
Dylan Hanser: And who forced the fumble Wicks returned for a touchdown? Rush linebacker Dylan Hanser, who had a similar impact in his role as a rush linebacker, recording five tackles, including one for a loss, and harrying UI quarterback Matt Linehan throughout the game.
Local journalism is essential.
Give directly to The Spokesman-Review's Northwest Passages community forums series -- which helps to offset the costs of several reporter and editor positions at the newspaper -- by using the easy options below. Gifts processed in this system are not tax deductible, but are predominately used to help meet the local financial requirements needed to receive national matching-grant funds.
Subscribe to the sports newsletter
Get the day's top sports headlines and breaking news delivered to your inbox by subscribing here.
---