News > Spokane
Community gives 'attaboy' to Spokane County Sheriff's K-9 Unit
Mon., Sept. 19, 2016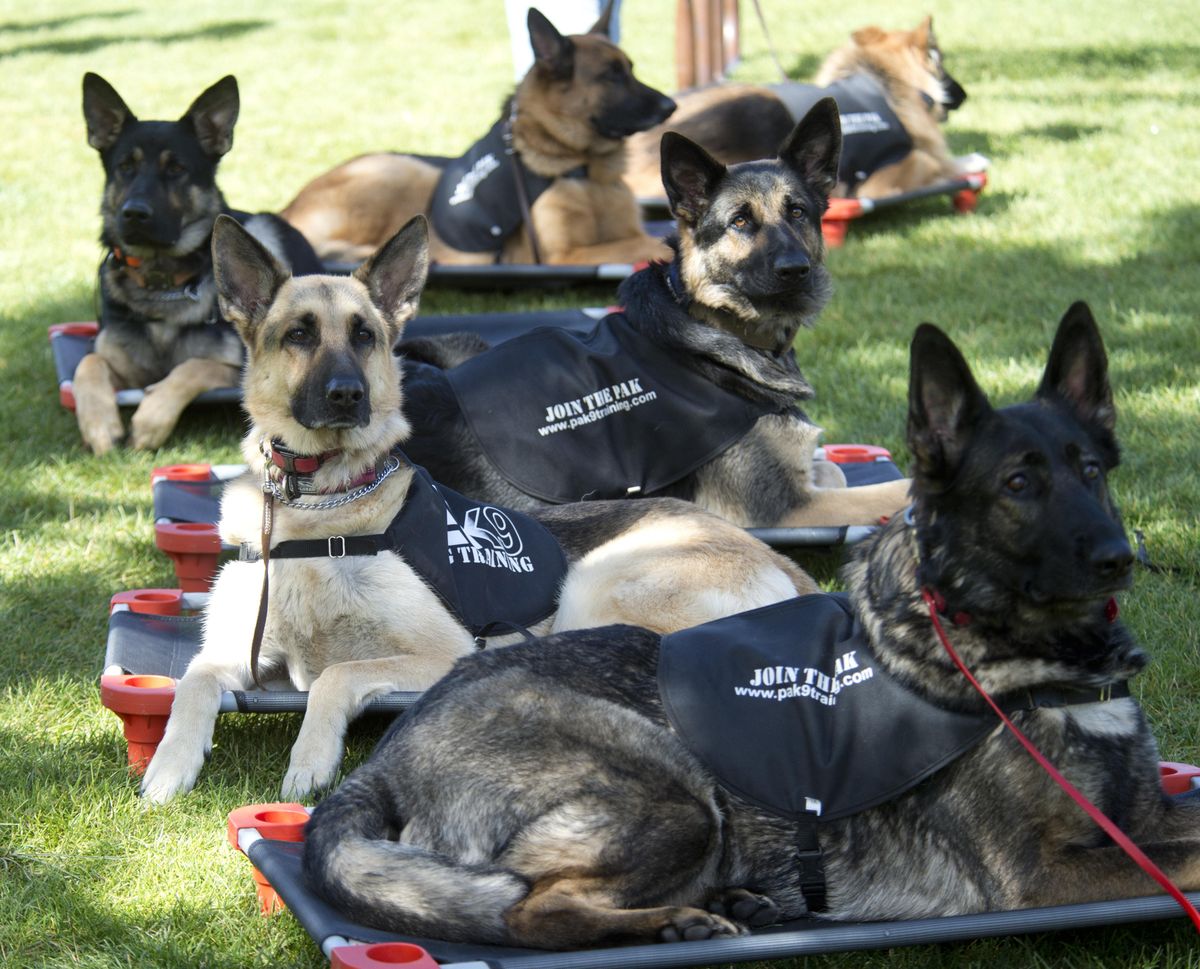 A group of German Shepherds lay on their beds lined up in the shade at the 3rd annual Canines for K9s event at Mirabeau Park Sunday, Sept. 18, 2016. The fundraiser, featuring a two-mile walk, silent auctions, a barbecue and police K9 demonstrations, supports the sheriff's K9 units. Fundraising walkers included local trainers and training clubs who brought a variety of dogs trained for personal protection, like these from the PAK9 training school. (Jesse Tinsley / The Spokesman-Review)
Ten years into his career, Pepper is nearing retirement from the Spokane County Sheriff's K-9 Unit. Replacing the black Lab with a newly trained police dog will cost the county about $10,000.
To help cover the expense – and heap appreciation on the unit's force of six dogs and six handlers – a crowd of a couple hundred turned out Sunday for the third annual Canines for K9s event at Mirabeau Meadows in Spokane Valley.
Sponsored by the Sheriff's Community Oriented Policing Effort, the gathering was part fundraiser to support the county's K-9 unit, part social for dogs and their human companions, and part demonstration of the skills of the sheriff's six K-9s. Several of the dogs took turns showing how they track and apprehend fleeing suspects, find hidden drugs and sniff out shell casings, among other specialties.
"It creates an opportunity for people to come talk to policemen, and the dogs are the way that everyone's excited. That's the firework of the whole thing," said Deputy J.P. Melton, Pepper's handler.
"It's unbelievable to us as K-9 handlers and police officers that people come do this," Melton said Sunday. "It's really nice to see citizens come out and say, hey, we like you guys."
The money raised will help the Sheriff's Office replace dogs and equipment and cover the cost of training and education for the teams. Proceeds also might go toward putting in kennels at the Spokane Valley precinct.
"We're going to replace my dog with the funds from this event," Melton said.
Pepper, who will retire in mid-November, helps find guns and bombs. She and Melton were trained by the U.S. Bureau of Alcohol, Tobacco, Firearms and Explosives. Melton will begin working with a new K-9 partner, while Pepper takes it easy at his home.
Sunday's event, billed as a "furry family fun day," included a 2-mile dog walk, a barbecue lunch, raffles and games. Children were able to meet the deputies and their dogs and gather some K-9 collectible cards.
"More than anything, it's just great PR for the unit," said Laurie Hanlon, organizer of Canines for K9s. "They spend so much of their day, when they're on duty, not dealing with people who love them. And so they really like being here and having people who want to talk to them. They say that's their favorite part of it."
Sheriff Ozzie Knezovich said he was pleased to see the turnout for the K-9 Unit.
"Law enforcement needs the community support. The reality is we're part of the community," Knezovich said. "It's real important to these guys to know the community is out there behind them."
Cheryl Smith, of Coeur d'Alene, showed up with her three German shepherds – Quantum, Qash and Qora – and her granddaughter, Madison Lowe, 14. They wore "Bite Me" T-shirts from the Protection K9 Training Club, a Spokane-based dog training and German shepherd breeding organization.
Smith said they took part "to show our support for the police K-9s and help earn some money for equipment or anything they might need. It's just a nice social event with all the dogs."
Melton said, "These people love dogs, and they like their community."
Local journalism is essential.
Give directly to The Spokesman-Review's Northwest Passages community forums series -- which helps to offset the costs of several reporter and editor positions at the newspaper -- by using the easy options below. Gifts processed in this system are not tax deductible, but are predominately used to help meet the local financial requirements needed to receive national matching-grant funds.
Subscribe now to get breaking news alerts in your email inbox
Get breaking news delivered to your inbox as it happens.
---