News > Spokane
Spokane police chief candidates address department culture in forum
Tue., Sept. 20, 2016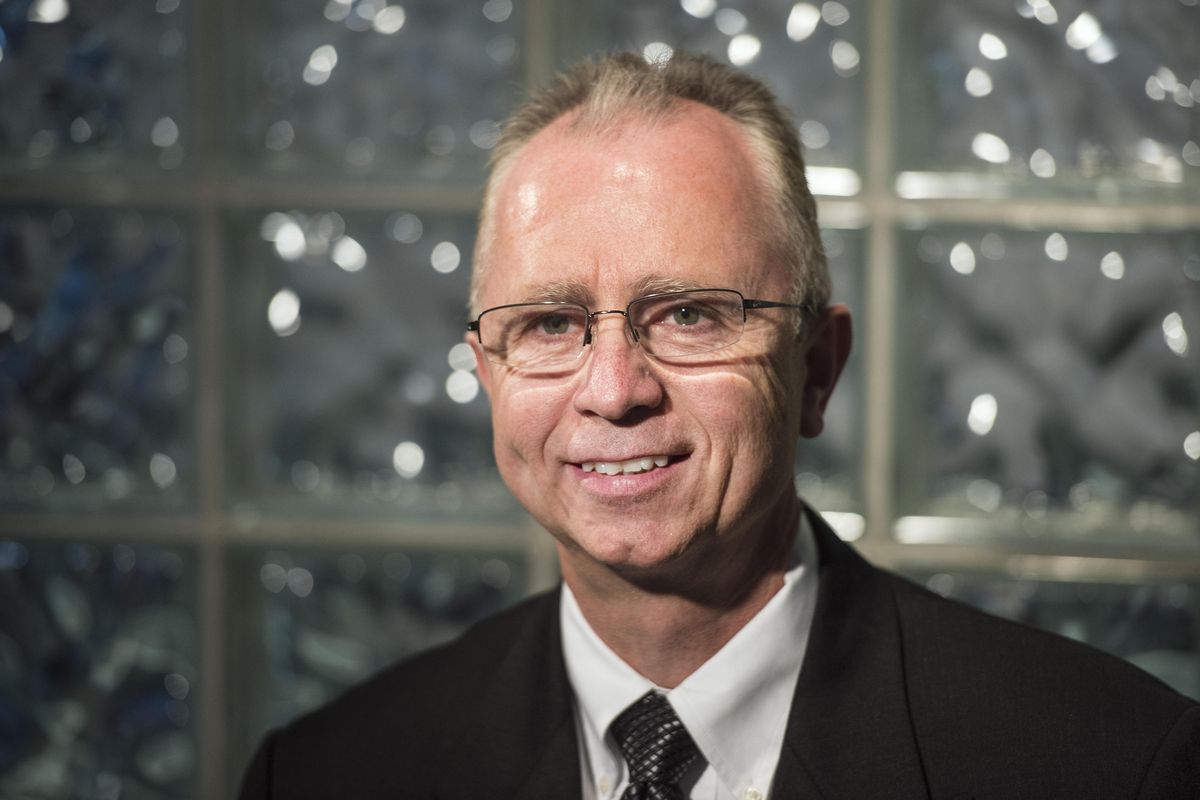 Dominic Rizzi Jr. (Dan Pelle / The Spokesman-Review)
To an outsider observing the public's opinion of the culture in the Spokane Police Department, a lot of work needs to be done, said one of the candidates vying for the chief job Tuesday night.
"Even, not knowing what the culture is to an extensive degree, the public's perception is that this culture is poisonous," said Dominic Rizzi, the chief of police in Yakima making his second pitch for Spokane chief.
But Craig Meidl, the internal candidate who's already earned the blessing of Mayor David Condon, touted the reform efforts already underway at the department.
"I think the culture of the Spokane Police Department is actually quite excellent," Meidl said. "I think we're suffering from a residual hangover, from years ago, and we haven't done as good of a job getting the message out."
The police chief candidates forum was a redo from earlier this summer after Condon made the surprise decision to pick Meidl as chief even though he didn't apply or participate in the first selection process. The Spokane City Council forced Condon into holding new interviews.
Meidl joined Rizzi and Robert Lehner, the finalists who appeared at a forum in July criticized for its formal structure and lack of audience questions, and John Bruce, a fourth candidate, at a public discussion held once more at the West Central Community Center. The four men are vying to permanently replace Frank Straub, who was ousted a year ago.
Bruce, who said he'd had limited or no experience with jail alternatives and civilian oversight in Frisco, Texas, said he'd depend upon the community in determining how and if the department's culture must change.
"Once that's identified, it's a question of getting the command staff back together and laying out what that plan is," Bruce said.
Lehner said he supported efforts in the office on civilian oversight and to expand use of jail alternatives, as long as the community committed to funding them. He said the key to shifting a department's culture was "knowing where you are."
"You need to know where to go, you need to know where you are first," Lehner said.
Attendance at the forum was roughly half what it had been in July, with about 80 people filling the chairs and bleachers in the community center's gym. But community leaders in attendance said the questioning was more broad and they had a better sense of the differences between the candidates.
"It just felt like a better process tonight," said Liz Moore, president of the Peace and Justice Action League of Spokane. "The questions were more challenging."
Phil Tyler, president of the Spokane NAACP, said the format allowed the candidates to appear more than just as police chief candidates, but as potential members of the community.
"It informed us more about the person behind the uniform," he said.
The forum was briefly interrupted by Alfredo Llamedo, a local activist, who called the process "a farce." He was asked to leave the gym and said afterward Meidl is "tainted in this city" and the other candidates were already passed over once.
Condon is expected to announce his pick after meeting with panelists and reviewing feedback from the forum, said the mayor's spokesman, Brian Coddington, after the event. The council and Condon had agreed to a deadline of Sept. 30 to forward a selection.
In interviews at City Hall on Tuesday afternoon, the four candidates for the police chief job answered questions about their experience and the challenges of heading the Spokane department.
John Bruce, 54
Police chief in Frisco, Texas (pop. 136,791)
Bruce, an avid runner and outdoorsman with a Southern drawl, said his decision to don a police uniform and an "All Lives Matter" sign during a half-marathon earlier this year was meant to show a universal respect for all community members, not just police.
"I don't see us as black and white, Hispanic, any other race, religion, ethnicity," Bruce said. "I see us as a group of humankind."
Bruce has served in the Frisco Police Department outside Dallas for the past 20 years, said he fell in love with the Northwest on past trips to the region with his two sons, and has established friendships with local law enforcement.
He defended the Frisco department's purchase of additional body armor in the wake of the sniper attack in which five Dallas law enforcement officers were killed. Bruce disputed a headline from the Dallas Morning News calling the equipment "military gear" and said the helmets and steel-plated vests were bought to protect officers from rifle rounds.
"These extra plate carriers that I ordered – and by the way they came in today – are designed to be worn only when we believe we're going into that type of scenario, that type of situation," Bruce said. "It's not for everyday wear."
Craig Meidl, 45
Acting police chief in Spokane (pop. 210,721)
The anger and lack of trust from many in the community following his courtroom salute of Karl Thompson isn't going away, Meidl said, but he believes the Spokane Police Department can learn from it.
"Every leader, they make mistakes or they do things they feel like they should have done differently," Meidl said. "Those leaders who are successful learn from their mistakes."
Meidl said he would not discipline any other officers who saluted Thompson, the officer convicted of civil rights violations in the death of Otto Zehm, as Thompson was led from a federal courtroom. The salute and Meidl's role in the event was a focus of community members in a pair of public forums held after his appointment by Condon in August.
"I understand the frustration," Meidl said. "People have to understand that officers have the same constitutional rights that the community does."
Meidl said he's committed to the decisions of an independent panel on whether promotions recommended by outgoing law enforcement director Jim McDevitt earlier this summer should remain in place, if he becomes police chief permanently. Among those promotions was the appointment of his wife, Tracie Meidl, to head of investigations.
Meidl said the panel would include people from inside and outside the Police Department.
Robert Lehner, 61
Police chief in Elk Grove, California (pop. 161,007)
Condon must decide if he likes the direction of the Spokane Police Department before selecting his next chief, Lehner said.
"If you're after a more significant change, then honestly, an outside chief would bring fresh eyes, and a new perspective that you may not have," he said.
It's the reason Lehner, who's served as police chief in the relatively quiet suburb of Sacramento for the past eight years, said he's proud the last two departments he's left have chosen internal candidates to replace him. Lehner's last day in Elk Grove is Oct. 28, and he was chief in Eugene, Oregon, before that.
Lehner said he welcomes the challenge brought on by the disagreements between the City Council and Condon on the process of naming a chief, and that his decision to retire in California does not represent an unwillingness to serve.
"Now you have, in addition, political turmoil, and internal turmoil," Lehner said. "That adds a level of complexity that interests me."
Dominic Rizzi, 54
Police chief in Yakima (pop. 93,257)
The two major problems facing the Spokane Police Department are a lack of public trust and training officers to move up in the ranks from within, Rizzi said.
"If the previous chief didn't groom his command staff to take over his job, then he failed," Rizzi said. "Obviously, that's what happened when you have individuals self-demote."
The four-year chief of police in Yakima, who came by way of the Chicago Police Department, was referring to the decision by many members of Straub's command staff, including Meidl, to step down rather than work directly for him.
Rizzi said he didn't believe he was in a worse position to compete for the job than Meidl or any of the other candidates.
To combat property crime, Rizzi pointed to his time as commander of the robbery unit with the Chicago Police Department and that agency's targeted approach to reduce crime rates.
"We led the city in clearance rates, in burglary and robbery, when I ultimately left," Rizzi said.
Local journalism is essential.
Give directly to The Spokesman-Review's Northwest Passages community forums series -- which helps to offset the costs of several reporter and editor positions at the newspaper -- by using the easy options below. Gifts processed in this system are not tax deductible, but are predominately used to help meet the local financial requirements needed to receive national matching-grant funds.
Subscribe now to get breaking news alerts in your email inbox
Get breaking news delivered to your inbox as it happens.
---