News > Nation/World
The tale of the tape: when should police videos be released?
Fri., Sept. 23, 2016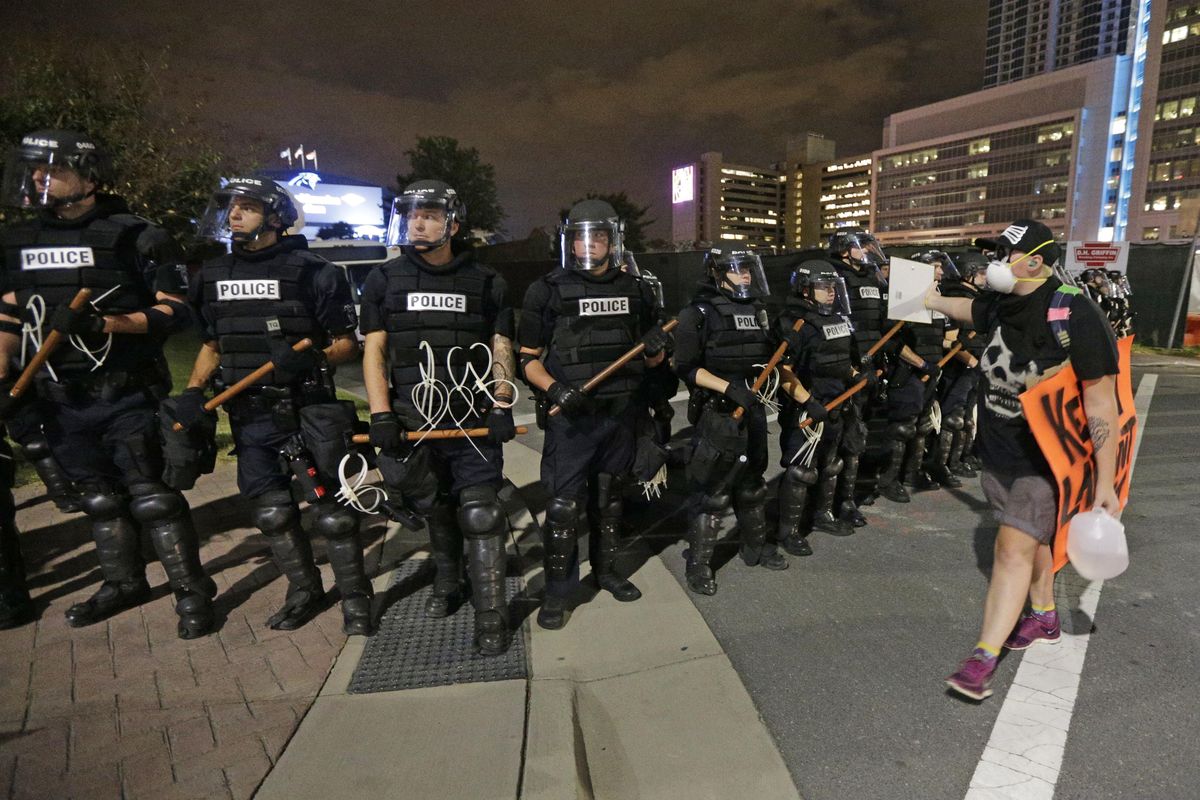 A protester walks in front of a line of police officers blocking the access road to I-277 on the third night of protests in Charlotte, N.C. Thursday, Sept. 22, 2016, following Tuesday's fatal police shooting of Keith Lamont Scott. (Chuck Burton / Associated Press)
Two police shootings, both recorded by police. In one city, the police recordings were released almost immediately, and protests remained calm. In the other, release of the videos to the public was delayed by several days and violent protests have wrought destruction in the heart of the city. Two different outcomes raise some key questions: How soon are police obligated to release the recordings, and why might they keep a lid on it?
In this era of a 24/7 cycle of citizen journalists and live video feeds, civil rights activists are saying the refusal to release video almost immediately underscores the fractured relationship between police and the community they serve.
"There's a knee-jerk reaction on the part of police departments. We used to call it the blue wall of silence," said Randolph M. McLaughlin, a civil rights attorney and professor at Pace Law School in New York City. "Now it's just a blue wall."
Law enforcement officials, however, urge caution and contend police must resist caving to demands to release video or they risk tainting an ongoing investigation. They warn that video also isn't necessarily the most illuminating and could unduly influence a witness's version of events.
"The key thing that people need to understand is that the integrity of the investigation is the most important thing," said David Klinger, a University of Missouri-St. Louis sociology professor who studies police use of deadly force. He added: "You cannot let the mob run how a police department runs an investigation."
In Spokane, the police department still does not have a finalized body camera policy, after a year of turmoil following the ouster of former Chief Frank Straub.
But the department typically denies public records requests for body camera video immediately following officer-involved shootings, citing the ongoing investigation. Footage is then released at a news conference several months after the shooting.
The department began holding news conferences to release footage last December and said the goal was to make video available as soon as possible after the case was sent to the Spokane County prosecutor's office for review.
The department held two news conferences in September for shootings in May in which Prosecutor Larry Haskell had already made a decision not to charge officers. Department officials said the delay was due to short staffing in the public records division.
Body camera video has become harder to request in Washington following the passage of a law last year that requires requesters to identify a specific date, time and location for an incident or identify an officer by name. Nothing in the new law prohibits a police department from proactively releasing video, however, as long as dead bodies and other potentially sensitive images are redacted.
Spokane police remain Washington's largest law enforcement agency with a body camera program, though about 10 other agencies, including the Pullman Police Department and Bellingham Police Department, also use them.
In Tulsa, Oklahoma, within days of a white officer fatally shooting an unarmed black man whose car had stalled in the center of a road, the public was privy to several videos, including from a police helicopter as well as from the dashboard of a cruiser. The videos show 40-year-old Terence Crutcher walking toward the driver's side of his vehicle with his arms aloft and several officers following behind him with weapons drawn. The officers who responded said he was ignoring their commands and that he kept reaching for his pocket as if he had a weapon.
Crutcher collapsed and died by the side of his vehicle after being simultaneously shot with a gun and a Taser. Within days of the Sept. 16 shooting, the police chief disclosed that Crutcher was unarmed.
Days later, in Charlotte, North Carolina, a black police officer was looking to serve a warrant encountered another man, 43-year-old Keith Lamont Scott. Police say Scott emerged from his vehicle with a handgun and refused commands; his family contends he had only a book.
Charlotte-Mecklenburg police Chief Kerr Putney previously said he would not publicly release the video out of concern it would taint an ongoing investigation. That refusal – coupled with the ongoing anger and debate over police shootings nationwide over the past several years – served to stir tensions in Charlotte, where violent protests took place this week.
On Saturday that decision was reversed and both a dash cam video and a body camera video of the shooting were released to the public.
Video recordings of police encounters are relatively new but have become more common along with the advent of more "citizen journalists" – regular folk with a smartphone who are able to share, often in real time, events as they unfold. In several high-profile cases, the citizen video has served to refute police accounts that a suspect had refused commands or done something to warrant deadly force. Most notably, a video disputed the contention of a North Charleston, South Carolina, officer that he had shot a man fleeing from a traffic stop because the man took his Taser. The video instead showed the officer shooting an unarmed Walter Scott in the back.
Chuck Canterbury, president of the Fraternal Order of Police, said there's still much that has to be sorted out on when police should be recording and even more before a video is released. And if a video is released prematurely in the midst of an investigation, he said, there are constitutional issues of preservation of evidence as well as due process. "Everybody deserves a thorough and vetted investigation."
He and others also caution that the videos in and of themselves don't always tell the full story. In one well-known case from 2003, a car chase in Shreveport, Louisiana, ended at a convenience store, and two police videos appear to show officers shooting down the man in the back without provocation, while the third shows the man "punching out" – thrusting his arms forward in the same motion as someone carrying a firearm – and brandishing a black object seconds before he was shot. The object was a cellphone.
"It's become a fetish – the video, the video, the video," Klinger said. "The videos are not always dispositive. And in fact they are frequently not dispositive."
What law enforcement experts and civil rights activists are in agreement on, however, is the need for departments to be transparent about where they are in an investigation and when bits of evidence are likely to be disclosed.
State Sen. Kevin Matthews, who represents the north Tulsa community where the shooting took place, credits Tulsa police Chief Chuck Jordan for organizing a meeting with black leaders and the victim's family two days after the shooting and showing them the video before it was released to the public.
"He showed us the video immediately, told us the accounts of the officer, answered questions, so there were not all these questions like there are in Charlotte," said Matthews. "People are still emotional when they see it, but at least there is no dispute about what's seen on the scene."
Spokesman-Review staff writers Rachel Alexander and Nina Culver, and Associated Press journalists Lisa Marie Pane, Sean Murphy and Justin V. Juozapavicius contributed to this report.
Local journalism is essential.
Give directly to The Spokesman-Review's Northwest Passages community forums series -- which helps to offset the costs of several reporter and editor positions at the newspaper -- by using the easy options below. Gifts processed in this system are not tax deductible, but are predominately used to help meet the local financial requirements needed to receive national matching-grant funds.
Subscribe now to get breaking news alerts in your email inbox
Get breaking news delivered to your inbox as it happens.
---