Sports
EWU notebook: Eagles' boldness rewarded in win over NAU
Sat., Sept. 24, 2016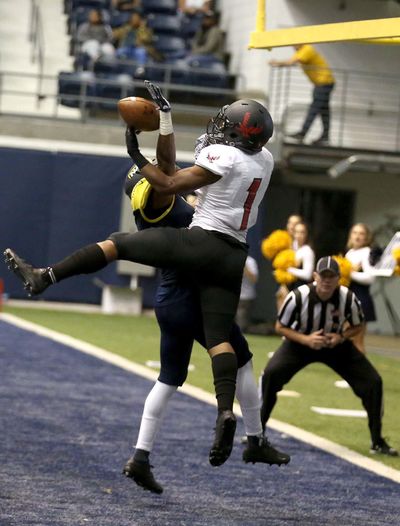 FLAGSTAFF, Arizona – Even more than usual, EWU head coach Beau Baldwin was in a gambling mood Saturday night.
He won, and so did the Eagles, 50-35 over Northern Arizona.
Four times in the first half and five times on the night, the Eagles chose to go for it on fourth down. The most surprising decision came late in the second quarter, with Eastern leading 19-14 but facing fourth-and-1 at its 34.
After calling a timeout, Eastern called for a run up the middle by Antoine Custer Jr. The play was stuffed, and NAU took a 20-19 lead on the next play with a 34-yard touchdown pass from Case Cookus to Kendyl Taylor.
Apart from that, the Eagles' gambles paid off quite well.
"We're go-getters," quarterback Gage Gubrud said. "We want to go score, and if we're in that area where we can get a first down and feel confident about it, then we're going to go for it."
Eastern was successful on two of its first three fourth-down tries, and both led to Eastern touchdowns. On fourth-and-1 in the opening drive, Custer converted and later scored.
Later, Cooper Kupp's one-handed grab on fourth-and-8 was good for 13, setting up Pierce's score to make it 19-17.
The Eagles opened the second half with their final fourth-down conversion, as Gubrud went 8 yards on fourth-and-1 to set up another score.
Return to form
It was a good day on the injury front for the Eagles, who welcomed back Kupp and saw senior nose tackle Matt Sommer play for the first time this season.
The Eagles also got back linebacker Alek Kacmarcik, who finished with five tackles.
Kupp, out with a shoulder sprain since Sept. 10, caught 11 passes for 111 yards. On fourth-and-8 at the NAU 33, he made a one-handed grab of a pass from Gubrud that was good for 13 yards. Four plays later, the Eagles capitalized with Tamarick Pierce's 7-yard run to go ahead 19-7 midway through the second quarter.
"I feel good," said Kupp, who wasn't referring solely to his healed right shoulder.
"After losing twice to this team, you want to respond," Kupp said.
Meanwhile, Eastern's young offensive line got even younger.
Freshman D.J. Dyer saw his redshirt burned, seeing extensive action at center after starter Jerrod Jones suffered a knee injury last week against Northern Iowa.
Jones, a senior, didn't make the trip, and his former backup, Will Gram (concussion), also stayed home because of injury. That forced coaches to burn Dyer's redshirt, though Spencer Blackburn got the start at center.
Winning on third down
Eastern won at NAU partly by winning on third down – a battle it lost so resoundingly a year ago in Cheney.
In that game, Eastern allowed the Lumberjacks to convert 13 of 19 third-down chances. The Eagles lost 52-30 in the beginning of a three-game slid that cost them a postseason berth.
Not this time. Against a quarterback who came in completing almost 70 percent of his passes, the Eagles not only got their first interception of the season, but held the Lumberjacks to 6 for 17 on third down.
The Eagles also finished with three interceptions.
Local journalism is essential.
Give directly to The Spokesman-Review's Northwest Passages community forums series -- which helps to offset the costs of several reporter and editor positions at the newspaper -- by using the easy options below. Gifts processed in this system are not tax deductible, but are predominately used to help meet the local financial requirements needed to receive national matching-grant funds.
Subscribe to the sports newsletter
Get the day's top sports headlines and breaking news delivered to your inbox by subscribing here.
---
Subscribe and log in to the Spokesman-Review to read and comment on this story