News > Features
Faced with ALS, gallery owner Steve Gibbs works to cement arts legacy
Sun., Sept. 25, 2016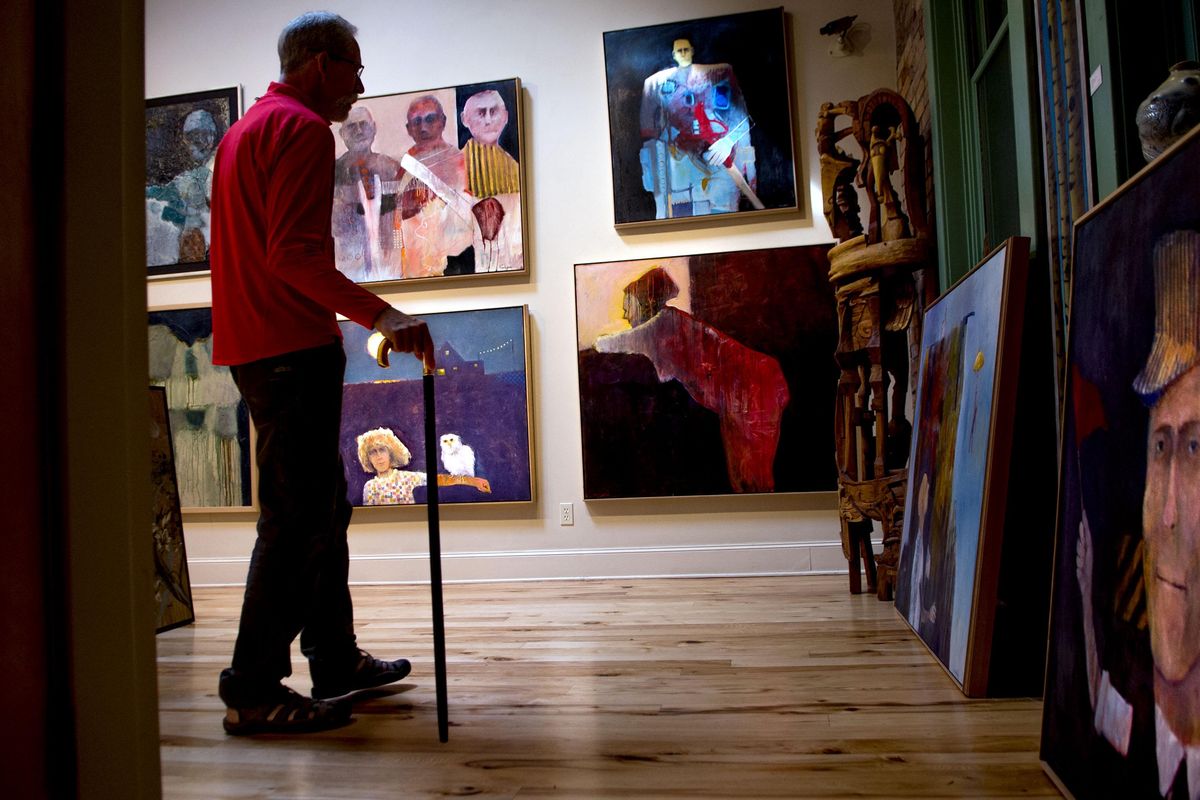 The Art Spirit Gallery owner Steve Gibbs was diagnosed with ALS this year on the eve of his retirement. Friends are helping him prepare for what the disease will bring, while Gibbs is taking step to ensure the Coeur d'Alene gallery and efforts to brings arts into the community continue. (Kathy Plonka / The Spokesman-Review)
The crowd grew steadily for the recent opening of a new show by expressionist painter Mel McCuddin at The Art Spirit Gallery in downtown Coeur d'Alene.
Gallery owner Steve Gibbs worked the room as he has for nearly 20 years, greeting friends and customers, catching up. He gripped a cane friends bought him at a garage sale, but even without that visual clue many of those gathered on this warm summer evening knew of his diagnosis.
A fixture of the Lake City's arts scene, Gibbs has ALS – what Lou Gehrig had, what Steve Gleason has. He noticed muscle twitches in his arms three years ago. More clues of the neuromuscular disease appeared last fall.
Doctors ruled out Parkinson's disease and in June confirmed it was amyotrophic lateral sclerosis.
The news was crushing, coming just as the 64-year-old Gibbs began taking steps toward a retirement he imagined would be filled with adventure and travel with his life partner, Debi Terracciano, who teaches ballet and tap at her Le Danse Studio.
"There's a real sadness in that I've finally, really hooked up with a partner who I wish I would have met 40 years ago," Gibbs said recently at his gallery on Sherman Avenue.
"For 19 years I've been working for about minimum wage – long hours, never minding it, loving what I'm doing – and still keeping very active skiing and kayaking and camping with my friends," he said. "But as my friends are retiring and able to do it full time and travel more, I've been wanting to go join them."
Gibbs dreamed of loading their kayaks, mountain bikes or skis into his blue Sprinter van and hitting the road. He thought about gardening, remodeling his house and spending time with Terracciano's children and grandchildren. He was "really, really excited about the next 10, 20, 30 years."
Now he's making plans for the next few months – fitting his van with a wheelchair lift and getting his home ready for his fading independence. Gibbs doesn't know when his limbs will give out, but he already has lost some motion in his left arm and has noticed a foot flop when he walks. He has fallen a few times and expects he'll be using a wheelchair within the next few months.
ALS patients experience muscle weakness and wasting, followed by paralysis. Most lose their ability to speak and eventually to breathe freely. Once diagnosed, the average lifespan is two to five years, according to the ALS Association. More than half make it past the third year, and 20 percent live beyond five.
"It's hard in that Debi is so lovely, and I love her so much," Gibbs said. "And she's going to have to go through all this and have the sadness of losing me."
For now, he is intent on living life to the fullest. Gibbs recently went zip-lining for the first time above Beauty Bay. "I had no fear, I just loved it," he said. He also squeezed in a late-summer camping and canoeing excursion, with the help of friends.
And Gibbs is busy orchestrating the future of his art gallery – one that will keep contemporary works rotating through each month and incorporate a new educational component. He has assembled a board of arts patrons to help oversee the transition and is working with the University of Idaho on a nonprofit collaboration with the gallery.
"I want to keep this place going and keep art and community strong in downtown Coeur d'Alene," he said.
Taking risks
After a career in graphic art and design, Gibbs moved to Coeur d'Alene and in 1997 opened his gallery. In 2002, he paid $159,000 for the brick building at 415 E. Sherman Ave. and spent that much more transforming the 1905 structure into an airy gallery with loft.
The Art Spirit Gallery grew into one of the top venues for fine art and a showcase for such regional talents as McCuddin, Harold Balazs, Ben Joyce, Mary Dee and Allen Dodge and Michael Horswill.
It was where Jeni Riplinger-Hegsted, executive director of the nonprofit arts cooperative Emerge, first saw more distinctive and daring works on display.
"Steve was willing to take that risk and start moving away from showing the traditional Northwest art that we were typically seeing here in Coeur d'Alene," Riplinger-Hegsted said.
She and her husband, the chef and restaurateur Adam Hegsted, started their Kendall Yards restaurant Wandering Table out of the Art Spirit Gallery.
"He hosted our first dinner," she said of Gibbs. "It just kind of took off and spiraled from there."
Supportive leader
Gibbs played a leading role in bringing together the arts and the community. He launched the Coeur d'Alene Arts and Culture Alliance as well as the monthly downtown ArtWalk. He has organized ongoing events such as Art in the Making, in which artists draw, paint and sculpt from live models in a public space, and Art from the Heart, a week each fall of celebrating the arts.
"He embodies the arts in this area. He is the go-to guy when it comes to what's going on," said Ali Shute, executive director of the Arts and Culture Alliance. "He is so supportive."
Riplinger-Hegsted credits Gibbs with helping launch Emerge. "We're over here exposing the community to up-and-coming artists that are just barely getting their start, but we have had a lot of support from Steve and The Art Spirit," she said. "Steve has given me a lot of useful insights and tips when putting together shows and working with the artists."
About two years ago Gibbs and his staff began talking about his transition into retirement and how to preserve the gallery's legacy. It will remain open as a for-profit business, as it always has been, along with nonprofit educational programming through the UI.
"We're going to be running in tangent with each other," gallery assistant Blair Williams said. "The most important thing we have to offer as a gallery, aside from the support of the artists and the economic impact, is teaching the public that the arts are a for-profit, viable, important business."
It's an opportunity for the university to promote arts education, especially art entrepreneurship and the business of art, said Charles Buck, the UI's chief administrator in North Idaho.
"Steve and his team are living proof that a for-profit gallery can be successful and can have a major impact on the cultural IQ of our small town," Buck said. "We are looking for opportunities to create educational programming around this model that can empower artists and art entrepreneurs to pursue their passion for the arts as a living."
Gibbs figures he will need to sell his building at some point, but he is adamant that the gallery be allowed to remain the tenant.
"It's going to continue in my absence – keep the artists employed, keep the community alive in the arts," he said.
With his head held high
In gestures of gratitude that evoke a Frank Capra film finale, friends are giving back to Gibbs in his time of need. Several are remodeling his house to make sure he can continue living there comfortably. Acquaintances who have lost loved ones to ALS are reaching out with support and advice.
"I'm finding out over and over and over everybody wants to donate, to contribute, to help," Gibbs said. "I come home and all of a sudden here's a sidewalk done in front, and I come home the next day and here's the ramp put in. … It feels pretty darn nice. Humbling."
The Evergreen chapter of the ALS Association has provided, free of charge, a power wheelchair and temporary ramp from its "loan locker" program, and will equip Gibbs with a van lift when it's time. The organization offers support to about 100 people with ALS in Eastern Washington, North Idaho and Montana, said Nathan Ziegler, the local care services coordinator for the ALS chapter.
Awareness of ALS has surged from the viral Ice Bucket Challenge in 2014, as well as from the advocacy of Spokane native and former New Orleans Saints defensive back Steve Gleason, who was diagnosed with ALS in 2011 and is the subject of this year's documentary film "Gleason."
Ziegler said that Gibbs, like Gleason, is confronting his diagnosis in the right spirit.
"A perspective and outlook on life is a major player in how people can cope with this," he said. "And he exemplifies that. He's just a go-getter. He's going to do some things he wants to do while he can, and I've seen the reverse of that where people just kind of shut down.
"I admire his courage and his ability to just live his life. You know, he has ALS but ALS doesn't have him, and I just love that about him."
Others are similarly moved by Gibbs' attitude.
"I don't think that you can help but be inspired when you talk to Steve right now," Riplinger-Hegsted said. "He is always smiling, he is tackling this head on and is also concerned about this legacy that he is leaving Coeur d'Alene."
Shute added, "He's just holding his head high. He's not hiding or running away. He's standing up and being who he is."
Friends have organized a benefit concert for Gibbs Oct. 15 featuring his favorite local band, The Rub, at the Rocker Room. The show is sold out.
"I'm hoping I can be up and dancing" at the show, Gibbs said.
Meanwhile, he and his staff have booked most of next year's shows at the gallery. In July they'll mark the 20th anniversary of Art Spirit and the 200th show.
Gibbs is characteristically upbeat about what lies ahead.
"It's going to be a good year."
Local journalism is essential.
Give directly to The Spokesman-Review's Northwest Passages community forums series -- which helps to offset the costs of several reporter and editor positions at the newspaper -- by using the easy options below. Gifts processed in this system are not tax deductible, but are predominately used to help meet the local financial requirements needed to receive national matching-grant funds.
Subscribe now to get breaking news alerts in your email inbox
Get breaking news delivered to your inbox as it happens.
---