Sports > Seattle Seahawks
Russell Wilson injures knee in Seahawks' blowout win over 49ers
Sun., Sept. 25, 2016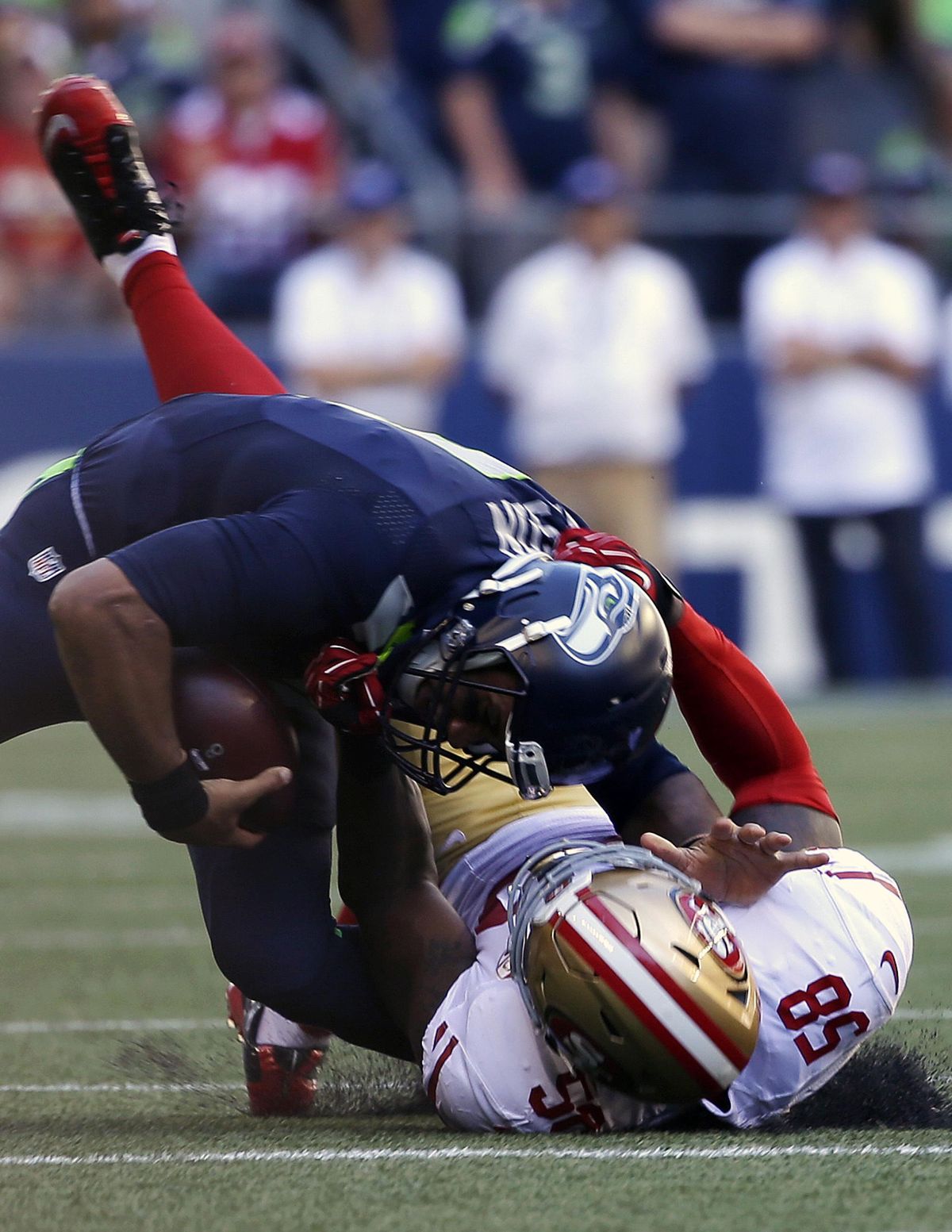 Seattle Seahawks quarterback Russell Wilson, top, is pulled down by San Francisco 49ers' Eli Harold in the second half of Sunday's game in Seattle. (Ted S. Warren / Associated Press)
SEATTLE – It took three snaps of the ball – and Christine Michael's 41-yard burst to the end zone – to signal that the Seattle Seahawks were injecting something both new and old into their arsenal on Sunday.
Running the football.
It's been a Seahawks staple in their rise to a place among the NFL elite these past four years, but missing to this point in the young 2016 season – something the team rectified in a 37-18 drubbing of the San Francisco 49ers at CenturyLink Field.
So no wonder left tackle Bradley Sowell – among several Seahawks –offered that this felt more like "Seahawks football."
"Bradley Sowell said that?" mocked teammate Doug Baldwin. "How long has he been a Seahawk?"
Well, since he signed as a free agent last March. But you could hardly fault him for getting caught up in the good vibe resulting from a day of admirable offensive efficiency – including a 106-yard afternoon from Michael.
"It definitely does feel more like Seahawks football because of the manner we ran the ball – that's our calling card," Baldwin allowed. "So he's right, even though I don't think he knows what he's talking about."
The Seahawks did take apart their NFC West rivals in a signature manner, and in a dominating fashion that allowed their fans to exhale in relief after two dismal offensive performances to open the season. Only a third-quarter left knee sprain to quarterback Russell Wilson marred the day – though he appeared after the game to insist, "I don't think it's as severe as it may have looked."
Nevertheless, it's worrisome news – Wilson is still coming back from a right ankle injury suffered in the season opener, though he looked substantially improved from a week ago.
But there was good news in the return of the run – which opened things up for Baldwin and tight end Jimmy Graham, who both had 100-yard receiving days.
And Michael's big early dash set the tone.
"We knew all week that one had a chance to pop out if I got my job done and C-Mike trusted it," said Sowell of the stretch play that also saw Mark Glowinski and Justin Britt trigger big blocks. "It worked almost like a video game, like we scripted it that way. It was crazy."
To be fair, the Seahawks averaged fewer than three yards per carry outside of that 41-yarder, so improvement was relative. But some other solid gainers for Michael on a 62-yard drive that made it 14-0 made the Niners vulnerable to vertical passing the rest of the game.
And the line's protection for Wilson and backup Trevone Boykin held up well, too.
"We kind of called ourselves out," Sowell acknowledged, knowing fans and media had done so, too. "We just knew that this was not acceptable – we have to get the run going to be a good team. It was just understood that we had to play better. And it was a hellaciously fun game to play."
No more fun than in the second quarter when Baldwin caught the Niners' Eric Reid asleep and ran past him to collect a 59-yard pass from Wilson, who later scrambled to find Graham alone for the touchdown that made it 21-3.
Graham also took a jump-ball away from Reid on a free play after the Niners jumped offside that went for 40 yards during a drive that ended with the first of Steven Hauschka's three field goals.
Boykin even got in on the fun with his first NFL touchdown pass, a 16-yarder to Baldwin.
Meanwhile, the Seattle defense bottled up the Niners and quarterback Blaine Gabbert – and produced their first turnover of the season in Bobby Wagner's pick of a deflected pass – until letting down for two meaningless late touchdowns. The principals didn't consider them meaningless, however.
"We gave up too many points at the end," said defensive end Cliff Avril. "That's not our type of football. That's not what we do."
But rediscovering the other half of Seattle's type of football – the run – was the day's big development.
"We needed this badly," said coach Pete Carroll.
Local journalism is essential.
Give directly to The Spokesman-Review's Northwest Passages community forums series -- which helps to offset the costs of several reporter and editor positions at the newspaper -- by using the easy options below. Gifts processed in this system are not tax deductible, but are predominately used to help meet the local financial requirements needed to receive national matching-grant funds.
Subscribe to the sports newsletter
Get the day's top sports headlines and breaking news delivered to your inbox by subscribing here.
---