Sawmill is part of the Colville Tribes' strategy for a warming climate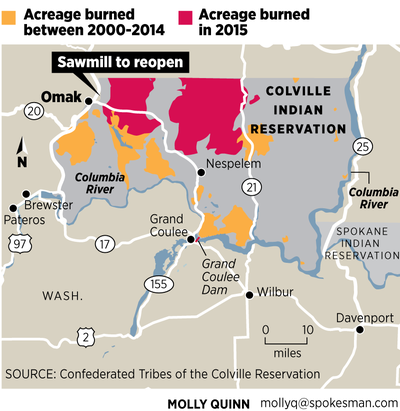 The Confederated Colville Tribes are bracing for a hotter, drier future on their sprawling Eastern Washington reservation, including an increase in large wildfires.
As part of the preparation, the tribe plans to reopen a sawmill in Omak next year that can process ponderosa pine.
"If you look at it from a forest management standpoint, it makes a lot of sense to have a pine sawmill," said Cody Desautel, the tribe's natural resources director.
Ponderosa pines represent about 35 percent of the tribe's commercial timber, and the percentage could grow as foresters plant more of the hardy, drought- and fire-resistant ponderosas. Historically, about half of the trees on the reservation were ponderosa pines, according to old logging records. Yet there isn't a local sawmill that specializes in pine boards.
When the tribe salvaged trees from last summer's wildfires, some of the logged pines were trucked more than 100 miles to a mill in Cle Elum. Reopening the Omak sawmill will give timber managers more flexibility with harvest and salvage operations, Desautel said.
"We've burned a lot of acreage in the last 15 years," he said. "We're getting a big fire almost every year."
Last year's record-setting wildfires burned about 800 million board feet of timber on the reservation, valued at about $100 million. Some of the wood was salvaged before it lost its commercial value. Timber sales are an important revenue source for the Colville Tribes, contributing between $8 million to $10 million to the tribe's annual budget.
The tribe is arranging $2 million in financing to open the sawmill, which closed in 2009 when the housing market crashed. Plans are to have a shift operating by next summer, employing between 60 and 80 people.
The Colville Tribes are tackling a common problem across the West, said Vincent Corrao, president of Northwest Management Inc., a timber consulting group. Hundreds of sawmills closed during the 2008 to 2011 housing recession, and many failed to reopen, he said.
That leaves fewer sawmills to buy logs at a time when timberland owners are trying to salvage burned wood and thin trees to reduce fire intensity, he said.
Ponderosa pine has some specific milling requirements to prevent warping and twisting of the wood, which is why some mills specialize in it, Corrao said.
Pine is used in furniture construction, shelves, and trim for doors and windows. The wood is softer than Douglas fir and has a lower commercial value. Some of it is exported to China for concrete molds, though the market has slowed, Corrao said.
"If you have larger ponderosa pines, those are more valuable because you have fewer knots," he said. "You have bigger, clearer wood. It makes beautiful furniture."
Desautel's staff has studied photos of the Colville Reservation taken during the 1930s. They show widely spaced trees, with fewer per acre. That's an approach that could help the tribe retain healthy forests in a warming climate, he said.
"We're seeing longer, drier summers," Desautel said. "It's hard to imagine, but some of the trees I'm planting today will be growing for 120 years."
---