Sports
WSU's Marcellus Pippins had TD celebration plans go awry
Thu., Sept. 29, 2016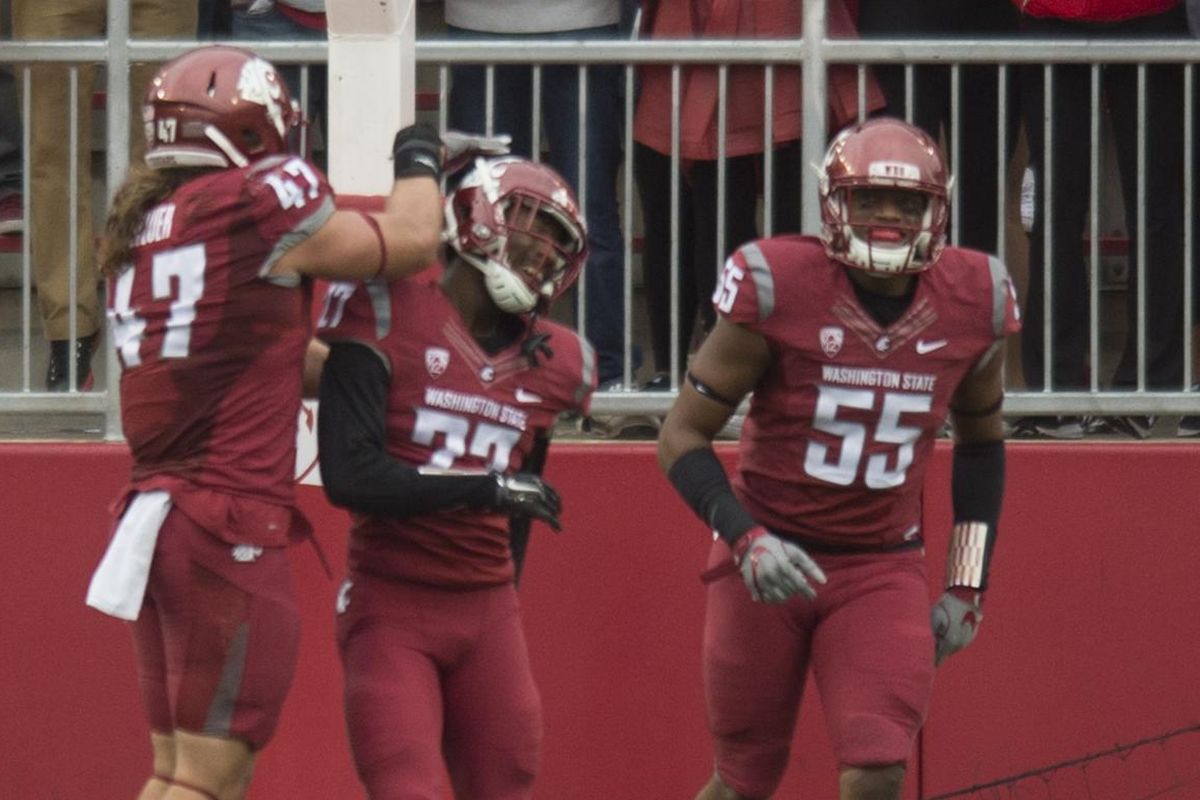 WSU's Marcellus Pippins, center, was swamped by teammates before he could perform his celebration dance after scoring a TD on a blocked kick. (Tyler Tjomsland / The Spokesman-Review)
PULLMAN – Marcellus Pippins has spent his whole life preparing his touchdown celebration, and when the Washington State cornerback finally got the opportunity, he was smothered by his teammates instead.
Robert Barber had blocked Idaho's field-goal attempt and Pippins scooped the ball up 72 yards from the opposite end zone, sprinting toward it at first and then sauntering in for the score.
Pippins flexed his left arm, placing his fist behind his helmet and began to raise his right in the same fashion. Maybe it was the beginning of some dance, probably not the Macarena.
We'll never know for sure what moves Pippins would have busted, because he was besieged by the rest of WSU's kick-block unit.
The junior corner claims he was going to do the Thizzle Dance, the titular tap made famous by Oakland rapper Mac Dre in his song bearing the same name. He made up for lost time during WSU's postgame press conference, demonstrating the dance for reporters while "Still Feelin' It" by Mistah F.A.B. (also from Oakland) played over his phone's speakers.
The Spokesman-Review
For sports information director Bill Stevens, the moment presented the ultimate crisis of his dual roles. On the one hand, part of Steven's job is to promote the team, and having a performer like Pippins ham it up for the eager cameras was undoubtedly a marketing win.
On the other hand, the public relations handbook probably advises against allowing an athlete to blare unedited rap music to the press corps, and Stevens put the kibosh on the affair as soon as Pippins began describing what his bodily contortions were meant to represent.
But Stevens need not have worried. Pippins has been doing this his whole life.
Dancing runs in the Pippins family, actually. His dad and his uncle dance all the time and Pippins and his brother grew up watching their dance battles in the living room.
"We watch a lot of dancing videos," Pippins said. "Old school movies, new school movies and it was just something me and my brother love to do."
Neither generation of brothers ever danced in a group or anything formal like that, but Marcellus Pippins and his brother did put together one show-stopping performance.
"Back when we were little – I was probably 11 or 12, and my brother was 10 or 11 – we were at my sister's high school homecoming dance and we were in the middle of the dance floor dancing in front of all the high school kids," Pippins said. "They were just circling us. Our dad had to come and get us. It was a moment he would never forget."
Now, Pippins uses the family pastime to break the ice in social situations and to calm his nerves before playing football. He says that many of his teammates do not like to get funky when the music starts playing, but that other Bay Area products, like Robert Barber, know how to get down.
"Where I'm from, you're going to see people just dancing," Pippins said. "If you go to a party you're not going to see people standing around. If you can't dance, why are you even here? They'll kick you out or look at your all funny. You had to know how to dance."
But even those Cougars with two left feet say that Pippins' buoyant personality has always been welcome in the locker room. To see the effect he's had on the team, well, just watch them celebrate with him in the end zone.
"Energy is contagious," Colton Teglovic said. "It definitely rubs off on people."
Local journalism is essential.
Give directly to The Spokesman-Review's Northwest Passages community forums series -- which helps to offset the costs of several reporter and editor positions at the newspaper -- by using the easy options below. Gifts processed in this system are not tax deductible, but are predominately used to help meet the local financial requirements needed to receive national matching-grant funds.
Subscribe to the sports newsletter
Get the day's top sports headlines and breaking news delivered to your inbox by subscribing here.
---