News > Spokane
Symphony conductor Nakahara balances loyalty between Zags, Gamecocks
Sat., April 1, 2017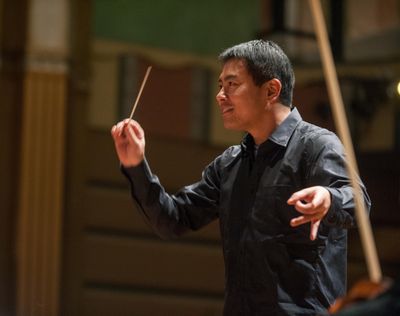 Conductor Morihiko Nakahara is the first to admit he sounds like a politician when talking about the Final Four matchup between Gonzaga University and the University of South Carolina.
As resident conductor with the Spokane Symphony and music director of the South Carolina Philharmonic, Nakahara has ties to both teams and doesn't want to ruffle anyone's feathers by making a statement that could be perceived as supporting one team over the other.
"In Columbia, so much of that life revolves around the Gamecocks, and the men's basketball team is such a feel-good story this year …, " he said. "But working in Spokane for so many years, the Zags are such a big part of our life there, too. So many great players have gone on through that program and made it to the NBA. Now they're in their first Final Four."
Growing up in Japan, Nakahara's interest in sports began with baseball and soccer. He got into basketball, especially the Chicago Bulls, after he moved to Michigan as a teenager.
Nakahara attended Andrews University in Michigan, a school that "didn't do sports," for his undergraduate degree, so it wasn't until graduate school at the University of Cincinnati that he began following the NCAA and March Madness.
Nakahara admires both Gonzaga coach Mark Few and South Carolina coach Frank Martin, praising them for their ability to motivate their players and have them see themselves as winners, and said orchestra members, especially conductors, can learn a lot from coaches like Few and Martin.
"Inspiring that level of confidence, that is what conductors aspire to do with musicians," he said.
Once the matchup between the Zags and the Gamecocks was set, Nakahara said he received text messages and emails from friends in both Spokane and Columbia asking whom he was rooting for on Saturday.
It was all board members at the South Carolina Philharmonic's annual fundraiser, which was held the day after the Final Four was decided, wanted to talk about too.
The pressure has made it hard for Nakahara – who is still not sure which team he wants to win – to decide where he's going to watch Saturday's game.
"If I go anywhere in Columbia, it's going to be crazy full of Gamecock fans," he said. "If I show any loyalty for Gonzaga, I might not get out of there. I might just watch it by myself."
But no matter where he watches, or who ends up winning, Nakahara is happy to see both the Zags and the Gamecocks make it so far.
"I feel very lucky that I have connections with both of these cities," he said. "There's a little sense of pride with that.
"Whoever wins, I'll have a team in the final. That's how I'm trying to look at it."
Local journalism is essential.
Give directly to The Spokesman-Review's Northwest Passages community forums series -- which helps to offset the costs of several reporter and editor positions at the newspaper -- by using the easy options below. Gifts processed in this system are not tax deductible, but are predominately used to help meet the local financial requirements needed to receive national matching-grant funds.
Subscribe now to get breaking news alerts in your email inbox
Get breaking news delivered to your inbox as it happens.
---