News > Travel
Be a tourist in your own town and rediscover Spokane
Sun., April 2, 2017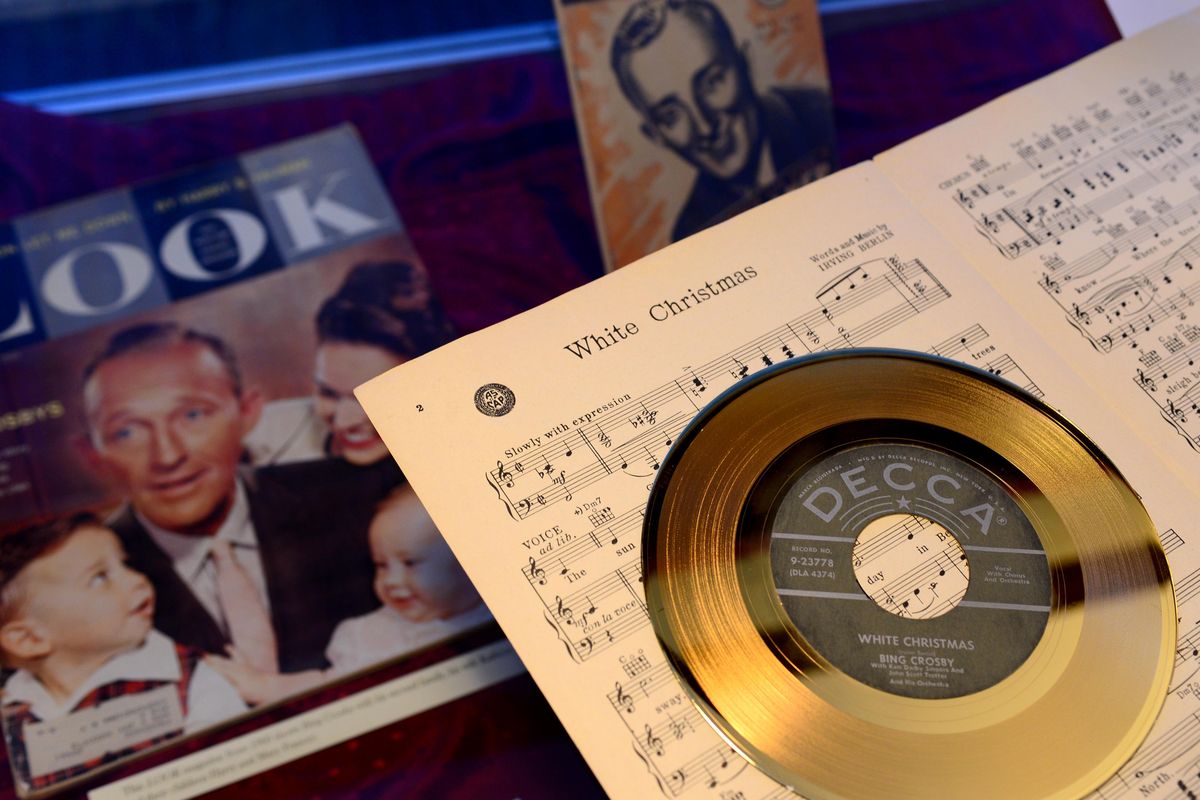 This is the gold record Bing Crosby received for record sales of his song "White Christmas" and the sheet music from when it was first released. These are displayed amidst many other pieces of memorabilia in the Bing Crosby house on the Gonzaga University campus, Monday, Dec. 19, 2016. (Jesse Tinsley / The Spokesman-Review)
No matter how long you've lived in or around Spokane, chances are there's a list of local attractions you've been meaning to visit – or revisit.
Maybe it's something you saw as a child that you've wanted to bring your own children to. Or maybe it's something that sounded interesting, but, for some reason or another, you haven't managed to check out.
"I definitely get a lot of people from Spokane who say, 'We live here, but what's there to do?' " Mariah Wollweber, a travel counselor with Visit Spokane, said. "Spokane has a reputation of 'There's nothing to do in Spokane.' People have that mentality so they say, 'Why even try?' "
Playing tourist in your own town is an easy way to break that mentality, to open your eyes to the oftentimes not-so-hidden gems around you.
Those looking to rediscover Spokane should check the following places off their bucket list, or revisit them after too much time away.
The Bing Crosby House
I might have driven past it had it not been for the sign out front.
The Bing Crosby House, a Craftsman-style home designed and built by the singer's father and two of his uncles, looks inconspicuous on the edge of the Gonzaga University campus, but inside the museum is a detailed look into the life of Spokane's favorite son.
The beautifully preserved home, free to visit, is open Monday through Saturday. Students give tours on the weekdays, and docents from the Advocates for Bing Crosby lead visitors around on Saturdays.
Once inside, head to the right, and learn about the Bing Crosby we all know: singer, actor, performer.
"He wanted to be a lawyer," docent Ellen Robey said, referring to Crosby's studies at GU. "But Hollywood got the best of him."
The walls are lined with gold records, awards and sheet music from Crosby's films. In the center of the room is a cardboard cutout of Crosby next to the Oscar he won for playing Father Chuck O'Malley in "Going My Way."
Head to the left, and see Crosby's lesser-known role, that of father and husband. In a glass case are pictures of Crosby with his four sons from his marriage to actress and singer Dixie Lee, and Crosby with his three children from his marriage to actress Kathryn Grant, "Bing Crosby's second family," as the July 17, 1962, issue of "Look" magazine on display refers to them.
There is also memorabilia related to Crosby's love of golf, including the flag from the 17th hole of the golf course in Spain where Crosby played the day he died in 1977, which a fan nabbed a few years ago.
"It's fun to ask people if they have a Bing story, because most of the time they do," docent Judy Boyer said.
Boyer's Bing story? Crosby and musician Al Rinker borrowed money from her uncle Ed Gehres for their trip to California.
"That's the other part of his story," Boyer told Robey with a laugh. "He never got it back."
Robey and Boyer cite Crosby's music and films, especially his "Road to …" series with Bob Hope, and the singer's love for Spokane as the reason the city is still enamored with him so many years after his death.
"Entertainers (from Spokane)? Not so much," Robey said. "That's why he stands out."
"Local boy makes good is what it is," Boyer added.
Info: 508 E. Sharp Ave., (509) 313-3847, http://researchguides.gonzaga.edu/bingcrosbyhouse. Hours are 9 a.m.-4:30 p.m. Monday-Friday and 1-4 p.m. Saturday. Free.
Garland Theater
Nothing preserves Spokane's past while engaging its present quite like the Garland Theater.
The building's modern exterior, tan brick with light blue accents, plus a sign towering over the marquee that spells out "Garland" vertically, and the red- and purple-hued lobby, looks just like it did when the theater opened in 1945.
And compared to other movie theaters, the Garland's ticket prices, $5, or $2.50 on Wednesdays, seem more reminiscent of prices from the past.
But renovations in recent years and the addition of Bon Bon, where moviegoers can order beer, wine and craft cocktails, keep the 72-year-old building looking, and feeling, fresh.
The theater shows movies, ranging from children's and drama to sci-fi and action, anywhere from a month to a month-and-a-half after the film's release.
The theater also hosts special events, like a showing of "1984" (Tuesday), "The Sandlot" (Thursday) and the 1925 silent film "Phantom of the Opera" (April 13), accompanied by an eight-piece chamber orchestra.
Concessionaire Ben Fischer said the Garland's family-friendly atmosphere is another feature that sets it apart from other theaters.
"It's a place that you can go with your kids to have a good time," he said. "All of the employees are always, always excited to see children here."
In spite of a few bouts of closure and a period of time as an X-rated movie house, the 500-seat theater has been part of Spokane culture for decades and remains a local favorite.
Fischer believes it's because Spokane and the Garland had similar upbringings. What was once small is now storied.
"Spokane used to be a pretty small town, and because the Garland Theater is such a small theater, it's nice to see that people still really value their roots and what Spokane used to be," he said.
Info: 924 W. Garland Ave., (509) 327-2509, www.garlandtheater.com.
Riverfront Park
It seems obvious, or maybe a little silly, to include Riverfront Park in a list of local landmarks worth checking out. Everyone knows about Riverfront, right?
Right-ish.
The incredulous look on my editor's face when I mentioned I had never ridden the Looff Carousel after years of living in Eastern Washington made me wonder if there were others who had yet to experience all that Riverfront Park has to offer.
Aside from the historic carousel, visitors can also take a trip on the SkyRide gondola for an unparalleled view of the Spokane Falls.
Ongoing construction has closed parts of the park (the Looff Carousel will reopen early next year, and the SkyRide gondola will open this fall), but that hasn't stopped people from enjoying it.
If heights aren't your thing, the park features several stationary viewpoints as well. Seeing the falls in early spring is particularly stunning thanks to the melting snow.
During a recent visit, seemingly hundreds of people were out and about, enjoying the sun after a long winter.
Take a self-guided walking tour of the sculptures in Riverfront Park (Visit Spokane has a brochure specifically for this at its booth in River Park Square), or stop by the few Expo '74 relics remaining in the park, including the Pavilion, the Butterfly and the Sister Paula Turnbull-designed Garbage Eating Goat.
In the warmer months, visitors can use the river access point under the Division Street Bridge to try stand up paddleboarding and kayaking, and paved walkways and the Centennial Trail mean running and biking are always an option.
The Gondola Meadow, Central Meadow and, of course, the Lilac Bowl, are welcome rest areas after a day on the go and often feature concerts and movie screenings in the summer.
Riverfront Park is also home to events like Pig Out in the Park and fireworks on the Fourth of July.
The city's love for Riverfront Park is not surprising; it has become synonymous with Spokane.
"The park was built for the World's Fair," Wollweber, the Visit Spokane travel counselor, said. "That's why Spokane is here. The park is part of the heritage of Spokane."
Info: 507 N. Howard St., (509) 625-6600, http://spokaneriverfrontpark.com/.
Riverside State Park – Bowl and Pitcher Area
"Almost all the lovers in Spokane and parts beyond have at one time or another made pilgrimages to view those legendary rocks," – Spokesman-Review, March 16, 1941.
So reads a sign at Riverside State Park, referring to the Bowl and Pitcher. The Pitcher was named by settlers in the 1880s for its jug-like shape, though it was also called Devil's Teapot, according to the same sign. The Bowl received its name over the following decades.
The 14,000-acre Riverside State Park draws thousands of visitors throughout the year, visitors like Eric and Jessaca Smith, originally from New Hampshire, who first learned of Riverside after Eric's boss brought him to the park during his job interview to "woo" him.
The couple, who were walking their 13-year-old Plotthound Molly on a recent visit, said they now stop by Riverside four or five times a year.
"We were just talking about needing to do it more," Jessaca said.
"I work downtown on East Sprague. It's not a pretty place," Eric said. "One of the things we say about Spokane is it's amazing because you can drive 15, 20 minutes in any direction and it's a completely different place."
Bowl and Pitcher, is the most popular scenic attraction in the park, according to the Riverside State Park Foundation website.
And standing at the Bowl and Pitcher overlook, it's easy to see why. Not only is it astounding to see how the rocks were shaped by Ice Age-era flooding, but the area also provides a postcard-worthy view of the winding river and forest.
I was hoping to interview someone about the Bowl and Pitcher, ask them why they made a point to stop by, but, funnily enough, there was no one at the overlook when I visited.
But that's the beauty of the Bowl and Pitcher, and Riverside State Park in general; you don't need to experience it with someone to appreciate it. Sometimes all you need to do is close your eyes, feel the sun on your face, and listen to the roar of the river.
Near nature, near perfect indeed.
Info: 4427 N. Aubrey L. White Parkway, (509) 465-5064, http://parks.state.wa.us/573/Riverside.
Local journalism is essential.
Give directly to The Spokesman-Review's Northwest Passages community forums series -- which helps to offset the costs of several reporter and editor positions at the newspaper -- by using the easy options below. Gifts processed in this system are not tax deductible, but are predominately used to help meet the local financial requirements needed to receive national matching-grant funds.
Subscribe now to get breaking news alerts in your email inbox
Get breaking news delivered to your inbox as it happens.
---