Sports > Gonzaga basketball
John Blanchette: Loss puts sour end on great Gonzaga season
April 3, 2017 Updated Mon., April 3, 2017 at 11:58 p.m.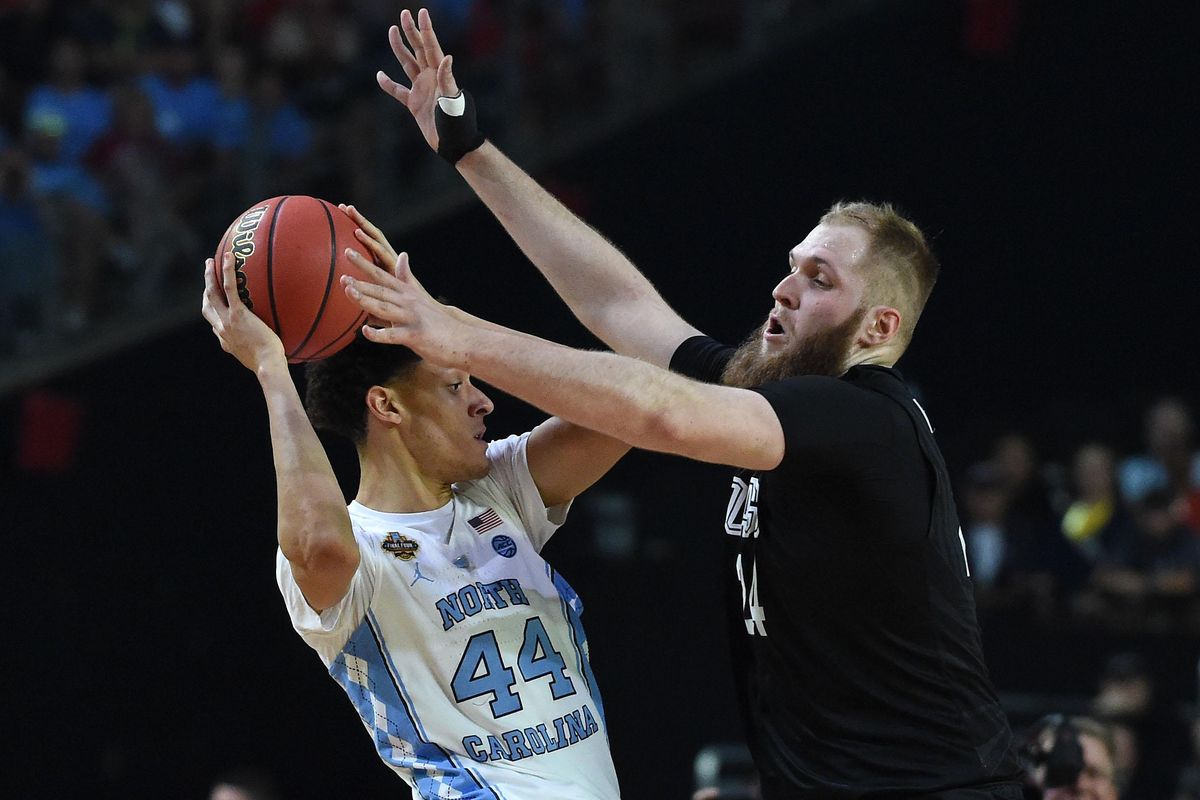 Gonzaga center Przemek Karnowski defends North Carolina's Justin Jackson in the first half of the national championship game on Monday, April 3, in Glendale, Arizona. (Colin Mulvany / The Spokesman-Review)
GLENDALE, Ariz. – So the confetti that fell will end up in a landfill and not on some Gonzaga entrepreneur's eBay page.
So Nigel Williams-Goss' No. 5 won't adorn the clocktower for the next month.
So there won't be any newborns at Sacred Heart this spring who will go home with the name Przemek.
OK, maybe there will.
But Spokane will not forget these Gonzaga Bulldogs because of one loss – one heartbreaking, head-banging loss. Not after the leisurely four-month joyride they took their peeps on, followed by the mad sprint through March that made history and made bonds and made people take notice.
Nor will the Zags forget that journey.
But they won't forget the loss, either.
You could see it in the reddened eyes and the cracked half-whispers after their 71-65 loss to North Carolina in Monday's NCAA championship game – a game the Zags led with a 101 seconds to play, a game they still had a notion of winning until Williams-Goss' badly rolled ankle 16 seconds later started a snowball of catastrophe and tears.
Consolations are best received when you're bowled over by fate, or simply bowled over.
"We're in the game, right there, and it makes it hurt even more," said guard Silas Melson. "We worked our tails off. Nobody came out there and played victim. Nobody got punked. We just came up short."
Truly, winning was too real – too possible – this night for easy solaces. Not that coach Mark Few didn't do his best to find some.
"Perspective – that was the word he said," reported guard Josh Perkins. "But right now, I don't even know what that word means."
Well, here's the cruel definition: it means not winning the national championship.
That will eventually not seem as terrible as it felt to the Bulldogs on Monday night, after Williams-Goss' spinning drive was snuffed by UNC's Kennedy Meeks and turned into the clinching dunk at the other end by Justin Jackson. Williams-Goss' emotions came spilling out then – the frustration of his untimely flat tire, the futility of the play he didn't make.
It was shared by all his teammates. Nobody even suggested he was trying to do too much – because he was the biggest reason they were in a position to win in the closing minute. Nobody suggested it because there had been a hundred plays and ways to win before those final 15 seconds.
"He laid it all out on the line, and he was the guy who obviously kind of strapped us on his back there, especially down the stretch," Few said.
If it was an inelegant finish, then it fit an inelegant game. Surely, it would have been tempting to edit all clips of this one out of "One Shining Moment."
What was expected to be an up-and-down shootout instead became a lurch-and-stagger slog, undone by both teams' awful marksmanship and the referees' unfortunate hijacking of the action. Football stadiums supposedly suck the life out of shooters; maybe they impact the zeebs, too.
And, no, the refs didn't steal the game from the Zags.
Just from the rest of us.
They did, however, make things more challenging.
"Sometimes you just feel like you don't know how to play basketball when that happens," said center Zach Collins, who fouled out with five minutes to play – the fifth legit, a couple of the early ones dubious.
The Gonzaga big men started collecting paralyzing fouls after digging back from a five-point deficit early in the second half, and after a three-point play by Collins and a long 3 by Jordan Mathews, the Bulldogs never again made back-to-back baskets. Doubling the Tar Heels post players to deal with those fouls let Joel Berry II free for more open looks.
But this was more of an offensive problem this night for Gonzaga, and Carolina made it that way – holding the Zags to just 34 percent shooting.
"I think it's the first time all year we've been outshot," said Few.
Hey, it's only the second time they've been outscored.
Remember that. These Zags finished 37-2, once climbed to No. 1, earned – earned – a No. 1 seed, then put on a tournament run that shut off at least a few of the nonsense nozzles.
They were not just the best team in Gonzaga history, but maybe the closest and most resilient, too. They certainly provided the biggest thrills, and the most.
And they'll remember that. In time.
"It's hard," Melson said. "I'm kind of speaking it into existence right now.
"We lost. If it was up to me, I'd be punching a hole in the wall right now. But I can't. I know how close this team is, the work we put in, how hard it is to make it this far. We were one of two teams playing in April. Nobody can take that away from us."
For a change, maybe nobody will want to.
Local journalism is essential.
Give directly to The Spokesman-Review's Northwest Passages community forums series -- which helps to offset the costs of several reporter and editor positions at the newspaper -- by using the easy options below. Gifts processed in this system are not tax deductible, but are predominately used to help meet the local financial requirements needed to receive national matching-grant funds.
Follow along with the Zags
Subscribe to our Gonzaga Basketball newsletter to stay up with the latest news.
---